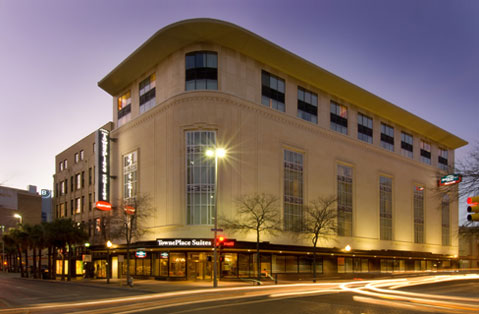 Image: – Male Military Spouse Chris Pape shares his story of his stay at TownePlace Suites – Macho Spouse
When Motley Crue's "Final Tour" came through San Antonio, my wife and I felt we just had to go. Their music played such an important role throughout our impressionable years, well, honestly Vince, Tommy, and Nikki had more of an impact on Dana than me. (Sorry Crue, but I've always been more of a Parrot Head!) But I do like several of their songs and have seen them in concert a few times, so a final romp on the wild side sounded appropriate.
We are slightly older now than we were in '88 so a lot has changed. For one, rather than just show up slightly intoxicated and hope to find some cheap seats, we bought our tickets weeks in advance. Good ones to! We also made sure both of us had the following day off from work, no more working with ears still ringing and head pounding. We are now productive adults. Plus, neither of us was planning on passing out in our car after the show, or driving home, so we felt it important to get a room…a nice room…on the River Walk. Twenty-five years ago we would've shacked-up at the cheapest "roach motel" for the night and not worried about location, comfort, or cleanliness. Oh how times have changed!
Staying at the TownePlace Suites was a pretty easy decision considering they had just given me a couple free nights in their hotels in exchange for some honest reviews, this is one. Before TownePlace Suites contacted me I honestly had no idea they had a location in downtown San Antonio, my wife and I usually stay at the Hyatt or Sheraton. So this would work out perfectly, especially since TownePlace welcomes pets and we wanted to bring our dog, Brutus. Yeah, bringing our doggie to a night of rock and roll craziness with Motley Crue...oh how times have changed!
On the day of the show, we checked in a few hours early and were pleasantly surprised at the attentiveness of the valet, doormen, and front desk personnel. The hotel lobby looked to be recently remodeled with a modern flare and clean lines. I have to admit, I was very impressed. The price of the room fell in line with what most four/five-star rated hotels charge, my only complaint would be the $100 non-refundable pet deposit. That seems a bit steep, especially for a well-trained dog. Our room was just as I expected after walking through the lobby, clean, modern, and comfortable. We had a nice view of their indoor pool and a good-sized refrigerator for our champagne. Ahhh yes, nothing says Motley Crue like a bottle of Domain Chandon! In my last post about TownPlace Suites I mentioned our need for creature comforts, well, this hotel fulfilled all of those needs.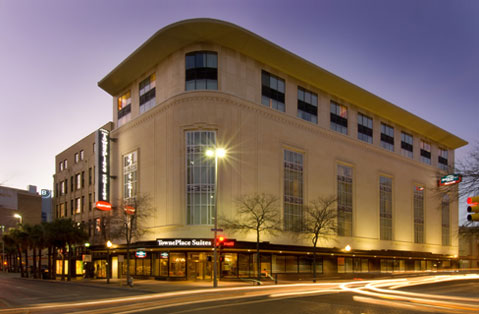 Now in all honesty, I don't have much else to report on the Downtown TownePlace Suites because after Dana and I fed the dog and enjoyed our champaign, we left for the night. The hotel is conveniently located across the street from the Ticket, a sports bar where we started our bar-hop, and then just down the street is the Buckhorn, and then just down the street...I'm sure you get the point. TownePlace downtown San Antonio is in a great location. I can say that at no time did I worry about Brutus or our belongings, I think security and peace of mind are very underrated aspects of staying at any hotel. TownPlace's friendly and professional employees definitely put me at ease.
Now, as for Motley Crue. They were awesome. If you missed them on this final tour, I'm sorry, you missed a great night of 80's style over-indulgence! (big hair, big drinks, big tabs, and big noise!) Just watching Tommy play his drums upside down while hanging from the ceiling directly over my head is an image I'll never forget. (I will post that video shortly) Sorry kids, none of today's performers come close to putting on a better show than the classic hair bands of the 80's.