---
Like, Comment, Share
First National Guard Spouse to Win the 2013 Armed Forces Insurance Military Spouse of the Year Award
Image: – – Macho Spouse
Washington, DC (PRWEB) May 09, 2013
Alicia Hinds Ward was named the 2013 Armed Forces Insurance Military Spouse of the Year ® today in recognition of her outstanding commitment to the military community.
Video of the awards ceremony will be available on Military Spouse mag YouTube channel.
Nominated by her husband, Tech. Sgt. Edwinston Ward, Alicia's accomplishments include serving as the Key Spouse for the 113th Logistics Readiness Squadron, Relocation Assistance contractor, Exceptional Family Member Program (EFMP) Family Panel Representative for the National Guard and the co-founder of the Joint Base Andrews Business and Community Support Group and Spouse Forums. She is the first National Guard spouse to receive this prestigious award. With the reach of the Military Spouse of the Year ® organization behind her, Hinds Ward is planning to advocate for better spouse employment options and special needs resources.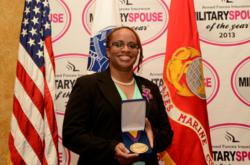 "We want to create an opportunity for these winners to advocate and engage the
military spouse community
through Military Spouse's media channels: Military Spouse magazine, militaryspouse.com, and social media," said Kate Meeuf, Brand Director
"Each military spouse who competed in the 2013 Military Spouse of the Year (MSOY) competition is to be commended for their devoted support to the dedicated military men and women in uniform who serve our nation each and every day," said Garry L. Parks, Lieutenant General, U.S. Marine Corps (Ret), Chairman of Armed Forces Insurance, the MSOY Title Sponsor. "Today we appropriately paused to honor 'the' 2013 MSOY, Mrs. Alicia Hinds Ward. Concurrently, however, we applaud every military spouse, the unsung heroes who maintain the home-front during lengthy deployments, selflessly give back to their communities through volunteer work, and provide moral support for their loved ones serving both at home and in harm's way. Both individually and collectively, these spouses contribute so much to our nation's armed forces. On behalf of Armed Forces Insurance, we salute each of you!"
Prior to announcing the overall 2013 Armed Forces Insurance Military Spouse of the Year ® , the finalists from each branch of service were honored at the annual awards luncheon which was hosted at the Fort Myer Officers' Club by Mrs. Betty Welsh, spouse of General Mark Welsh, Air Force Chief of Staff and attended by military and civilian VIPs: The Awards were also streamed live for the first time via the magazine's website.
The 2013 Branch Winners are:
● 2013 Army Spouse of the Year - Tara Crooks
● 2013 Marine Corps Spouse of the Year - Karen Guenther
● 2013 Navy Spouse of the Year - Alisha Youch
● 2013 Air Force Spouse of the Year – Verenice Castillo
● 2013 Coast Guard Spouse of the Year - Shelley Kimball
● 2013 National Guard Spouse of the Year - Alicia Hinds Ward
These Branch Winners emerged from a pool of more than 900 nominees, advancing through three separate rounds of voting and a judges' panel review.
Initially the winner of the local level "Washington D.C. National Guard Spouse of the Year award ®, Hinds Ward was awarded the branch level "National Guard Spouse of the Year ® title before ultimately being chosen as the overall 2013 Armed Forces Insurance Military Spouse of the Year ®.
The mother of three sons, Hinds Ward is a graduate from Kaplan University with a Bachelor of Science in Legal Studies and Alternative Dispute Resolution. She is also a member of the Golden Key Honour Society, Alpha Beta Kappa Honor Society, Phi Beta Kappa Honor Society and is a founding member of the Kappa Lambda Paralegal Honor Society.
The Military Spouse of the Year® (MSOY) program was founded and is run by Military Spouse magazine. "We want to create an opportunity for these winners to advocate and engage the military spouse community through Military Spouse's media channels: Military Spouse magazine, militaryspouse.com, and social media," said Kate Meeuf, Brand Director of Military Spouse.
For more information on the Military Spouse of the Year® program, please visit http://msoy.militaryspouse.com.
# # #
About Military Spouse
Military Spouse magazine and http://www.militaryspouse.com, published by Victory Media, is the leading national magazine and online destination for the nation's 1.1 million military spouses. You can follow us on Facebook at http://www.facebook.com/militaryspousemagazine and on Twitter @MilSpouseMag. Victory Media, a service disabled veteran owned small business, also publishes G.I. Jobs magazine, Vetrepreneur magazine, and has created the Buy Veteran movement powered by NaVOBA.
About Armed Forces Insurance
AFI was founded in 1887 by military leaders with a single mission: to protect the property of those who protect our nation. The company provides premium quality, competitively-priced property and casualty insurance to military professionals throughout the United States and overseas. AFI understands that military members have unique circumstances and insurance needs, enabling the company to offer a level of personalized service that's unequaled in the industry. For more information, visit the website at http://www.afi.org or call 1-800-495-8234.
For more information or to arrange interviews, contact:
BP Media Relations, LLC
Barbara Pflughaupt – 212-707-8181 or Judee Cohen – 917-721-0663
Read more: 2013 Armed Forces Insurance Military Spouse of the Year
---
See also...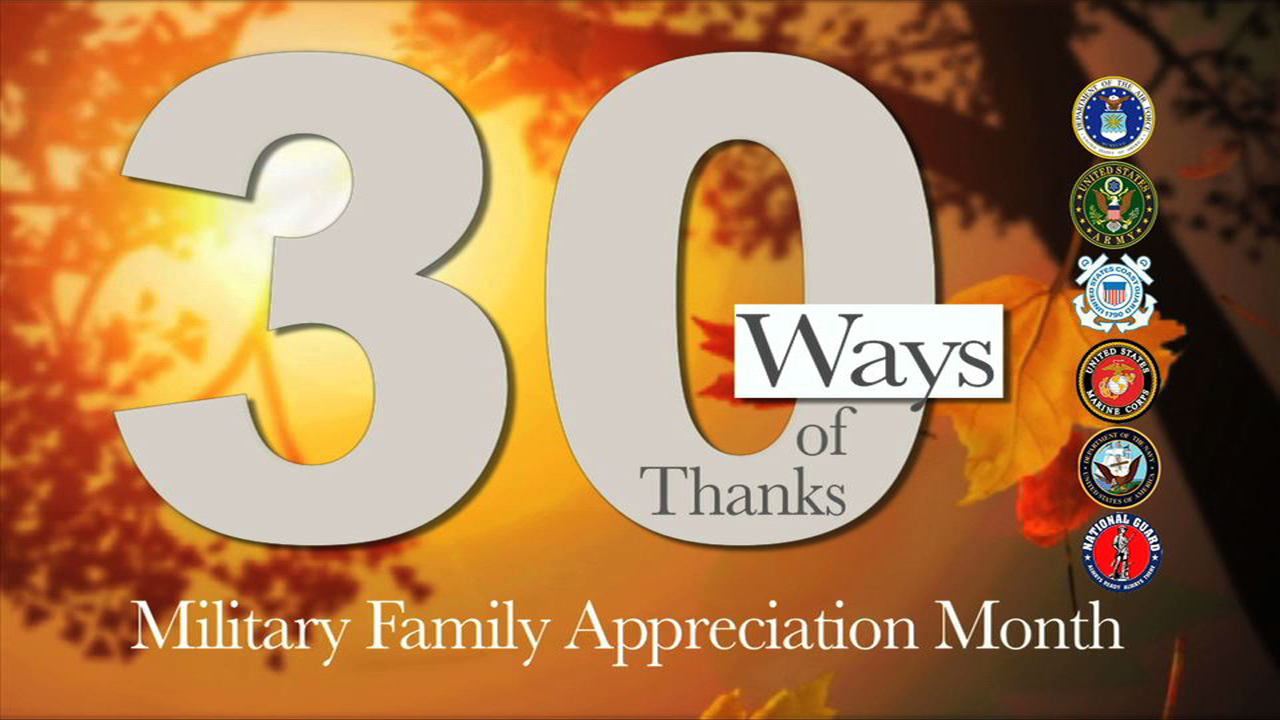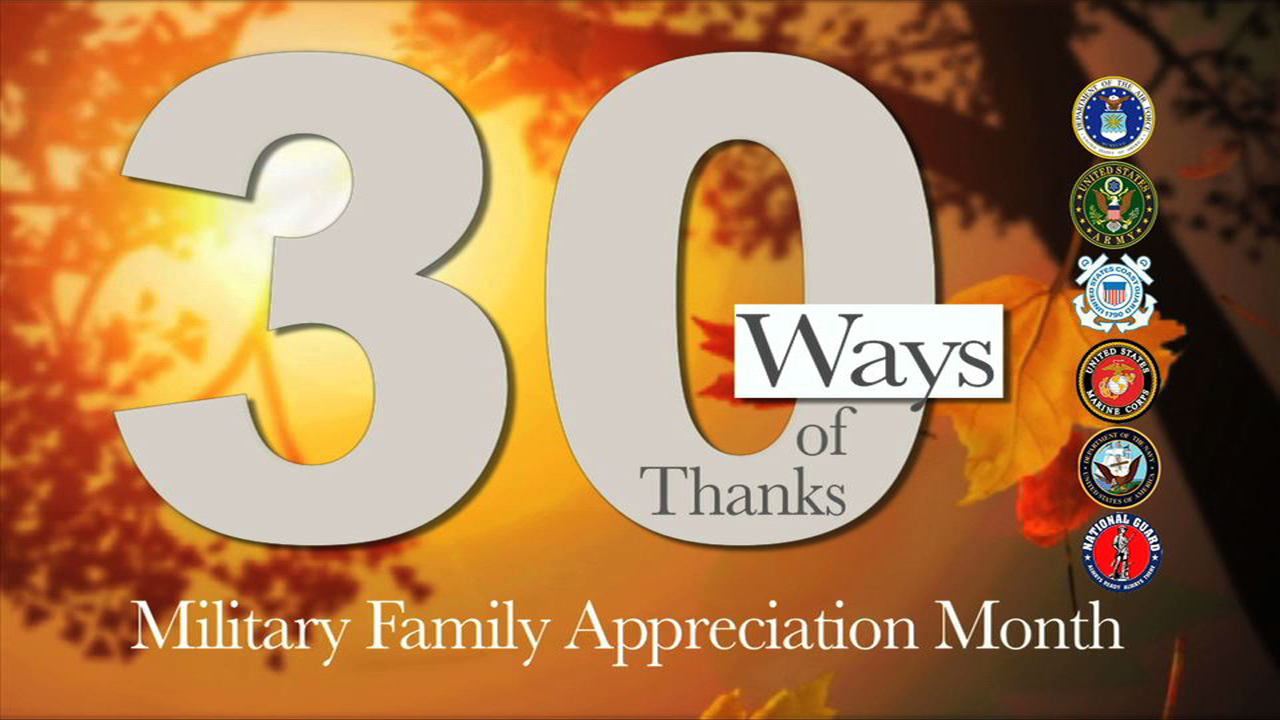 Military spouses are the glue that holds military families together. They manage the homefront while their servicemembers defense ur freedoms. Sometimes, all they need is a little adult conversation and a listening ear.
November is Military Families Appreciation Month, and the 2014 Armed Forces Insurance Branch Spouses of the Year (Branch SOYs) want to help everyone, everywhere participate in thanking and honoring military families.
Americans love our military, but many people don't quite know how best to express their gratitude. As National Guard Spouse of the Year Dr. Ingrid Herrera-Yee notes, "saying "thanks" to our military families is something that many want to do, but are at a loss as to how to do it –or in the case of Guard and Reserve, how to find us!"
So the Branch SOYs created #30Ways of Thanks to help. Each day in November, the Branch SOYs will release a video with an action item that people around the country can participate in virtually or locally, individually or in groups. Participants can hash tag #30Ways so that their messages, photos, or videos are spread far and wide. Hash tags #GratefulNation and #MilFamsRock can also be added as a short-hand way to say "You are amazing, military families!" Best of all, the entire #30Ways video collection will be stored on the Branch SOYs' YouTube channel so that it can be repeated in Novembers to come, or whenever someone is looking for a way to say "thank you" to military families.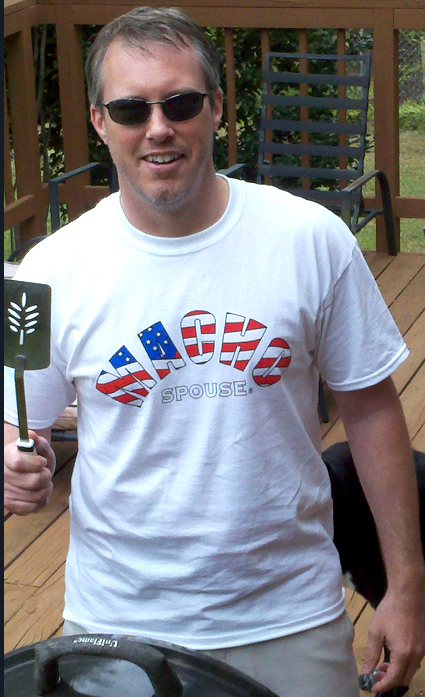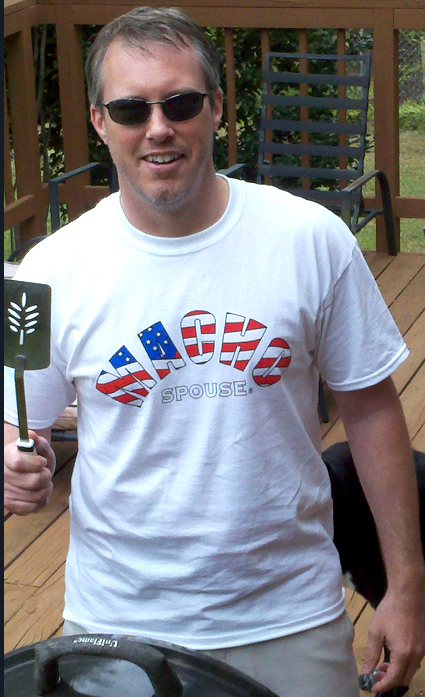 A few weeks ago AT&T contacted me about writing a couple blogs on how best to appreciate a military spouse. Now, since Military Spouse Appreciation Day is on May 9th, I thought this was a great gesture by one of America's largest corporations to ask this question specifically of male spouses. Plus, AT&T offered a couple iPad gift baskets in exchange for my thoughts. The deal is that I have to share one of those iPads with you guys. I felt that offer was a no-brainer, so here you go. My top five ways people can acknowledge the sacrifices military spouses make on behalf of their families and nation. Before I begin, I want to make it clear that the following list is how I want to be appreciated; we're all different and I know other guys have different ideas. That's great! If you add your ideas below this story, I will put your name in a hat for a chance to win one of those AT&T iPad gift baskets (the only disclaimer I'm putting on this is that you must have your entry in before midnight on May 4th.)
One more thing, I feel a little self-conscious writing this because I really don't think anyone needs to appreciate me as a spouse. I'm happy and proud to live this lifestyle without any recognition. Tens of millions of people go to work everyday, many in not such great environments and/or circumstances. I do believe military spouses have it more difficult than most, but we're just doing our part to help make this country great.
---
Share on social media
Macho Spouse uses AddThis share buttons so you can easily share your favorite content from this site to your Facebook, Twitter, and more.
To share this on social media, click on the share icons. You will be prompted to connect your social media account if you have not already.
Thank you for sharing!
---
Comments