Washington, DC (PRWEB) May 09, 2013
Alicia Hinds Ward was named the 2013 Armed Forces Insurance Military Spouse of the Year ® today in recognition of her outstanding commitment to the military community.
Video of the awards ceremony will be available on Military Spouse mag YouTube channel.
Nominated by her husband, Tech. Sgt. Edwinston Ward, Alicia's accomplishments include serving as the Key Spouse for the 113th Logistics Readiness Squadron, Relocation Assistance contractor, Exceptional Family Member Program (EFMP) Family Panel Representative for the National Guard and the co-founder of the Joint Base Andrews Business and Community Support Group and Spouse Forums. She is the first National Guard spouse to receive this prestigious award. With the reach of the Military Spouse of the Year ® organization behind her, Hinds Ward is planning to advocate for better spouse employment options and special needs resources.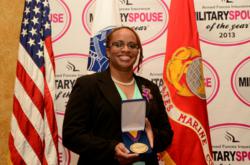 "We want to create an opportunity for these winners to advocate and engage the
military spouse community
through Military Spouse's media channels: Military Spouse magazine, militaryspouse.com, and social media," said Kate Meeuf, Brand Director