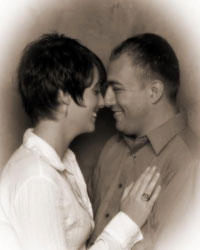 Before my second deployment I met my wife, Ashland Ferguson, who supported me during and after I got back from Afghanistan. We now have been married for three years and going strong.
In 2011, it was time for me to make a decision: stay in, or get out of the military. Ashland and I made a decision for me to get out and go to school full time, utilizing my Post 9/11 GI Bill.
Within the time I got out in 2011, still in Hawaii, I got a job working at a local restaurant while going to school full time. I eventually quit the job due to us PCSing to Fort Lewis, Washington, where we currently are stationed.
Not too long after we got to Fort Lewis I hit the ground trying to find a job, and did so. I was working as a security guard and still going to school online with the same school back in Hawaii.
Soon after I got the job, we found out we were pregnant. Yes, it was a shock, but we were ready to become parents and ecstatic. We went in for a normal appointment and got a surprise like no other. The doctor said, "Well baby one and baby two are fine." My wife and I looked at each other with confusion and had to ask the doctor multiple times, "Are you sure?" We eventually overcame our shock and started planning for two!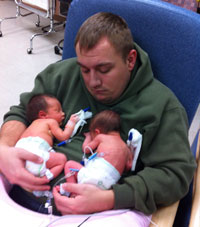 Well, in December our two little girls were born and since my wife is the active duty member, she had the first two months with the girls. I was still working as a security guard until February 2013,
when I quit to become a Stay-At-Home-Dad.
It was a tough decision because all my life I have worked, worked, worked. I had a hard time thinking that I was going to be bored out of my mind, and stuck with house work.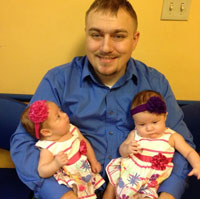 Well, that is why I am doing this blog because I could not have been more wrong in my life!
I want to share my progression and tips I can give back to new dads like myself, mostly with multiples. This blog is for Stay-At-Home-Dads, Active duty parents becoming Stay-At-Home-Parents, and Everyone in between.
Key facts about me, (for those who do not like to read)
Marine Veteran-Four Years with Two Deployments (Iraq and Afghanistan Personal)
Disabled Veteran-receives education benefits and disability pay from the Veterans Affair(VA)
VFW Member of Post 11402 in Lacey, Washington
One PCS move, No Deployments as a Spouse of an Active Duty Member
MACHOspouse Member
MANning the homefront Facebook member
Stay-At-Home-Dad (as of February and to multiples)
Marine to SAHD Andrew "Fergie" Ferguson