Inc. goes out of their way to make you feel welcome and feel as part of their family. They offer a high-level of support even when the conference is over...hell, especially when the conference is over. If you have your own business, or are thinking of starting one, I highly recommend you apply for this program. If you don't get selected, I highly encourage you to go anyway.
Chris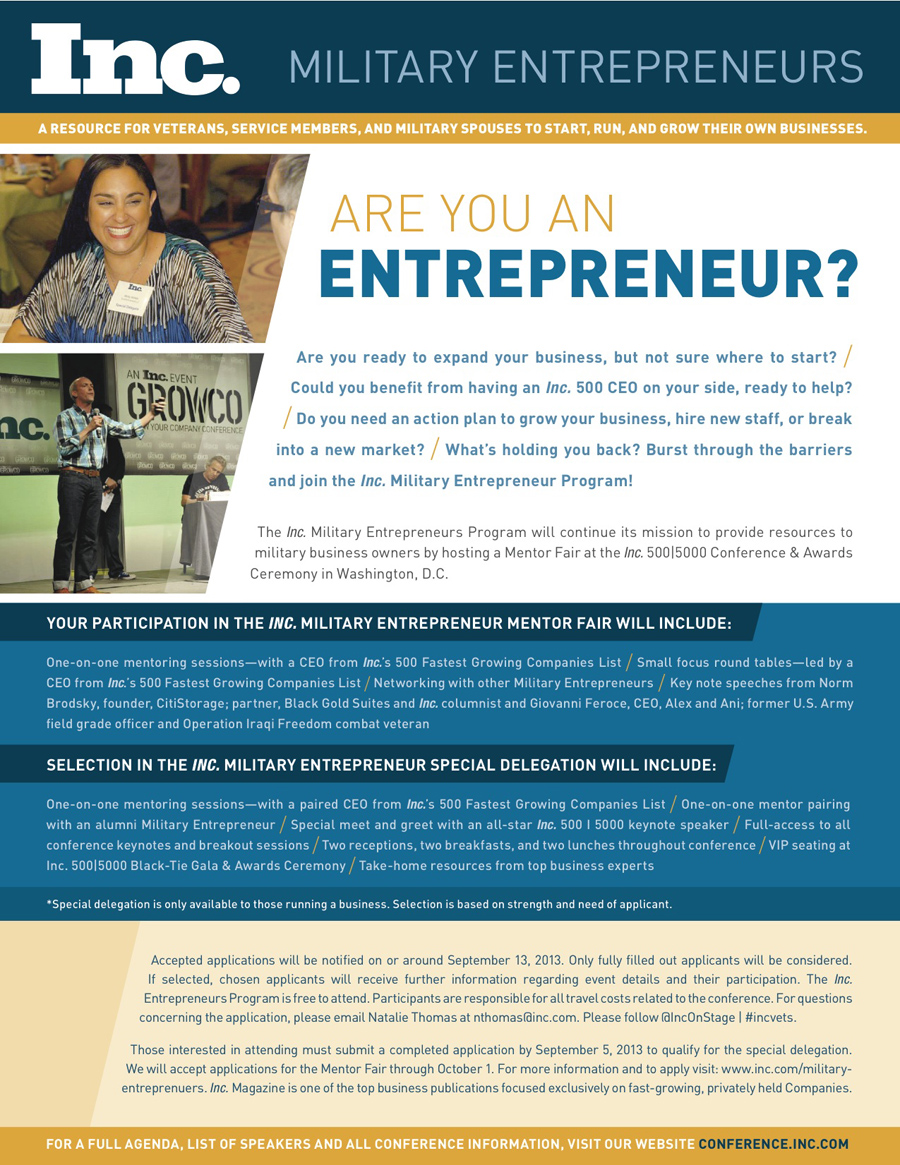 line. MILITARY ENTREPRENEURS
ARE YOU AN ENTREPRENEUR?
Are you ready to expand your business, but not sure where to start?
Could you benefit from having an Inc. 500 CEO on your side, ready to help?
Do you need an action plan to grow your business, hire new staff, or break into a new market? What's holding you back?
Burst through the barriers and join the Inc. Military Entrepreneur Program!
The Inc. Military Entrepreneurs Program will continue its mission to provide resources to military business owners by hosting a Mentor Fair at the Inc. 50015000 Conference & Awards Ceremony in Washington, D.C.
YOUR PARTICIPATION IN THE INC. MILITARY ENTREPRENEUR MENTOR FAIR WILL INCLUDE:
One-on-one mentoring sessions—with a CEO from Inc.'s 500 Fastest Growing Companies List / Small focus round tables—led by a CEO from Inc.'s 500 Fastest Growing Companies List / Networking with other Military Entrepreneurs / Key note speeches from Norm Brodsky, founder, CitiStorage; partner, Black Gold Suites and Inc. columnist and Giovanni Feroce, CEO, Alex and Ani; former U.S. Army field grade officer and Operation Iraqi Freedom combat veteran
SELECTION IN THE INC. MILITARY ENTREPRENEUR SPECIAL DELEGATION WILL INCLUDE:
One-on-one mentoring sessions—with a paired CEO from Inc.'s 500 Fastest Growing Companies List / One-on-one mentor pairing with an alumni Military Entrepreneur / Special meet and greet with an all-star Inc. 500 I 5000 keynote speaker / Full-access to all conference keynotes and breakout sessions / Two receptions, two breakfasts, and two lunches throughout conference /VIP seating at Inc. 50015000 Black-Tie Gala & Awards Ceremony / Take-home resources from top business experts
'Special delegation is only available to those running a business. Selection is based on strength and need of applicant.
Accepted applications will be notified on or around September 13, 2013. Only fully filled out applicants will be considered. If selected, chosen applicants will receive further information regarding event details and their participation. The Inc. Entrepreneurs Program is free to attend. Participants are responsible for all travel costs related to the conference. For questions concerning the application, please email Natalie Thomas at nthomasfainc.com. Please follow faIncOnStage I #incvets.
Those interested in attending must submit a completed application by September 5, 2013 to qualify for the special delegation. We will accept applications for the Mentor Fair through October 1. For more information and to apply visit: www.inc.com/military-entreprenuers. Inc. Magazine is one of the top business publications focused exclusively on fast-growing, privately held Companies.
FOR A FULL AGENDA, LIST OF SPEAKERS AND ALL CONFERENCE INFORMATION, VISIT OUR WEBSITE1
ON FEREN CE.I NC.COM