Probably, most clocks you've seen only go up to 12 hours. The military uses a 24-hour clock and it's probably a good idea to get to know it.
Why Learn?
So you know when happy hour is. It's also best to be on the same time as your wife. This will save you from many, many arguments.
"Military Time, also known as 24-hour time, is actually an easy one and I learned this trick many years ago as a military brat. We have all heard things like "Chow is at 1800," well what is 1800? In regular time its 6pm. It works like this; Midnight or 12am is 0000 and then each hour after that you add an hour. Now when you go past midday (noon) it gets a little tricky because the next hour is 1300 for 1pm then 1400 for 2pm, etc. The best thing I was told and a kid was to add or subtract 12. So if you are told that Revile is at 1730, subtract 12 and you now know it's at 530pm. Now if you're having a cookout and want some friends over at 2pm, add 12 and let them know it starts at 1400."
- Patrick Donaldson / Navy Spouse
Patrick has some good advice, but I have always found it easier to pick and memorize a P.M. number and then add/subtract from that. For example, I memorized that 4PM is 1600. So, if someone (my wife) told me to be somewhere by 1800 (knowing that 1600 is 4:00), I would just add 2 hours to 4PM.
Everyone is going to learn differently, the important thing for your sanity is that you learn.
Military Time (24-Hour Clock) Chart

Do You Use Military Time?
Let us know if you use military timein the comments section below. We need to hear from you!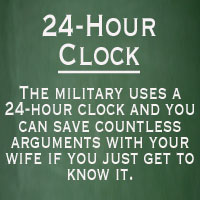 See taurusjames.com for more!