Macho Spouse is an interactive online resource and educational video library designed by male military spouses for male military spouses and their families.
Don't roll your eyes, there are no quizzes or tests. In fact, most of our content is unscripted, unrehearsed anecdotes and information from male military spouses from around the world...
98,500 Active duty male military spouses
88,140 Reserve/National guard male military spouses
Over 50% are civilian - no military background
Nearly 187,000 Male military spouses around the world according to DoD
...military counselors...
Scott Stanley, Ph.D., Center for Marital & Family Studies, University of Denver
Elizabeth Cabibi, MS, LMFT, Collaborative Family Counseling - Aiea, HI
Nicholas Lind, PsyD, Post Trauma Resources, LLC, Columbia, SC
Andrea Bradley, LPC, Post Trauma Resources, LLC, Columbia, SC
...military spouse career experts...
Deb Kloeppel, Founder & CEO MSCCN, Military Spouse Corporate Career Network
...military family organizations who do a great job...
Monique Rizer, Deputy Director, MOAA Spouse Programs
Karen Golden, Deputy Director, MOAA Government Relations
Mary Reding, Co-founder, Military Spouse JD Network
Rikki Winters, Operations Director, Military Spouse Business Association
...and anyone else who has something valuable to share with male military spouses and their families.
Testimonials:
"This is not just guys getting together and saying 'Oh, woe is me, we've got this issue...', but it was much more."
- William McEvoy, Air Force male military spouse
"When I first started out, I wished there had been somebody. So, for me now to find first-time or new military spouses who are guys to say, 'Hey, you're not alone.' That's huge."
- Tim Blake, Army male military spouse and writer of Army Dad blog
It doesn't matter whether your family is active duty, reserve, national guard or civilian. We believe our content transcends all.
And with divorce rates of married female military members at nearly THREE TIMES the amount of their male counterparts, all are welcome to visit and contribute content that may help reverse this trend.
Married military women have a divorce rate of nearly 9%
Testimonials:
"I think this is a great initiative."
- Karen Golden, Deputy Director Government Relations, Military Officers Association of America (MOAA)
"Those are some of the greatest resources I've found. Too bad they weren't around earlier. I'm sure they would have been a whole heap of good."
- Everett Lopez, Navy male military spouse
"I wanted to get the input of guys that had been through it before. That's when I found Macho Spouse and some of the other Facebook groups. And that was really a good thing for me because it allowed me to connect with some guys online."
- Dee Young, Army male military spouse
"We talk about it as a percentage and we know that you're out there, but it's really nice to see faces and experiences to this six or seven percent that we know exists."
- Monique Rizer, Deputy Director Spouse Programs, Military Officers Association of America (MOAA)
So, go on get busy exploring our site. Add your name and location to our interactive map (Macho Map). Submit a blog or an article. Or hell, just send us an email to let us know that you're there!
Check out our website:
Male Spouse 101
Career Advisement
Blogs
Articles
Videos
Links & Organizations that Rock!
You know, we got the ball rolling, but we still need as much help and support as we can get to keep things moving.
Mission and Vision
Our mission is to help male military spouses connect with one another and assure that we are not alone in this military family lifestyle.
Our vision is to become an organization that helps increase America's national security efforts through a global network of male military spouses who enhance the readiness of our female active duty spouses and families.
Our approach:
Help remedy the problem of isolation by helping male military spouses connect with one another and assure that we are not alone in this military family lifestyle.
Help remedy the problem of emasculation by educating and informing male military spouses about their worth in our nation's security efforts.
Help male military spouses find their niches by helping them find outlets to pour their passions into and contribute to surrounding communities and re-establish their identities.
Help reverse a divorce rate that is nearly three times higher than the national average. Enlisted female soldiers continue to experience the highest rate of divorce - 9.4 percent. In the Army, the female enlisted divorce rate is more than triple that of enlisted males. (Military.com)
From Chris Pape, Founder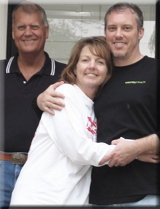 My attitude towards my wife's military career was probably very similar to other male military spouses who have bee in my situation. Even though I was extremely proud of her, I never bought into it as a lifestyle both of us must live.
I am a fiercely independent person who had his own career, his own money, his own identity. She has her career, I have mine. It's amazing how long I tried to hold on to this philosophy even though it torpedoed itself every few years. I mean it only took three PCS's, two deployments, six job changes, one change of career experiment, high blood pressure, high anxiety and several months of unemployment for me to understand that, like it or not, I am a military spouse, and a male military spouse at that. But you know, nobody ever bothered to explain this to me, I had to learn it myself the hard way.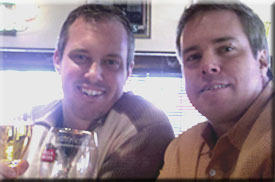 My utter lack of understanding and situational awareness, coupled with the non-existent support for male military spouses is why I decided to start Macho Spouse, an educational video series and online resource for male military spouses.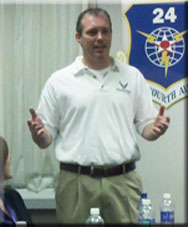 I have collected interviews and life lessons from other male military spouses, advice from PhD-level military family counselors, and career tips from military spouse career experts. When finished, these resources will be edited unto a series of videos that will deliver invaluable life lessons and advice for not only us men, but our wives and partners as well.
I can only imagine how beneficial something like this would have been for both my wife and I when we decided to marry. Maybe my last 10 years didn't have to be so hard.