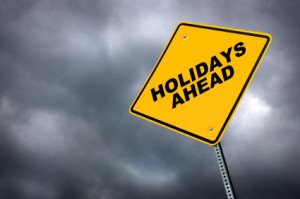 "SAHD Life" is a blog segment by male military spouse and stay-at-home-dad, Taurus James - husband for 15 years, father for 7 years, SAHD for 2 years. In this post, Taurus takes a look back at his personal struggles with anxiety, depression and lonliness during the holidays and encourages others to seek help.
When I was a boy, I loved the holidays. I had great anticipation and excitement during Christmas. I loved being with family and friends during Thanksgiving. Food, football (Washington Redskins forever!) and fellowship are what I looked forward to the most.
But then something happened. I didn't know exactly when, but I was definitely a grown-up at the time when I started dreading the holidays. Thanksgiving and Christmas became the worst times of the year for me. The things I loved about these holidays and anticipated as a boy, I hated as a man and a father.