Tag Results for militaryfamily
Posts: 10 items(s) found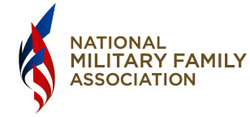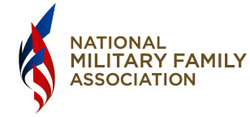 Calling All Male Military Spouses!
Large, national organizations are starting to take notice of male military spouses. The National Military Family Association recognized Macho Spouse and male military spouses in their latest eNewsletter.
This is more proof that people find our stories interesting, helpful and worthy of acknowledgment. Pretty cool being mentioned by a prestigious organization such as this.
Thank you Katie and the NMFA! (Click the NMFA logo to see the story.)
I completed the website re-design and website development for the MachoSpouse.com website and it is now live!
MachoSpouse.com is an online resource and informational hub for male military spouses. It's a positive, pro-active project designed to help guys deal with current military life issuesthrough the use of video, online networking and communication.
Keywords: malemilitaryspouse military website militarylife militaryfamily militaryspousecareer
MachoSpouse.com, an online resource and informational hub for male military spouses. Macho Spouse is a positive, pro-active project designed to help guys deal with current military life issues  through the use of video, online networking and communication.
The videos contain interviews from current and former male military spouses, military family and relationship counselors, military spouse career and entrepreneur experts; as well as a variety of other individuals who have an in-depth knowledge of what it takes to be a happy, successful, strong, supportive person in military family life.
Keywords: malemilitaryspouse military militarylife militaryfamily militaryspousecareers machospouse resources
Here is a great opportunity to voice your concerns...or not. These surveys are very important for future generations of military families!
Survey open October 9th - November 12th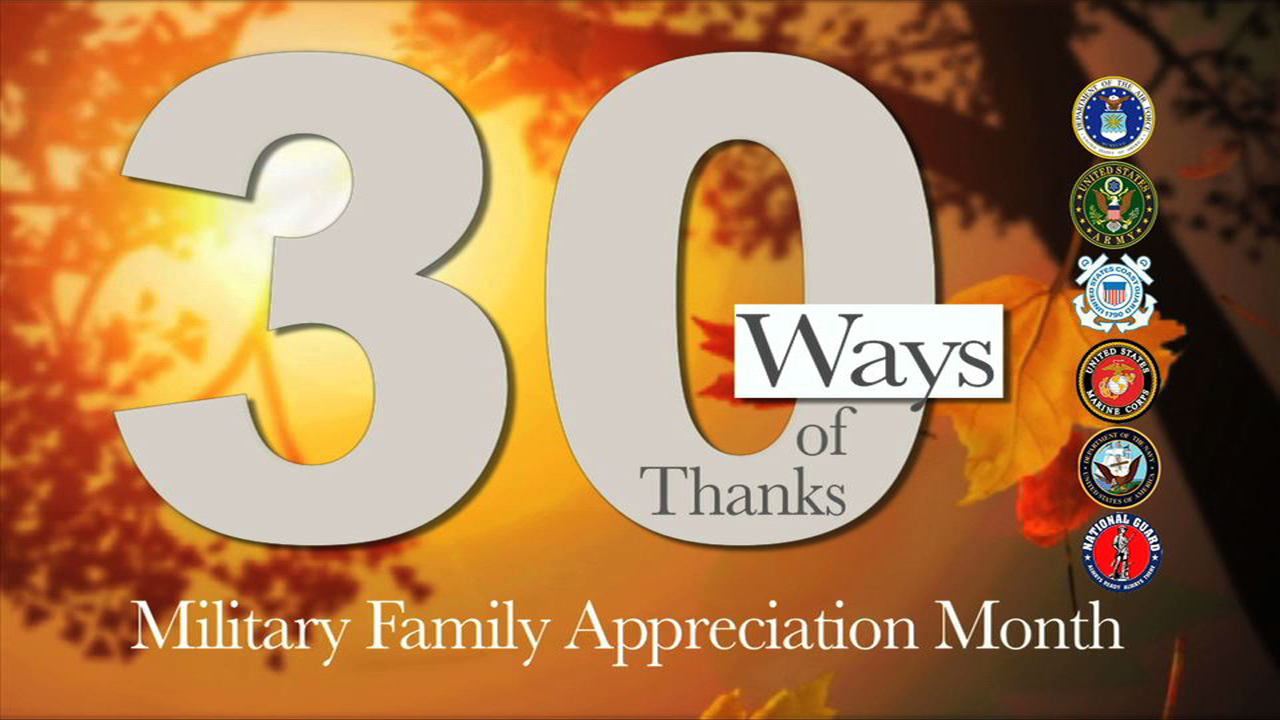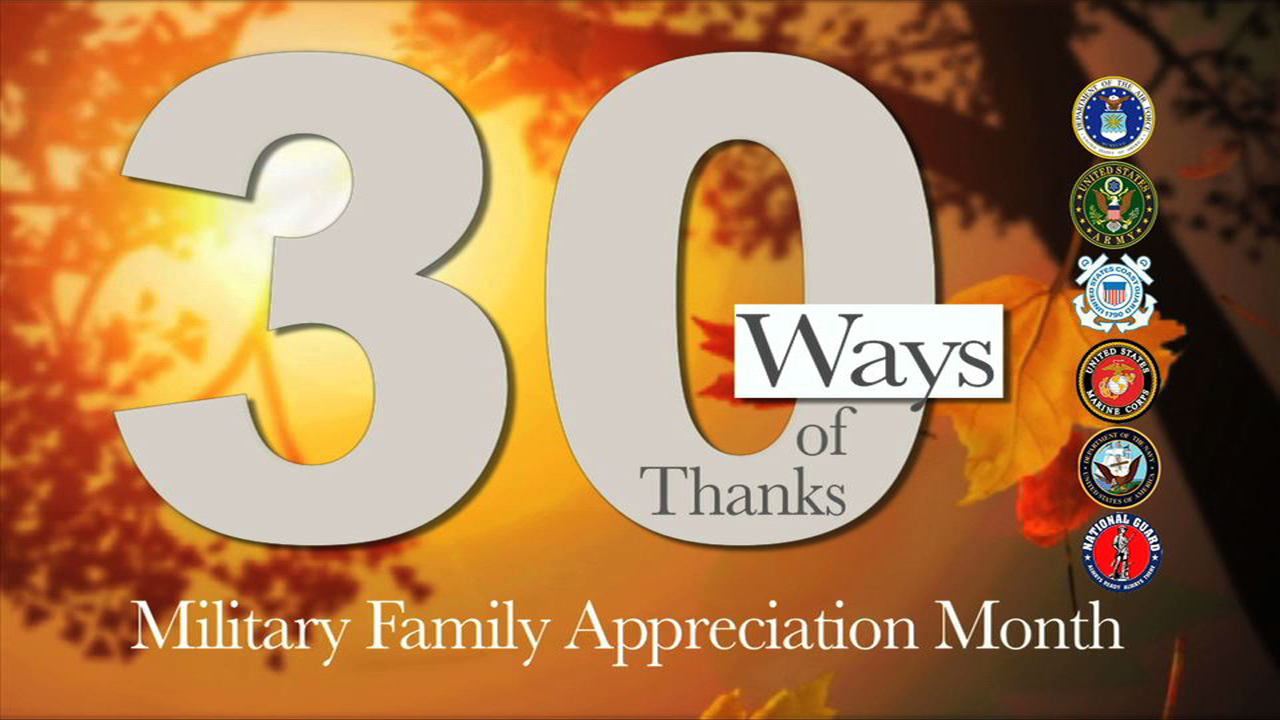 A great way to show your appreciation for military families is to adopt a military family this holiday season. What? Adopt a military family? Yes! Reda Hicks, the Armed Forces Insurance Army Spouse of the Year, explains how operationwearehere.com can help you show your appreciation.
November is Military Families Appreciation Month, and the 2014 Armed Forces Insurance Branch Spouses of the Year (Branch SOYs) want to help everyone, everywhere participate in thanking and honoring military families.
Americans love our military, but many people don't quite know how best to express their gratitude. As National Guard Spouse of the Year Dr. Ingrid Herrera-Yee notes, "saying "thanks" to our military families is something that many want to do, but are at a loss as to how to do it –or in the case of Guard and Reserve, how to find us!"
So the Branch SOYs created #30Ways of Thanks to help. Each day in November, the Branch SOYs will release a video with an action item that people around the country can participate in virtually or locally, individually or in groups. Participants can hash tag #30Ways so that their messages, photos, or videos are spread far and wide. Hash tags #GratefulNation and #MilFamsRock can also be added as a short-hand way to say "You are amazing, military families!" Best of all, the entire #30Ways video collection will be stored on the Branch SOYs' YouTube channel so that it can be repeated in Novembers to come, or whenever someone is looking for a way to say "thank you" to military families.

Are you PCS-ing (relocating) any time soon? Need apartment/housing information? Need school information from other military parents? Need to know about the neighboorhood around your new base?
MilitaryTownAdvisor.com is a PCS relocation resource where military families write reviews about neighborhoods, apartment complexes and schools in military towns near U.S bases. Created by a military spouse for military families.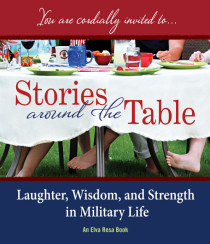 (St. Paul, MN)—Award-winning independent publisher Elva Resa Publishing is pleased to announce the October 2014 release of Stories Around the Table: Laughter, Wisdom, and Strength in Military Life, a collection of personal stories from more than forty military family writers, including spouses, parents, children, and service members. (make sure you check out the list of authors guys...a few of us are represented in this group!)
From poignant to practical, tragic to humorous, these candid conversations shed heartfelt insight on many aspects of military life. Some subjects, such as deployment, reunion, combat injury, post-traumatic stress, and frequent moves, specifically reflect the military lifestyle. Writers also explore topics common to both military and civilian families, including marriage, education, parenting, friendship, faith, finances, depression, infertility, and grief, and how military life influences the experience.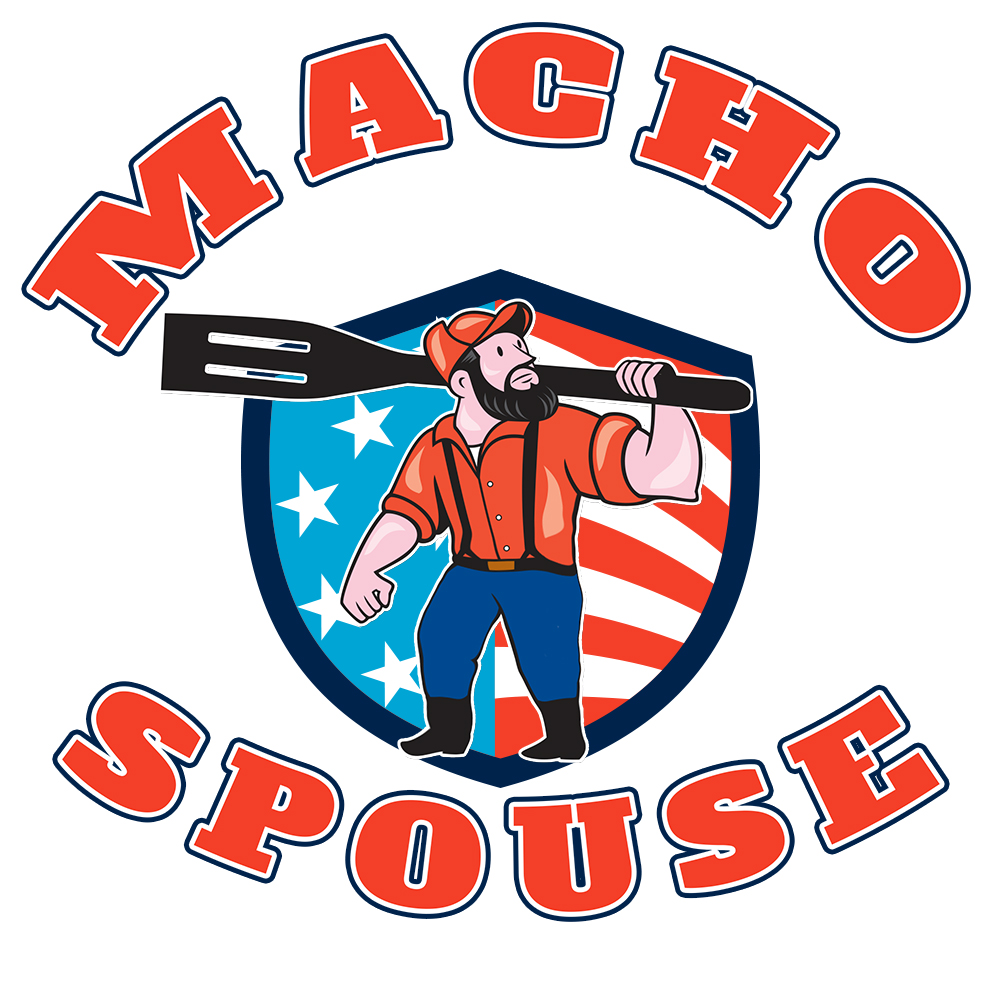 Macho Spouse is an educational video series and online resource for male military spouses. The Macho Spouse mission is to help male military spouses connect with one another and assure that we are not alone in this military family lifestyle.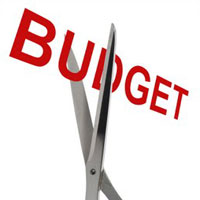 Like many military spouses and families, you may want to know how sequestration will impact your military family in detail, but can't seem to get anything more than, "It's a bad idea." You continue to hear about the billions of dollars to be cut from the DoD budget and how that will negatively impact the readiness of our armed forces in general. Yet, what remains unclear to you is the direct impact sequestration will have on your military family.

For example:
Will sequestration impact the CDC and child care? If so, how?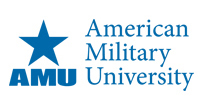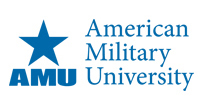 By Craig Gilman
Faculty Member at American Military University
Are you on the move?  Summer is a time of transition and change for the military child.  For many service members and their families, summer is the time when permanent changes of duty station (PCS) occur.  While there is often excitement about moving to a new location, there is also a tremendous amount of stress.  This can be especially true for the children of military families who often both suffer the sadness of leaving their old friends, school, jobs and community behind and deal with the anxiety of establishing themselves when arriving at their new home.