Archive for the 'alone' Tag
Posts: 14 items(s) found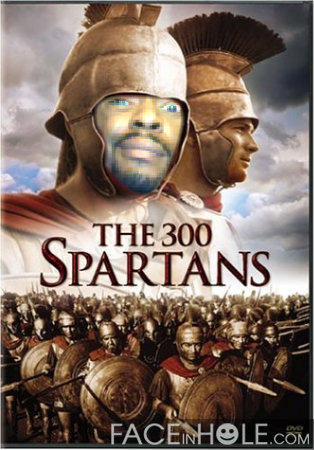 According to whatever stats you want to view at any particular time, we as male military spouses are still small in number, relative to the total number of military spouses. You don't have to look far to know that the challenges we face are great. Facing the challanges alone is no fun. That's why we need your help, whether you're just starting out, or you're a 15-year-plus male military spouse veteran.
A few months back, I was looking for a ways to help male spouses and I stumbled upon a Macho Spouse video. I called Chris Pape and asked him how I could help. Using what I know as a web developer and IT consultant, I immediately began working with Chris to develop this website as an online community for male military spouses.
The Macho Spouse website is an online resource, providing valuable information to military spouses, stay-at-home-dads, advocacy groups, corporate organizations and others. MachoSpouse.com is also an online community - allowing spouses to connect and share experiences. Almost daily, we are adding features to the website to allow those of you who sign up as members different ways to contribute to helping another male military spouse.
How?
By Aaron Brodniak
My journey as a military spouse began shortly after the terrorist attacks on September 11, 2001. Within a week my wife was recalled into the U.S. Coast Guard and working as a sea marshal boarding ships and performing inspections. At that time, I was the primary breadwinner of the family and had a job as a regional brewer.
Initially my wife's return to active duty was an easy transition since her first duty station didn't require us to move. That soon changed and less than a year later we were assigned to a duty station that led to me leaving my job.
My first challenges were house hunting and trying to figure out what to do with my time. In my adult life I had served in the Coast Guard and then worked in the private sector; this was my first time not having a job outside the house. Since we were expecting our first child, we decided it made more sense financially for me to stay home and finish up my bachelor's degree before my G.I. Bill expired.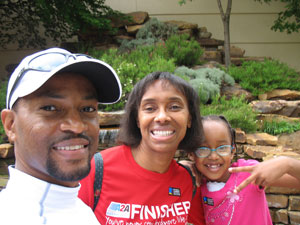 The YMCA Adventure Guides Father-Daughter Sweetheart Ball was not on my radar until a good friend of mine told me how he takes his daughters each year. I thought, "Cool! You and your girls are really excited about this thing, huh?" When my wife started getting emails about the event, there was no controlling her excitement. She was even talking about renting a car for the night!
Yeah...
In case you didn't know (like me), a daddy-daughter dance allows dad an opportunity to set an example and standard for how his daughter should be treated on a date. It is also an opportunity for dad to build that special bond with his daughter and make special memories.
Okay, based on the description above, I tossed the whole daddy-daughter dance thing out the window because my daughter and dating don't even go together in a sentence. And I can build that special bond with my daughter at the creek - FISHING!
But I thought about the whole thing (I do a lot of thinking) and with my "try-almost-anything-once" attitude, I went all in.
That's right! I went to my first daddy-daughter dance AND I LOVED IT!
4189 Views | 270 Likes | 1 Comments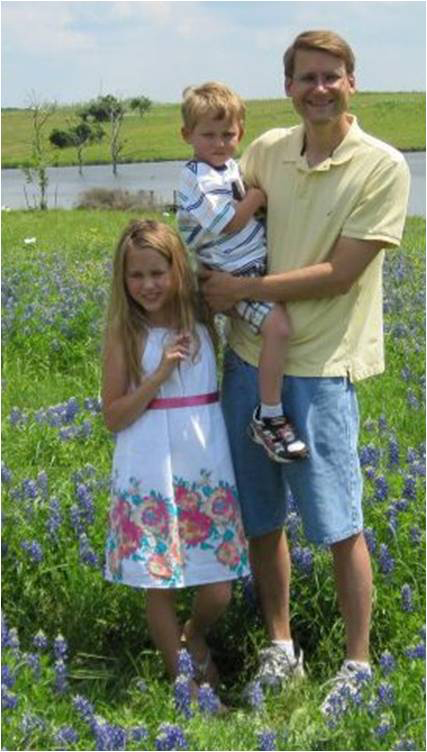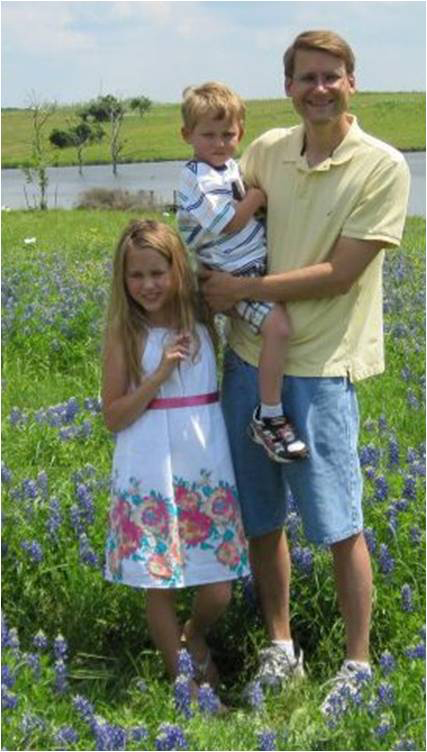 If I were to offer any advice to a military spouse either preparing for or experiencing their first deployment, I would tell them four things.
First, turn off the news! As a spouse, naturally, you worry. The media certainly does not help you out. Occasionally, I would watch the news or see internet headlines that just "grab you" to make you read. But, this really is a balancing act. If you have the news on all day, you will end up making yourself sick!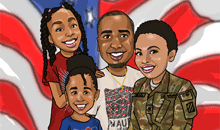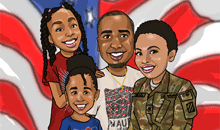 During deployment, it is important to recognize the signs and symptoms of depression. According to WebMD, some of the symptoms of depression are:
Difficulty concentrating, remembering details, and making decisions
Fatigue and decreased energy
Feelings of guilt, worthlessness, and/or helplessness
Feelings of hopelessness and/or pessimism
Insomnia, early-morning wakefulness, or excessive sleeping
Irritability, restlessness
Loss of interest in activities or hobbies once pleasurable, including sex
Overeating or appetite loss
Persistent aches or pains, headaches, cramps, or digestive problems that do not ease even with treatment
Persistent sad, anxious, or "empty" feelings
Thoughts of suicide, suicide attempts
Now, we also have to understand that there is a difference between simply being sad and depression. There is going to be, in most cases, a period of sadness and change associated with deployment. This is normal. It is not uncommon for people to have some of the symptoms of depression, yet not be suffering from depression.
Hiring Our Heroes was launched in March 2011 as a nationwide initiative to help veterans and military spouses find meaningful employment. Working with the U.S. Chamber of Commerce's network of 1600 state and local chambers and other strategic partners from the public, private, and non-profit sectors, our goal is to create a movement across America in hundreds of communities where veterans and military families return every day. Hiring Our Heroes has hosted more than 400 hiring fairs in all 50 states, Puerto Rico, and the District of Columbia. More than 14,100 veterans and military spouses have obtained jobs.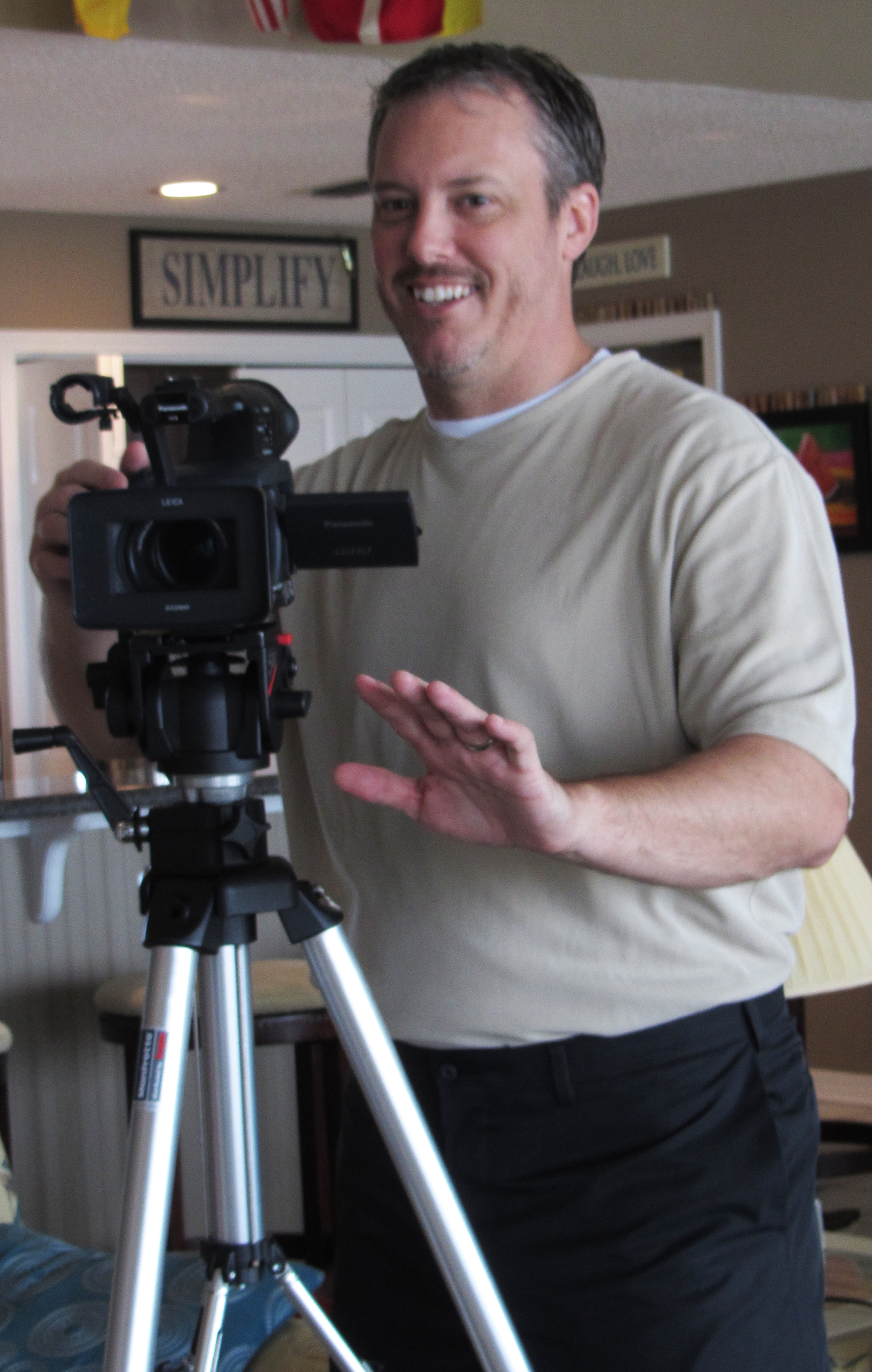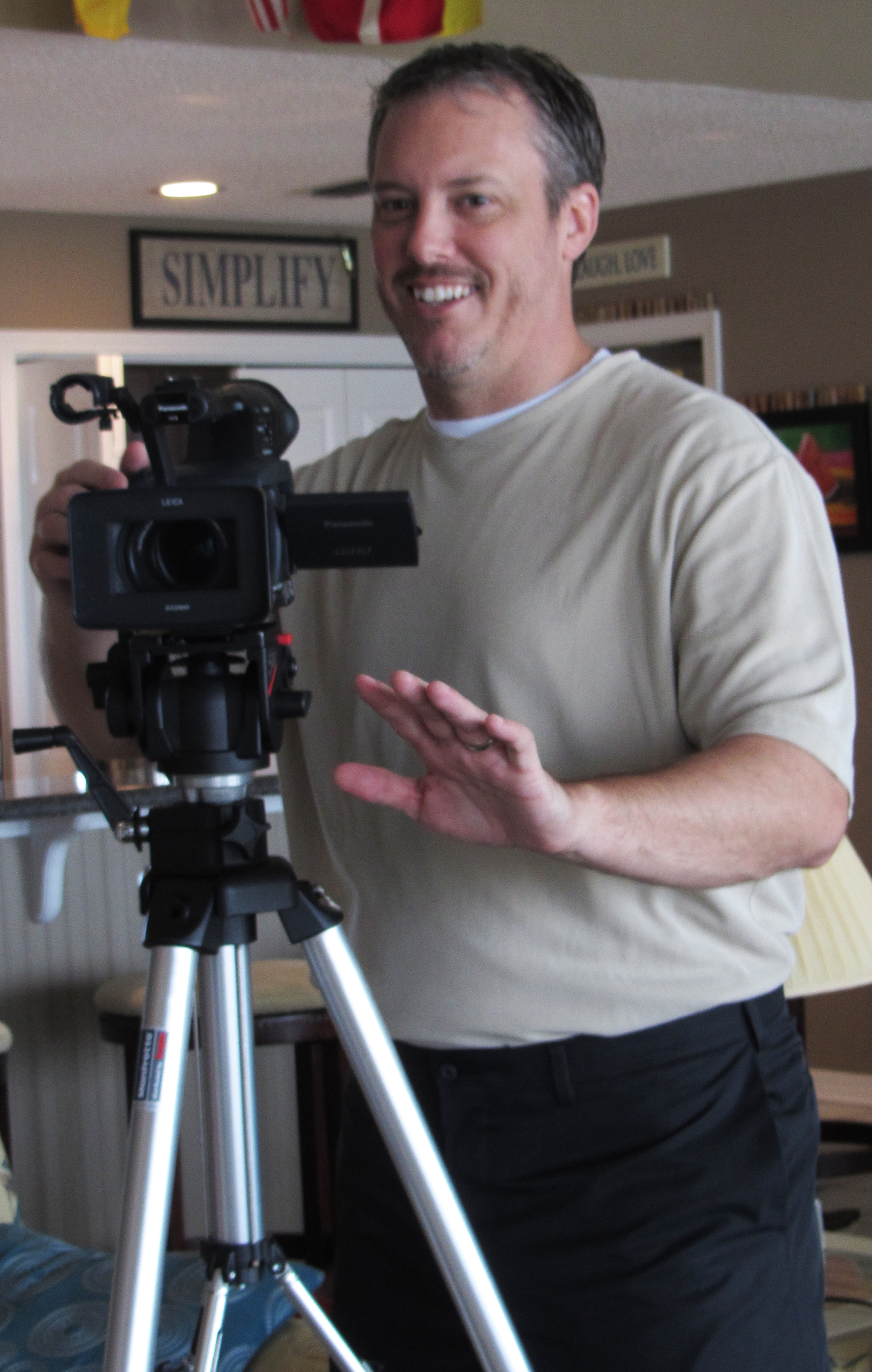 You know, I started Macho Spouse because I couldn't find a job in my career field during our last PCS. Most of us military spouses have probably gone through similar depressing job-searches. But after two years of unemployment, here I am, back in the job market and gainfully employed. This time, however, I have a whole new appreciation for what it takes to land that next job. The following is a short list of what I learned during my latest employment drought.
The first thing every military spouse needs when planning his or her career is patience. Patience, patience, patience. We must understand that our career trajectories won't be as quick, or logical as our civilian counterparts. And that's OK. As long as we understand where we want to be at the end of our working life, taking a step backwards now and then isn't a big deal as long as it moves us further forward down the line. Remember, our life situations can change rapidly, so we don't have to find that "perfect" job today since we probably won't be able to keep it anyway. Focus on building your resume so that when your spouse does decide to retire, you will have a great resume and lot's of experience to land that "perfect"job.
Hello male military spouse community! 

My name is Jamison Stone and I am the spouse of Staff Sergeant Rebecca Bainbridge of the United States Army Field Band at Fort Meade, Maryland. Because of her assignment, my wife, and the rest of her company, are on tour and away from their families for over 100 days out of the year.


As you very well know, Military service is hard on families. While I speak more about this topic on my blog, the ongoing struggle is very taxing to both the heart and the mind. Most difficult for me is the sadness and depression of separation during my partner's deployment and training.


Sadly, many Military Families have it far worse off than we do, particularly those with service members actually in harm's way, and especially of course those who make the ultimate sacrifice defending our country. All these women and men who proudly wear the cloth of our nation, and their families, are true heroes.


Female Mil Spouses are very lucky to have a wide network of other military wives to lean on during these difficult times. Sadly, we men, are not as fortunate. Personally, I find it extremely challenging as an Army husband to find a real sense of community. This is particularly emphasized when my wife is away on training or tour.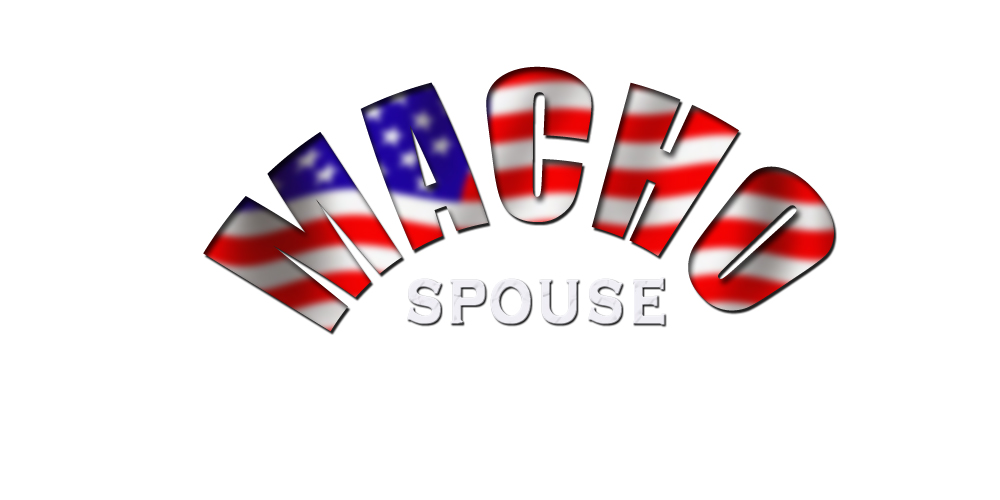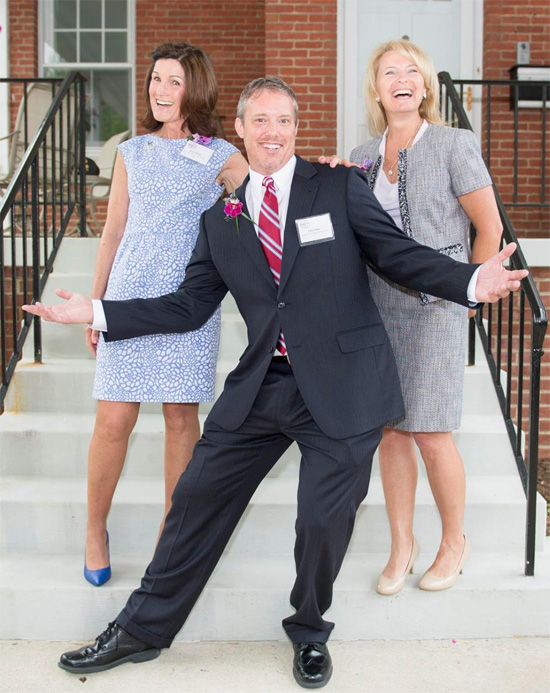 Well it's been a while since I've contributed any meaningful content to Macho Spouse and I owe everyone an explanation. No, I haven't decided to hang it up and retire…not yet anyway, quite the opposite really. As some of you already know, last February I was named the Armed Forces Insurance Air Force Spouse of Year, as well as, the AETC (Air Education Training Command) level Joan Orr Air Force Spouse of Year. Being recognized by so many people for the work we've done building a resource for male military spouses was incredibly humbling and an absolute honor. What a great way to start the year! However, I wasn't prepared for the amount of effort and time each of those distinctions would demand. The time I normally spent creating videos and/or blog posts for Macho Spouse was dedicated to new speaking engagements, interviews, articles for other websites and publications, and even a chance to author a small portion of, Stories Around the Table, Laughter, Wisdom, and Strength in Military Life. I had multiple opportunities to speak at many Air Force functions and present Macho Spouse (along with the plight of male military spouses) to the highest levels of civilian and military leadership. Hell, the Chairman of the Joint Chiefs coined me! (To my high school counselor who 26 years ago called me a "flake," you were wrong...so suck it.) Our message is slowly starting to gain traction and people of influence are listening, we just need to continue pushing forward. Anyway, toss in the fact that my wife deployed in March and I was working a full time job, well, there wasn't much time for anything else.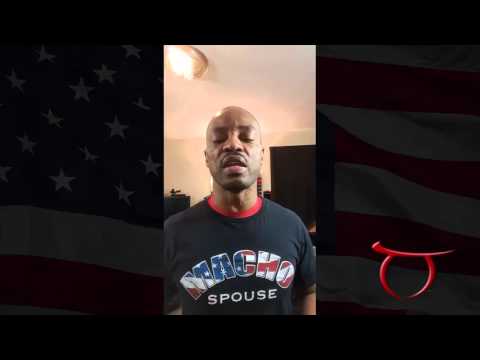 MALE MILITARY SPOUSE YOU ARE NOT ALONE - MACHO MINUTE
A message to Civilian Male Military Spouses to let them know that "You Are Not Alone" in this journey as a male military spouse.

Macho Spouse is an educational video series and online resource for male military spouses. The Macho Spouse mission is to help male military spouses connect with one another and assure that we are not alone in this military family lifestyle.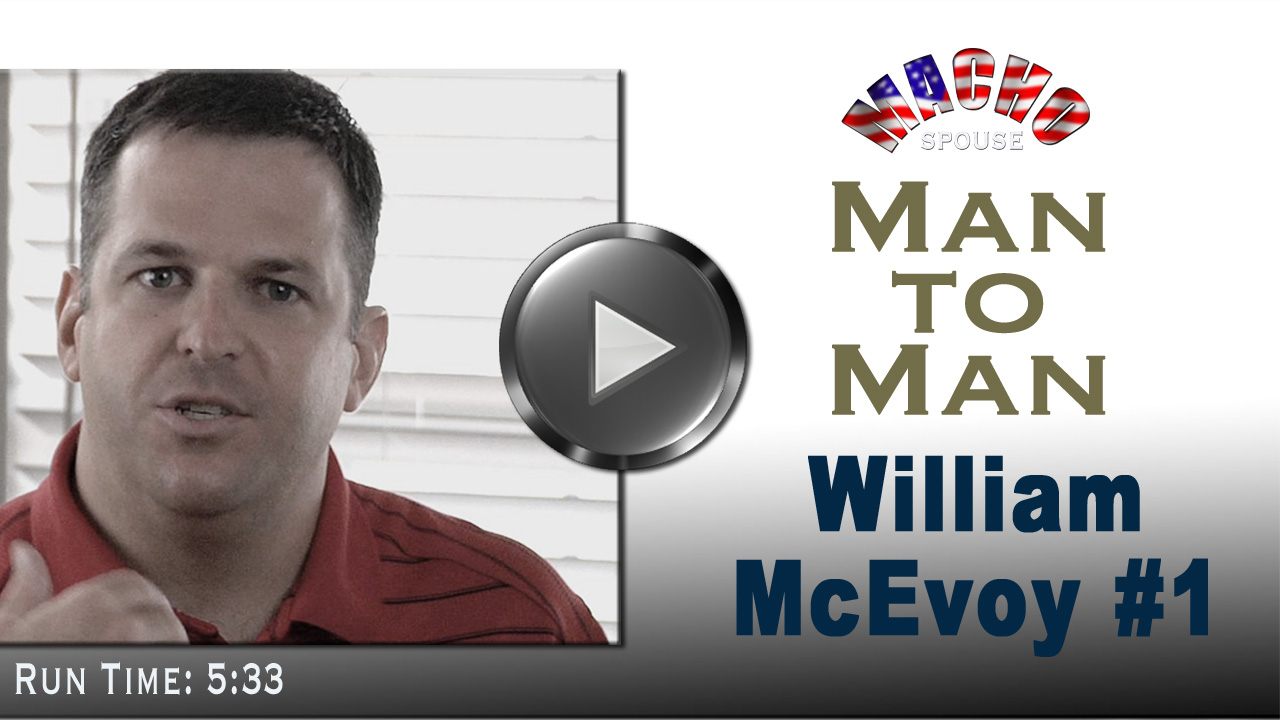 This is the first video in a two-part series featuring Air Force spouse William McEvoy. William and his wife have been married for over three years, but have been a serious couple for about nine. Get to know William and learn what created his depression as he speaks openly about a difficult career arc and a strong desire to be a contributing partner within his marriage. Male military spouses and stay-at-home-dads of all ages and experiences may relate to William's story.
Macho Spouse and Chris Pape are mentioned in Alice Swan's article, Tuning in to the Military Spouse Network, in which Alice covers lessons she learned at the 2013 Military.com Spouse Summit (April 11-12, 2013). Here is what Alice wrote:
Build a service out of your unique experience and skill: A great example is Chris Pape, male military spouse and founder of Macho Spouse (http://malemilspouse.com/). Chris was kind enough to talk with me about how he started Macho Spouse. Living in Columbia, SC, while his spouse is working on an ROTC assignment, Chris said he began to feel pretty isolated. He thought he was the only guy spouse out there looking for information and help. About two years ago, Chris began researching male military spouses on the web but found only two articles about guys manning the home fronts. One of the stories was written by Amy Bushatz who you may remember from my Spouse Summit blog: http://www.dcmilitaryfamlife.com/profiles/blogs/you-are-not-alone.

Chris emailed Amy, who helped introduce him to Wayne Perry, founder of Manning the Home front (http://www.dcmilitaryfamlife.com/profiles/blogs/the-outlook-for-mil...) – it was the Military Spouse network in action. A video producer for 15 years, Chris had been working in Arkansas for the Department of Education, creating instructional videos before the PCS to Columbia. "I didn't see any information sites out there for guys to help share lessons learned or how to find jobs," Chris told me, "so I decided to use the skills I'd developed making the educational videos to create learning videos for male military spouses." Chris's fledgling video series has grown into a full service site for male military spouses to connect, get information on employment, money tips or gain insights through the Male Spouse 101 tutorial.

Facing another PCS soon with his Air Force spouse to San Antonio, Chris is excited about the opportunities the move presents. "I'm building a business I can take with me," he explained. And while Macho Spouse is his future, Chris feels it can also lead to other opportunities in the present. Chris is confident that the work he's done creating Macho Spouse will lead to video and film production work in Texas.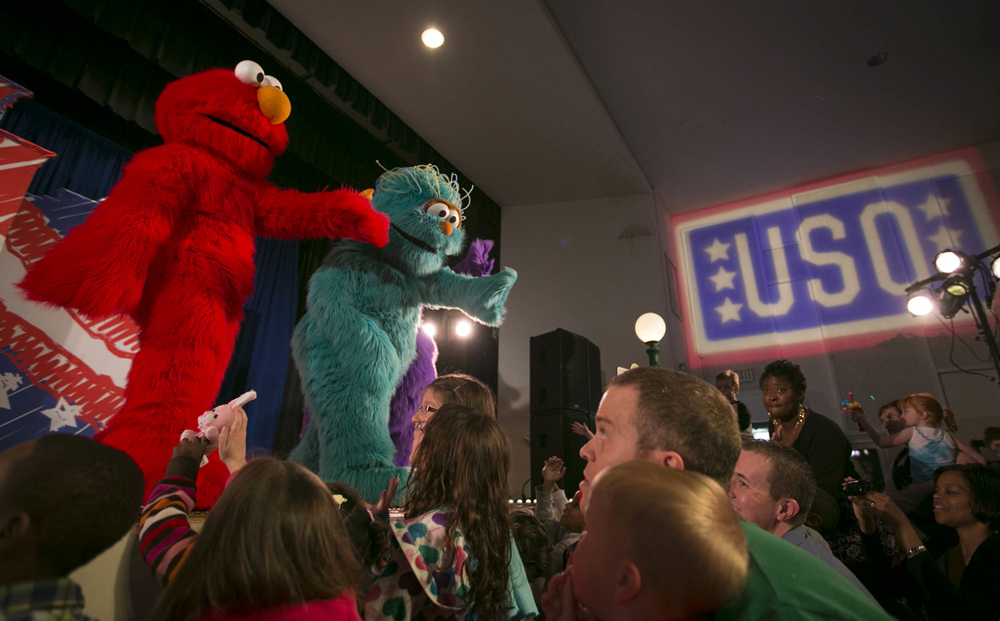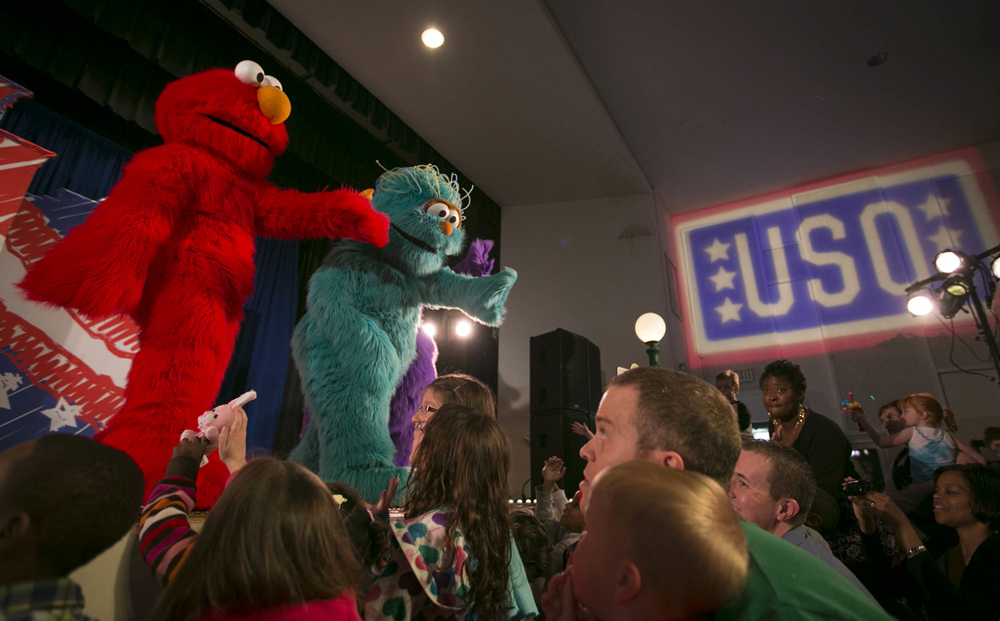 YEAH SESAME STREET! This tour is still going on for those in Japan and Korea. Could be a great way to spend an afternoon with your family!
The tour which begins at Eielson Air Force Base in Alaska on May 29 and will visit 42 bases in 8 European and Pacific countries over the next six months. The organizations hope others will be inspired to learn more and suggest these five simple actions everyone can do to support military families:

1. Volunteer at one of the more than 160 USO locations around the world and discover ways you can take action locally.

2. Offer to help a military family on the home front who live on or off base. Whether you see that their lawn needs to be mowed or garbage cans taken in, helping with simple household chores and errands can really relieve some of the stress a family may be feeling.

4. Lend an ear to listen to a military spouse as sometimes just having someone there to vent to or talk to when you may feel all alone can be the greatest support of all.

5. Say thank you to a military member and their family for their service, sacrifice and strength. Our troops and their families make sacrifices so we don't have to and those two simple words say so much.

"There is nothing that comes close to the feeling you get when you see the smile on a child's face at our Sesame Street shows. I knew we had something very special the first time I saw the smiles of our military families, and here we are five years later, celebrating a tour that that has traveled the globe three times over and is about to do it again," said Sloan Gibson, USO President and CEO. "The USO is proud to be on Capitol Hill celebrating the tour's fifth birthday and assembling care packages for troops overseas. There is no better way to commemorate such a momentous occasion than IN our nation's capital and WITH our friends at Sesame Street."

The longest running tour in USO history, the Sesame Street/USO Experience for Military Families has taken its message to more than 368,000 troops and military families, and performed 631 shows on 145 military installations in 33 states and 11 countries. In 2011,Sesame Street and the USO introduced a brand new character named Katie – a military child experiencing the stresses of moving as her parents are transferred to a new duty station. Last year, Katie and her Sesame Street pals visited 67 military bases and performed 204 shows stateside.

"Sesame Street has so much admiration and respect for our military families, we feel privileged to partner with our friends at the USO and be a part of this special USO Care Package event," said H. Mel Ming, Sesame Workshop President and CEO. "This is a great way to show our continued support to our service men and women and to celebrate five years of bringing our resources and the Sesame Street/USO Experience to Military Families to installations around the world."



Operation USO Care Packages contain vital items troops use every day, from prepaid international phone cards and snacks to travel-size toiletries and comfort items. Designed as a way for America to say 'thank you' to our troops and their families overseas as well as to unite communities, today's Care Packages included a special gratitude card from Cookie Monster as well as a personal note to troops signed by USO Caucus Co-Chairs,

Reps. Jeff Miller, R-Fla

., Tim Walz, DFL-Minn., Howard (Buck) McKeon, R-Cali., and Adam Smith, D-Wash.

Since 2003, the USO has delivered 2.3 million care packages to bring a touch of home and necessities to active duty military serving all over the world. USO Care Packages are distributed to troops traveling through the USO's more than 160 locations worldwide as well as to troops serving overseas.

Whether on the frontlines, with their loved ones, in recovery or in remembrance, the USO and

Sesame Street

are adapting to meet the needs of those who need us most. Operation USO Care Package and

The Sesame Street/USO Experience for Military Families

are just two of the ways we can help them navigate life's challenges. To learn more Operation USO Care Package visit

www.uso.org/operation-uso-care-package.aspx

. To learn more about the

Sesame Street/USO Experience for Military Families

or check for the latest tour info visit www.

USO.org/Sesame