Archive for the 'MyCAA' Tag
Posts: 10 items(s) found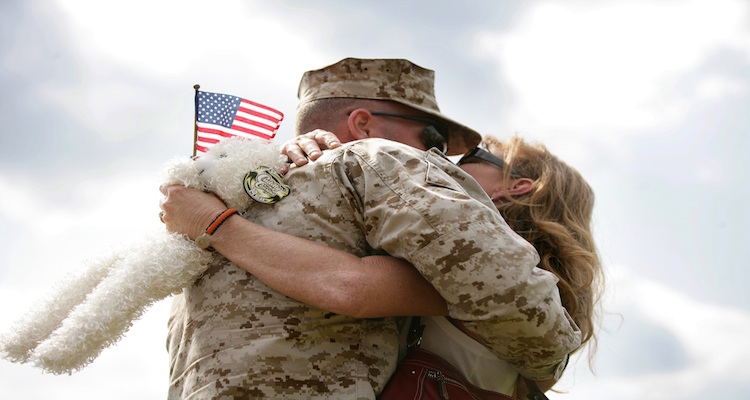 Facebook groups are wonderful things that most people probably don't use to their full advantage. With a group, you can control who is in the group and even if the group can be found via search. This makes it perfect for chatting or sharing things that you don't want everyone to see.
1. To Keep In Touch With Friends and Family
Use groups to keep a conversation with your close friends or family. You can freely share things you many not feel comfortably sharing on just your Facebook page and it's great for planning events or large get together. It's also easier to keep up with everything than having to visit everyone's pages
2. Easier Communication With Your Spouse During Deployments
We all know that communication can be limited during deployment. There are pictures and stories you want to share with your spouse, but don't want everyone else to see, so share them in a group. You can limit it to just the two of you as members, then when he/she gets a chance to check in, they can see everything at once.
3. Network At A New Duty Station
The hardest thing to do at a new duty station is make friends and network. Find a Facebook group for your base. Ask questions about the area, learn about classes for fitness or other things that interest you, and even find babysitters.
4. Keep Up With Your Spouse's Unit
A lot of units and FRG's have Facebook groups or pages. This can easily allow you to see what is going on with the unit and any upcoming events that may be of interest to you. These groups are especially helpful if the unit is gone for training or deployed.
5. Garage Sale Pages
Right? Facebook garage sale pages are great! You can easily buy and sell items and even find people for house cleaning or babysitters. Since it's a group, the admins should only allow people in your area to be included.
6. Entertainment Purposes
Groups can be started for anything, including news, current events, or your favorite TV show. If your spouse hates watching OITNB, talk about the episodes in a group with other fans.
7. Foster And Receive Support From Other Military Spouses
Have questions about benefits, PCSing, or military life in general, there's a group for that. If there isn't you can start one! Everything from <a_dropped style="color: #bb133e;" href="http://martinsburgcollege.edu/enroll-now/financial-assistance/" target="_blank">MyCAA for spouses to wounded warrior wives.
8. Helping To Reach New Goals
Looking to grow your business or go back to school? Find a supportive group of like-minded people to answer any questions and help keep you motivated.</p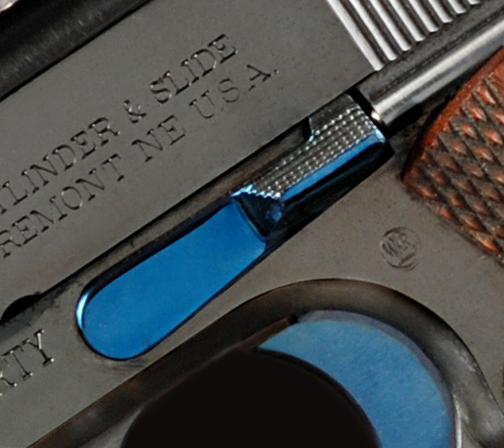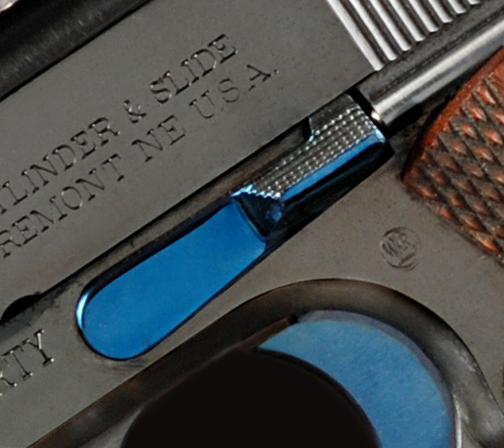 If you are a gun enthusiast who enjoys light gunsmithing projects, you will be interested to know that you can nitre blue gun metal without using salts. To use nitre salts, you have to heat the solution, slowly dip the parts in and hope that they come out looking even. It is definitely a process that requires multiple practice runs before attempting to nitre any actual gun parts. However, there is a much simpler solution if you want to nitre blue your gun metal. Simply do it with heat and without tedious salts.
How Can I Nitre Blue Gun Metal Without Nitre Salts?
The process is easier and quicker than using salts. If you heat the metal evenly for a long enough time period, it oxidizes and changes colors. Do not expect a vibrant royal blue. This process will bring a nice subtle but darker blue color, which creates an attractive and sleek look on a gun. As you heat the metal, you will see the color change. Use a screw to practice first so you can see how easy this is.

What You Will Need
Metal screw
Propane torch
Vice grips
Striker
Personal protective gear
Steps To Nitre Blue Gun Metal Without Nitre Salts
If you are new to gunsmithing or using a propane torch, it is a good idea to wear protective gear. Wear gloves and goggles. When working with a torch, make sure you do not have baggy clothing or sleeves.
1. Grip The Screw
Place the threaded part of the screw in the vice grips. Tighten it enough that the screw is held in snugly but the threads will not be damaged. When using handheld vice grips, make sure the handles are in good condition to avoid burns.
2. Heat The Screw
Use the striker to ignite the propane torch. Hold it so the tip of the torch's flame touches the screw's head. Move the torch around in circles on the screw's head slowly.
3. Watch For Color Changes
As the screw's temperature changes with prolonged flame exposure, it will start to change color. It will start with a light but dull color change. Heat it evenly around the head for a continuous color. When the head of the screw turns purple, be sure to watch it closely. The next color change will be blue.
That is all it takes to nitre blue gun metal. Perhaps you have an old pistol that looks rough and needs a makeover, or you just like blue gun metal. This is a great project for any gunsmithing enthusiast. Check out SDI's YouTube Channel for additional gunsmithing tips. They also have some gunsmithing programs that qualify for the military spouse MyCAA scholarship program. For more information about gunsmithing as a career for male military spouses, visit SDI's School of Firearms Technology.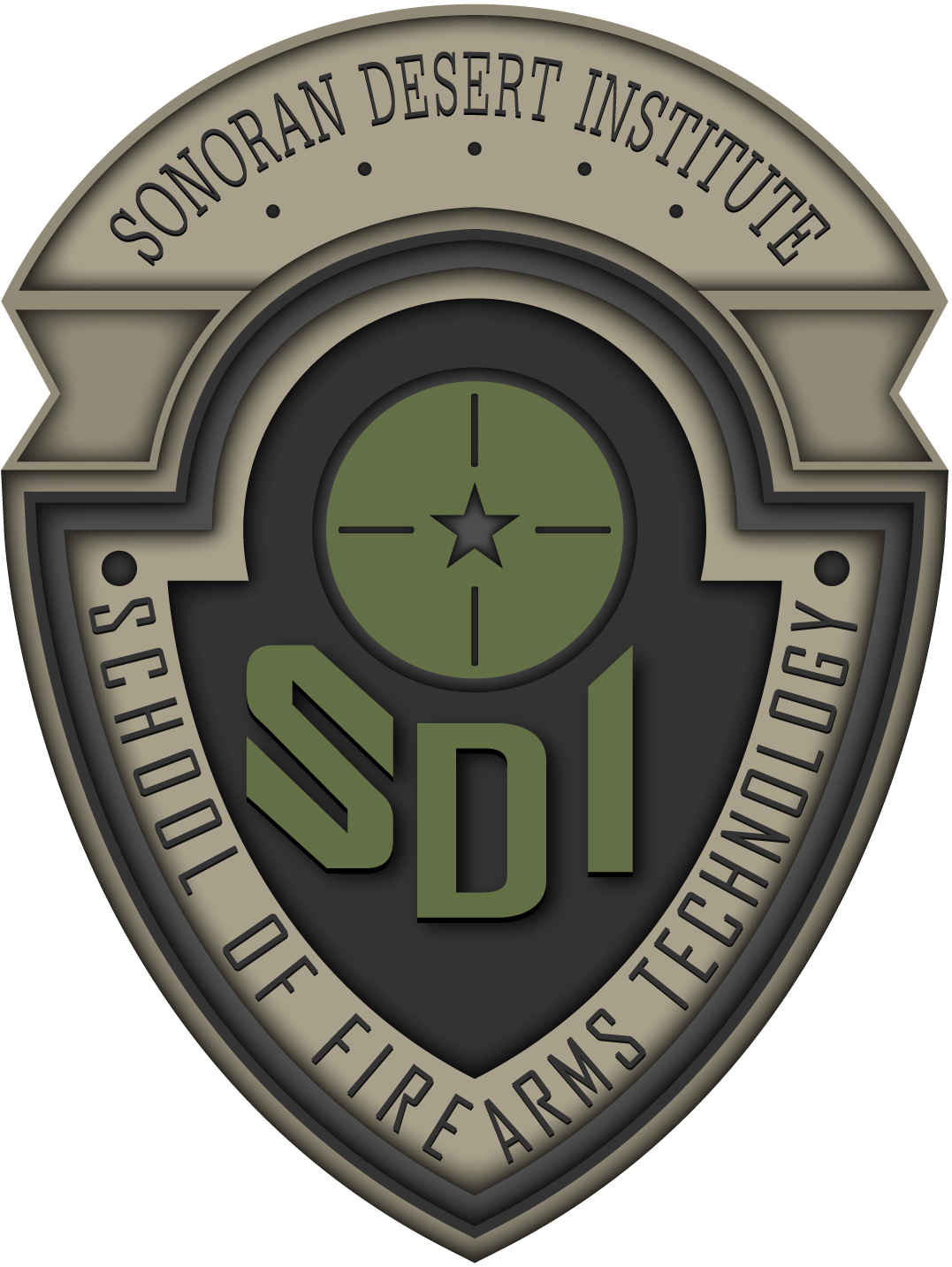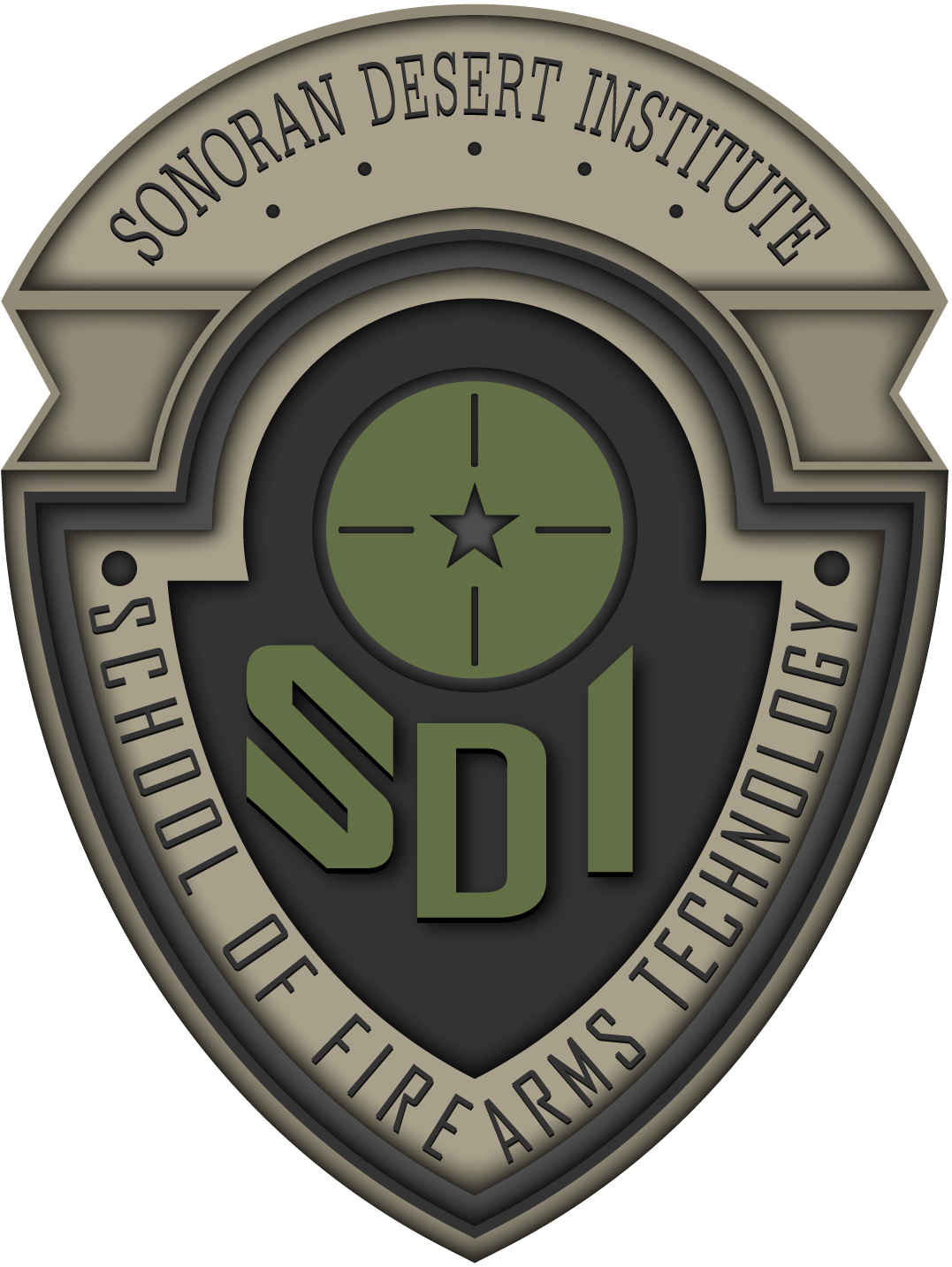 Macho Spouse is excited to announce our new partnership with the Sonoran Desert Institute (SDI) and their School of Firearms Technology (SFT). Throughout the year, SDI will provide Macho Spouse with content on Gunsmithing, firearms, and different educational opportunities. In fact, we will be introducing a new Macho Spouse Scholarship to their School of Firearms Technology in May!
Why did we chose SDI to be our first educational-based sponsor? Well, because they've demonstrated the ability to meet criteria for academic and consumer right standards from federal and state agencies as well as non-governmental agencies. These standards ensure quality education through sound financial operations, approved programs of study, qualified instructors, and approved recruitment and admissions policies. Click here to learn more about their accreditations.
SDI also has an interest in specifically helping military spouses find work through their programs of study. They participate in the G.I. Bill Program, the Montgomery G.I. Bill Program, REAP, and MyCAA.
These guys are the real deal and we're happy to have their support! Please take a minute to visit their site and learn more about what they have to offer. Who knows, maybe you can start on a new career in Gunsmithing this year!
(The following is some good information from our friends at the Sonoran Desert Institute.)
Male military spouses find themselves looking to advance their skill set and have a great opportunity with a scholarship from MyCAA. The challenges of course are attending classes on campus when you may end up having to move before the end of a semester.
Many spouses turn to online education which is a great option. While online courses are a good fit. You need to make sure the school has a solid reputation. The key to a great online education is finding the right online education provider. Every man should know what to look for.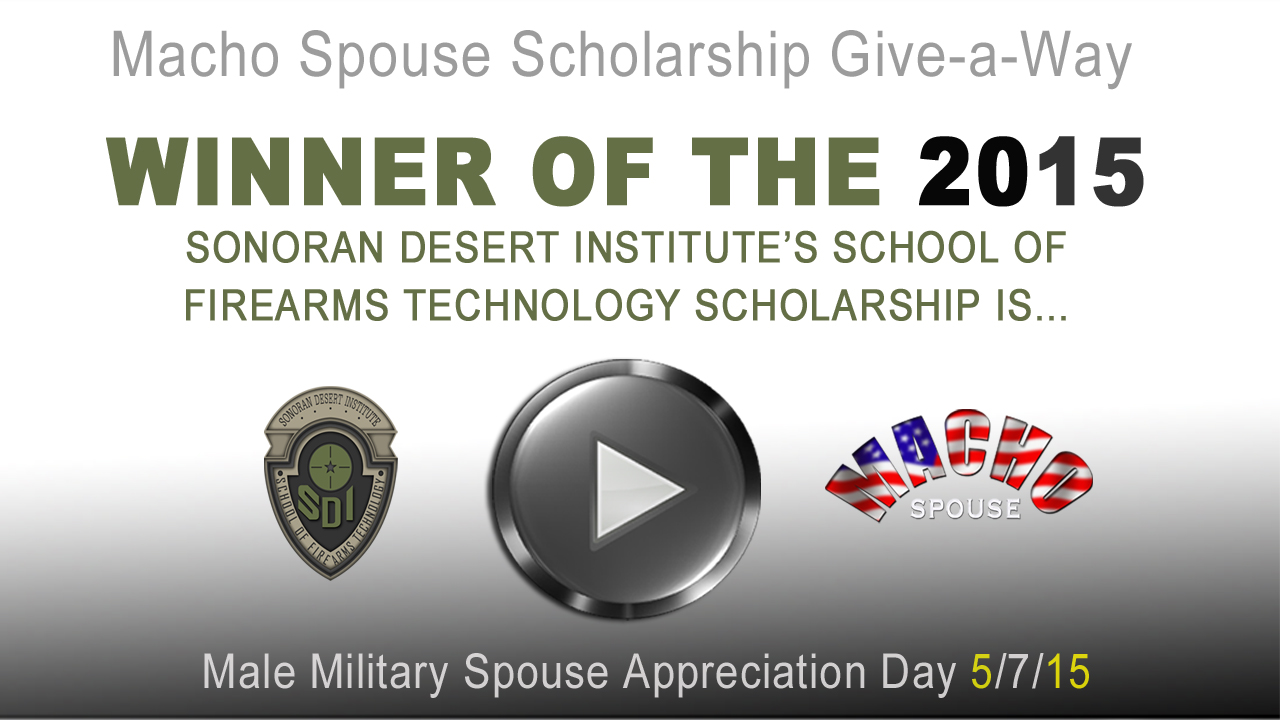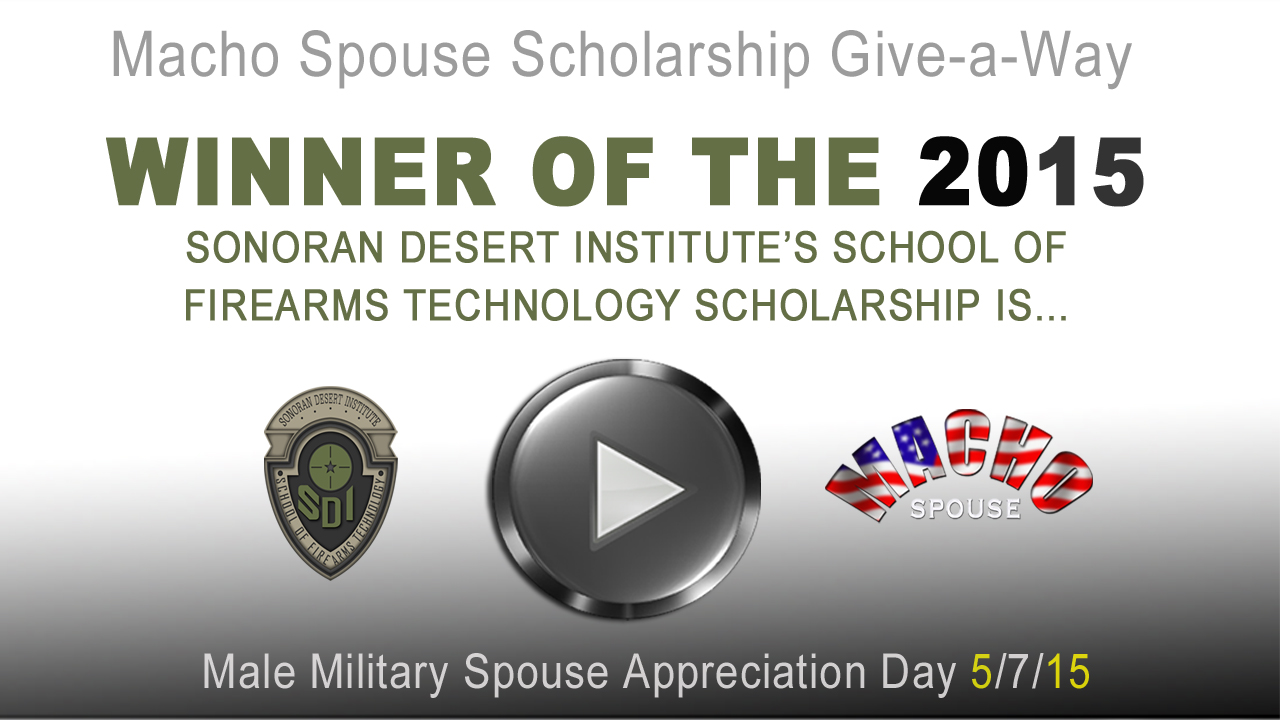 (The video is a little blurry due to some military spouse appreciation happening last night, but you'll be able to clearly hear who was selected as this year's winner.)
Congratulations to everyone who participated in the first ever Macho Spouse Scholarship Give-a-Way presented by the Sonoran Desert Institute! This year, every MachoSpouse.com member had a chance to win a free Gunsmithing Scholarship from SDI's School of Firearms Technology. Only one could win, and that's what sucks because several guys have shown a TON of passion and interest in this line of education. If you didn't win (tiny violins playing), don't worry because you may still be eligible for free tuition through the MyCaa grants. We recommend contacting SDI for more information and help with that process. If MyCaa isn't your thing, or your not eligible, SDI offers quite a few eBooks on gunsmithing that you can download for FREE from their website. Here are two of the more popular ones:
http://www.schooloffirearmstechnology.net/workbench
http://www.schooloffirearmstechnology.net/shotgun-shells
Again, these are FREE! Plus, they have a great YouTube channel filled with tutorials and such, AND we will continue to promote different gunsmithing "How To" videos on our site. SDI is trying hard to take care of ALL of us! (applause from the gallery)
Congratulations again to this year's winner and we hope everyone has a great Male Military Spouse Appreciation Day!
The [[EXLINK_16]] will launch in 2013 to establish a Military Service Grant for spouses who are excluded from the Department of Defense's MyCAA program.
MSEF is founded on the belief that we are one community supporting one another regarding rank, branch, status, or educational status. After 11 years of war, our Post 9/11 era spouses deserve a program that compliments the challenges of military life rather than creates more obstacles.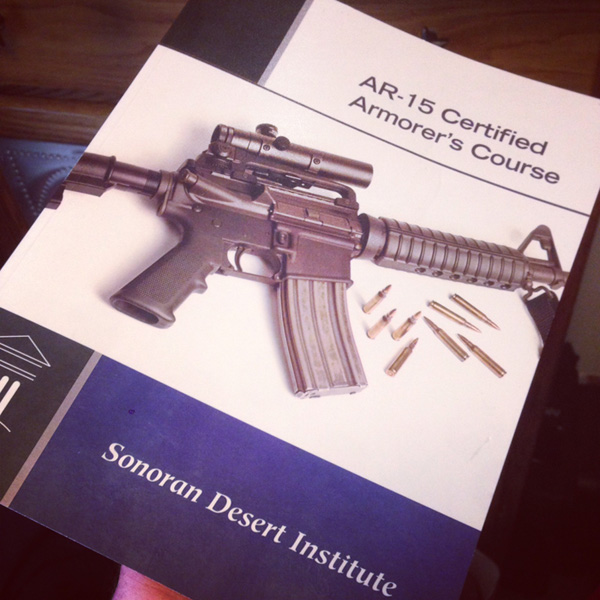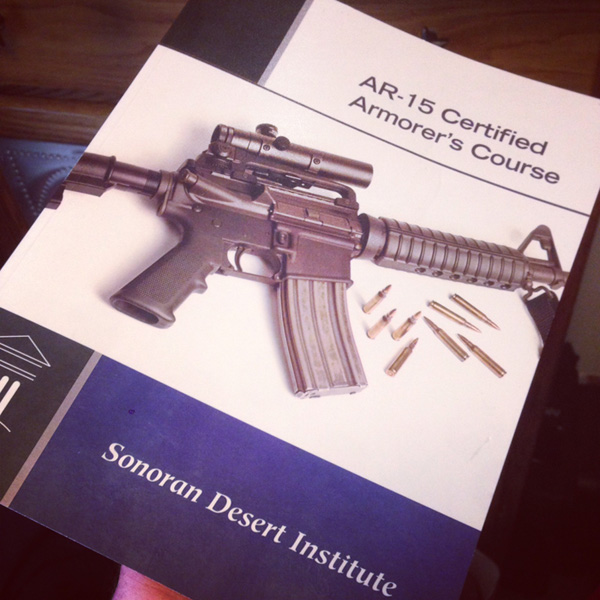 Have you ever thought of a career in Gunsmithing?
America is a country built on traditions, and firearm ownership is a tradition that has been with us since the beginning. More than a third of Americans report having a firearm in their house, or on their property.
The firearms industry has seen a massive increase in sales in recent years. 2012 set a record for the highest recorded number of sales in a given year, and 2013 even broke that record. With CNN reporting record-breaking Black Friday gun sales in 2014 – over three a second for a total of over 175,000 on that single day – the firearms industry shows little indication of slowing down.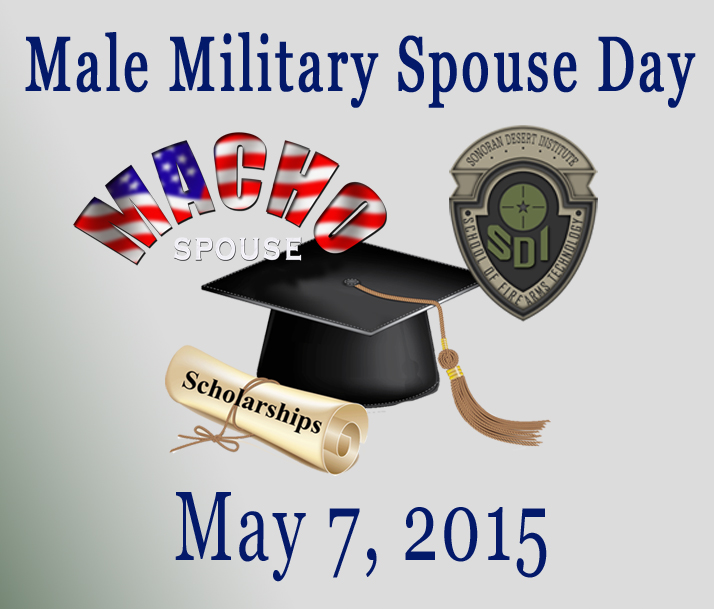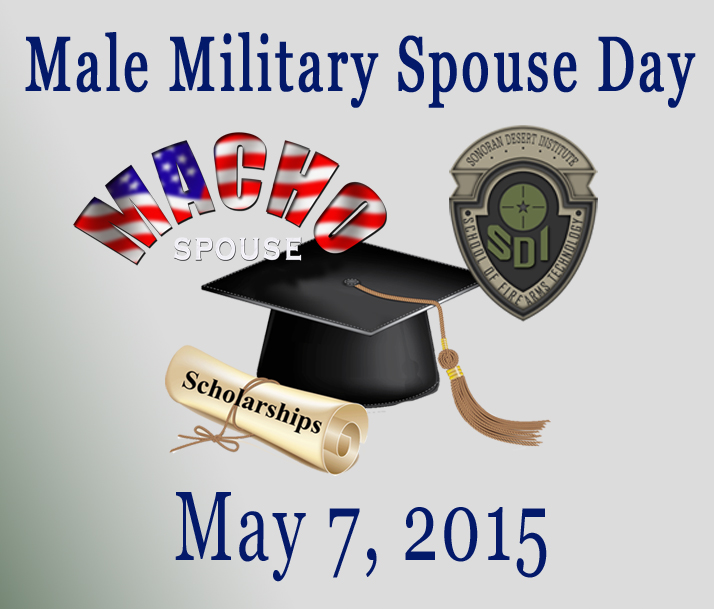 The School of Firearms Technology (SFT) at Sonoran Desert Institute (SDI) and Macho Spouse have announced the first ever Male Military Spouse Day dedicated to the male spouses of America's service members. To celebrate the launch of Male Military Spouse Day, SDI is offering a scholarship opportunity for male military spouses. To be eligible for the scholarship, you must be a member of the MachoSpouse.com community (registration is FREE and all we ask is your email address). This year's debut Male Military Spouse Day will see one spouse within our community win a full-tuition scholarship for the School of Firearms Technology professional Gunsmithing certificate course. The winner will also receive a complete build of an AR-15 rifle, for a total award value of more than $3,000.
SFT created this course specifically to fit within the MyCAA scholarship. However, you do not have to qualify for MyCAA benefits to be eligible for this scholarship opportunity. Â Hear from Terry Fields, a male military spouse on this great opportunity in the video above.

Male Military Spouse Day
The first Male Military Spouse Day will be May 7, 2015 in order to honor the lives and struggles of our under-recognized population.
With nearly 190,000 male military spouses globally (per DoD), our large but scattered group faces significant challenges. Stigma and social disconnection complicate common military spouse issues such as underemployment and family stress, leading to a divorce rate nearly three times higher among military-affiliated couples in which the wife is the service member. (Just released stats show this high % of divorce for male military spouses to be dropping, great news, but we still have a lot of work to do!)
The purpose of Male Military Spouse Day will be to raise the public profile of this group in order to facilitate awareness of male military spouse concerns and the development of solutions to preventable problems such as social isolation and educational access. Here's what Macho Spouse founder, Chris Pape, had to say about being a part of Male Military Spouse Day: "Considering that Macho Spouse is the only legitimate resource available to male military spouses, it is a great feeling to be part of an official "Male Military Spouse Day." In fact, given that this is probably the first official Male Military Spouse Day ever, it's even more exciting! Now, throw in the fact that one or our members will be awarded a life-changing opportunity to receive an SDI Gunsmithing scholarship, and this will be one hell of a day!"
Gunsmithing Scholarship Opportunity
SDI's scholarship opportunity offered in conjunction with the first Male Military Spouse Day is intended to showcase the resources that are available to male spouses who have yet to take advantage of their military-sponsored My Career Advancement Accounts (MyCAA) education entitlement. However, the Gunsmithing scholarship recipient does not need MyCAA eligibility to qualify for the award.
The School of Firearms Technology's Gunsmithing certificate course is an introductory class that teaches the knowledge and skills required to obtain an entry-level position as a gunsmith. All coursework is online and accessible from any location. Hardware for the course is shipped to the student as needed. Â Graduates of SFT's Gunsmithing course will receive a certificate to present to employers as evidence of their training in the building, maintenance, customization, and legal sale of different types of firearms. Certificates can be used to obtain valid employment as a gunsmith. Many graduates take the course to get more knowledge on an enjoyable hobby or to get started on their own business. With military connections, they have a ready-made customer base.
Follow-Up Information
Macho Spouse and the Sonoran Desert Institute are initiating Male Military Spouse Day and the 2015 scholarship giveaway as a gesture of recognition and solidarity with male military spouses who struggle with economic or family stress. Readers can learn more about Gunsmith training at the online home of SDI's School of Firearms Technology or register as a member of Macho Spouse before the May 7th announcement of the scholarship winner.
About Sonoran Desert Institute: The School of Firearms Technology began in 1921 (that's even older than the NRA!), under the name of the School of Gunsmithing. Since then, it has transformed into an internationally recognized school offering multiple programs, including one of the only Associate of Science in Firearms Technology degrees in the country, some of the nation's best Gunsmithing Certificate programs, and a diverse armorer's programs. The School of Firearms Technology's elite faculty and staff include celebrated military personnel, nearly 75 years' worth of combined higher education experience, nationally recognized firearms experts and more.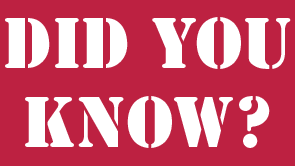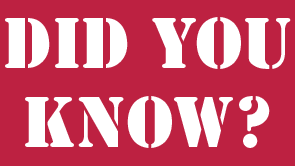 The Military Spouse Career Advancement Account (MyCAA) provides military spouses the opportunity and financing to receive the training and education needed for portable careers that will persist during the military lifestyle of multiple relocations.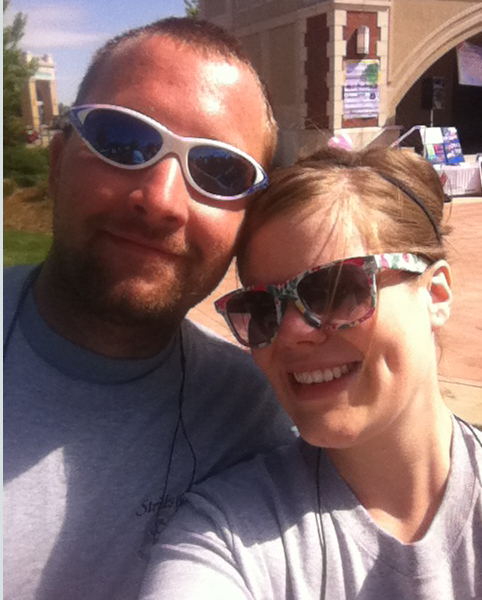 How my wife and I met. A little about our life and how I started my own business!
My name is Josh Vittetoe. I am 27 years old and have been married to my wonderful wife Jennifer Vittetoe who is 24 for almost 7 years. We have two boys who are Jack (6 months) and Tannar (5 years). We are currently stationed at Nellis AFB in Las Vegas, Nevada.
My wife has been in the Air Force for 3 years and is a Senior Airman. She is deploying in a coulpe weeks for the first time.