---
Like, Comment, Share
Virginia Wounded Warrior Program Healthy Families Retreat April 26 thru 28
Image: – – Macho Spouse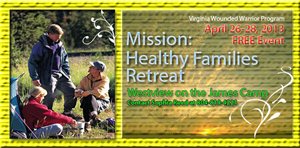 Here's an event for your military family that you may want to check out. The Virginia Wounded Warrior Program is inviting military familieas and veteran families to the Healthy Families Retreat this April 26 thru 28. This is a great opportunity for families to learn and play together while gaining skills to help foster resilience.
April 26 -28, 2013
Check In: Friday 4pm
Conclusion: Sunday 12pm
Location: "Westview on the James" Camp
1231 West View Rd Goochland, VA 23063
Sacrifices inherent in serving our nation such as deployments, and recovery from physical and invisible wounds take a toll on warriors, spouses, and children. This weekend event will help parents and children build communication, conflict resolution, and coping skills to foster resilience among military and veteran families.
Nestled in Goochland Virginia, Westview on the James offers a rustic setting to learn and play! Parents and school-age children will participate in both separate skills-building workshops and family activities that promote bonding and togetherness.
Open to all military and veteran families coping with the impact of deployment, military service, post-traumatic stress, operational stress and traumatic brain injury. ** Note this event is most appropriate for school age children who can function within a group environment both with and without their parents present.
Accommodations:
Rustic cabin lodging is available but limited so REGISTER soon!
Meals and recreational activities are also included for registered families.
The event is FREE, but registration is required. Please contact Sophia Reed at 804.819.4221 or email your contact information to: reeds[at]rbha.org.
---
See also...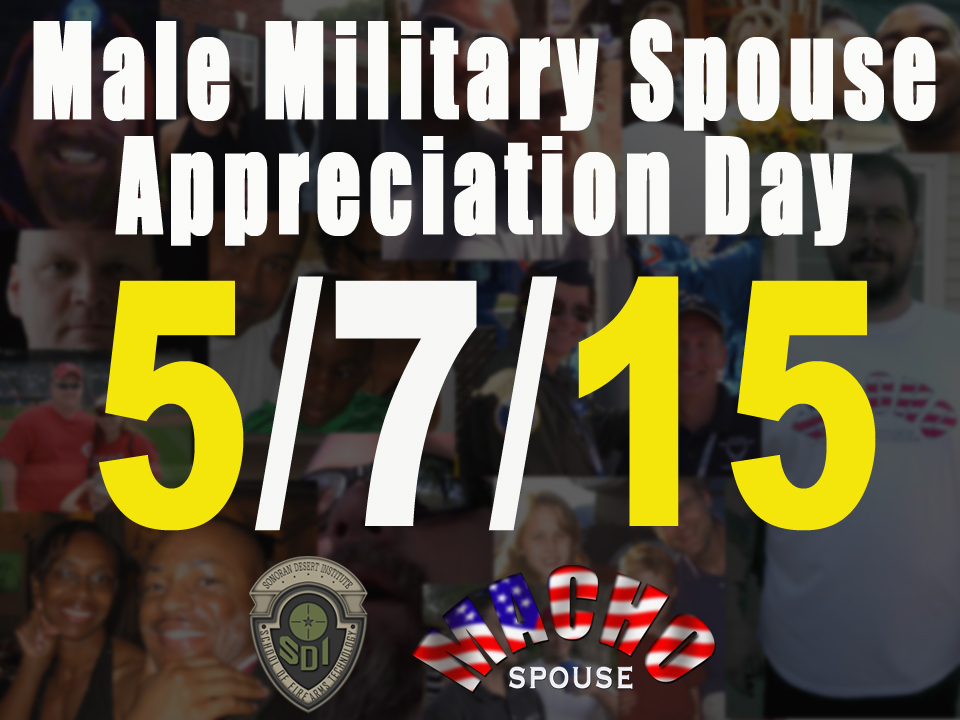 Happy Male Military Spouse Appreciation Day!
This post is specifically for those guys interested in winning a scholarship from the Sonoran Desert Institute's Schoool of Firearms Technology. Â The only way you can be eligible for this amazing opportunity is if you are a member of the MachoSpouse.com community AND if you register your name and email below. Â THE ONLY NAME WE CHOSE WILL BE FROM THIS EMAIL LIST.
There are a lot of male military spouses who have different interests, hobbies, careers, and life situations, so we don't want to award this scholarship to someone not interested. Â That would suck for all the guys who really want this.
If you're not interested, hey, we will still have a few give-a-ways throughout the day on May 7th.
A very special "thank you" to our sponsor, the Sonoran Desert Institute's School of Firearms Technology. Â Most of this was their idea, so visit their Facebook page/website and let them know how much we appreciate their support.
GOOD LUCK GUYS!
Enter to Win the SDI Scholarship!
 
We have had the opportunity to hang out with the Founder/Director of My Military Life, Wendy Poling, at three different events this year (Inc 500, NMSN , and USAA's Blogger Conference) and she is pretty damn cool. Wendy has been very generous with her time, knowledge, and experience as we try to build Macho Spouse into something special.
---
Share on social media
Macho Spouse uses AddThis share buttons so you can easily share your favorite content from this site to your Facebook, Twitter, and more.
To share this on social media, click on the share icons. You will be prompted to connect your social media account if you have not already.
Thank you for sharing!
---
Comments