---
Like, Comment, Share
Virginia Wounded Warrior Program Healthy Families Retreat April 26 thru 28
Image: – – Macho Spouse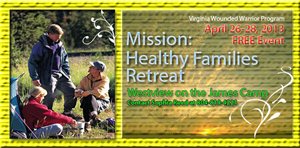 Here's an event for your military family that you may want to check out. The Virginia Wounded Warrior Program is inviting military familieas and veteran families to the Healthy Families Retreat this April 26 thru 28. This is a great opportunity for families to learn and play together while gaining skills to help foster resilience.
April 26 -28, 2013
Check In: Friday 4pm
Conclusion: Sunday 12pm
Location: "Westview on the James" Camp
1231 West View Rd Goochland, VA 23063
Sacrifices inherent in serving our nation such as deployments, and recovery from physical and invisible wounds take a toll on warriors, spouses, and children. This weekend event will help parents and children build communication, conflict resolution, and coping skills to foster resilience among military and veteran families.
Nestled in Goochland Virginia, Westview on the James offers a rustic setting to learn and play! Parents and school-age children will participate in both separate skills-building workshops and family activities that promote bonding and togetherness.
Open to all military and veteran families coping with the impact of deployment, military service, post-traumatic stress, operational stress and traumatic brain injury. ** Note this event is most appropriate for school age children who can function within a group environment both with and without their parents present.
Accommodations:
Rustic cabin lodging is available but limited so REGISTER soon!
Meals and recreational activities are also included for registered families.
The event is FREE, but registration is required. Please contact Sophia Reed at 804.819.4221 or email your contact information to: reeds[at]rbha.org.
---
See also...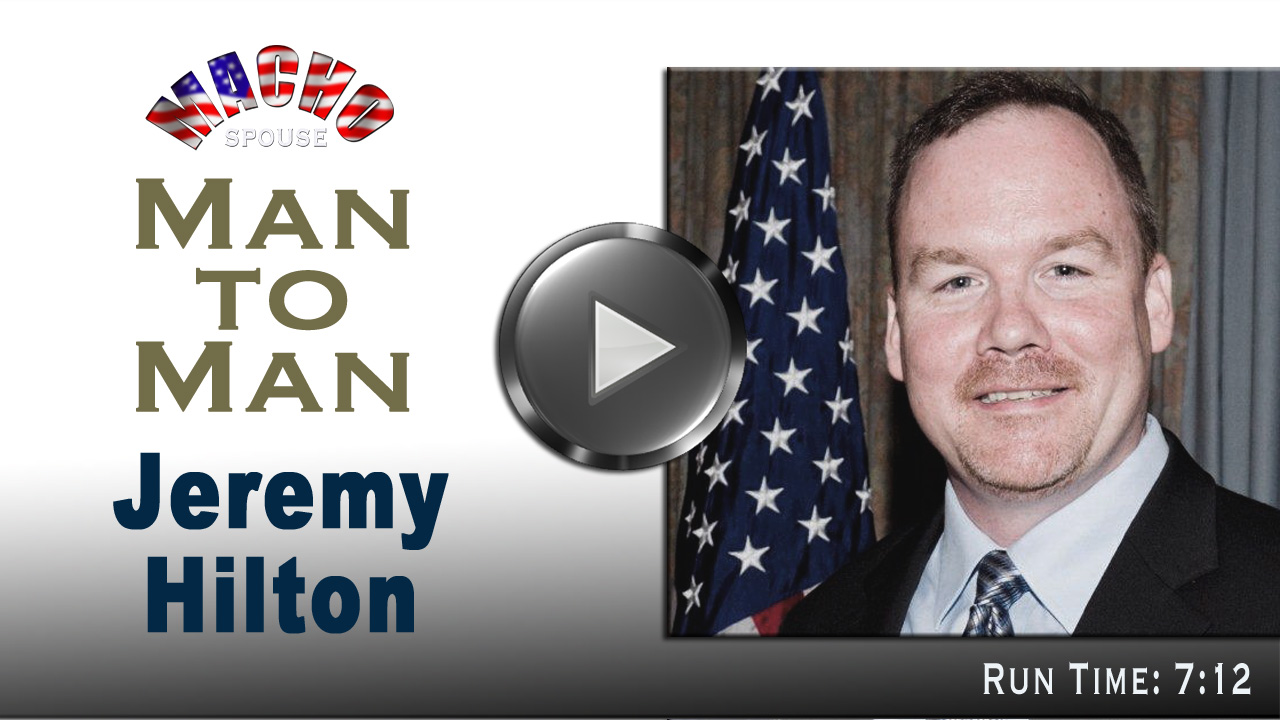 The 2012 Military Spouse of the Year, Jeremy Hilton is an Air Force male military spouse and advocate for military families and dependents impacted by illness or disability. In this Man-to-Man video, Jeremy shares some great advice and life lessons. Male military spouses of all age ranges and experience will find some useful information in this interview. (Length: :07:12)
By Aaron Brodniak
My journey as a military spouse began shortly after the terrorist attacks on September 11, 2001. Within a week my wife was recalled into the U.S. Coast Guard and working as a sea marshal boarding ships and performing inspections. At that time, I was the primary breadwinner of the family and had a job as a regional brewer.
Initially my wife's return to active duty was an easy transition since her first duty station didn't require us to move. That soon changed and less than a year later we were assigned to a duty station that led to me leaving my job.
My first challenges were house hunting and trying to figure out what to do with my time. In my adult life I had served in the Coast Guard and then worked in the private sector; this was my first time not having a job outside the house. Since we were expecting our first child, we decided it made more sense financially for me to stay home and finish up my bachelor's degree before my G.I. Bill expired.
---
Share on social media
Macho Spouse uses AddThis share buttons so you can easily share your favorite content from this site to your Facebook, Twitter, and more.
To share this on social media, click on the share icons. You will be prompted to connect your social media account if you have not already.
Thank you for sharing!
---
Comments