---
Like, Comment, Share
Supporting the Military Child During Summer PCS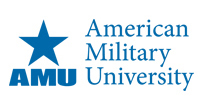 Image: – – Macho Spouse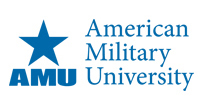 By Craig Gilman
Faculty Member at American Military University
Are you on the move? Summer is a time of transition and change for the military child. For many service members and their families, summer is the time when permanent changes of duty station (PCS) occur. While there is often excitement about moving to a new location, there is also a tremendous amount of stress. This can be especially true for the children of military families who often both suffer the sadness of leaving their old friends, school, jobs and community behind and deal with the anxiety of establishing themselves when arriving at their new home.
Fathers can best support their children during moves to new duty stations by using a variety of resources and strategies available to them and providing a calm, paternal confidence and a positive outlook. The DoD Family Readiness Council provides many resources for military families, including an entire section of its website dedicated to military kids. You can also visit their Facebook Information Page to stay abreast of the latest military family news.
The Department of Defense Education Activity provides a wide variety of useful resources via its Military K-12 Partners program. Visit the resources section where included on their site is their Students at the Center page. Here you will find valuable resources for parents and resources that can be shared with schools. You will also find a link to the School Liaison Officers (SLO) directory. When arriving at your new school district, use this directory to contact your bases SLO. They are there to coordinate and assist school aged children of military parents with educational opportunities and information necessary to succeed in an academic environment.
Form New Community Relationships
Consider joining your new school's PTA to form relationships in your new community and to advocate on behalf of all military K-12 students. Share the American Association of School Administrators' Supporting the Military Child Toolkit with the principals and teachers at your child's new school.
When it comes to military children and education, the work of the Military Child Education Coalition (MCEC) is focused on ensuring quality educational opportunities for all military children affected by mobility, family separation, and transition. One very successful initiative they offer is the Student 2 Student program. In the S2S program a delegation from the school is trained to return to their home campus to provide leadership to support students who are transitioning to or from their school. The team is composed of advisors and students. The focus is student-centered, and is student-led, with close supervision. The development of student trainers who can return to their home campus to train other peers is critical to the success and credibility of the program. If your new school belongs to this program, sign your student up. If it doesn't, introduce S2S to the school's administration.
The new semester is fast approaching. Kick the tires, pack the trailer, plan the trip and provide the support your family needs during the move. When you arrive at your new location, you will be busy, but in regards to your children's education, be proactive.
---
See also...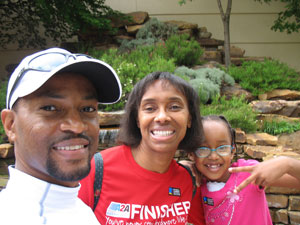 The YMCA Adventure Guides Father-Daughter Sweetheart Ball was not on my radar until a good friend of mine told me how he takes his daughters each year. I thought, "Cool! You and your girls are really excited about this thing, huh?" When my wife started getting emails about the event, there was no controlling her excitement. She was even talking about renting a car for the night!
Yeah...
In case you didn't know (like me), a daddy-daughter dance allows dad an opportunity to set an example and standard for how his daughter should be treated on a date. It is also an opportunity for dad to build that special bond with his daughter and make special memories.
Okay, based on the description above, I tossed the whole daddy-daughter dance thing out the window because my daughter and dating don't even go together in a sentence. And I can build that special bond with my daughter at the creek - FISHING!
But I thought about the whole thing (I do a lot of thinking) and with my "try-almost-anything-once" attitude, I went all in.
That's right! I went to my first daddy-daughter dance AND I LOVED IT!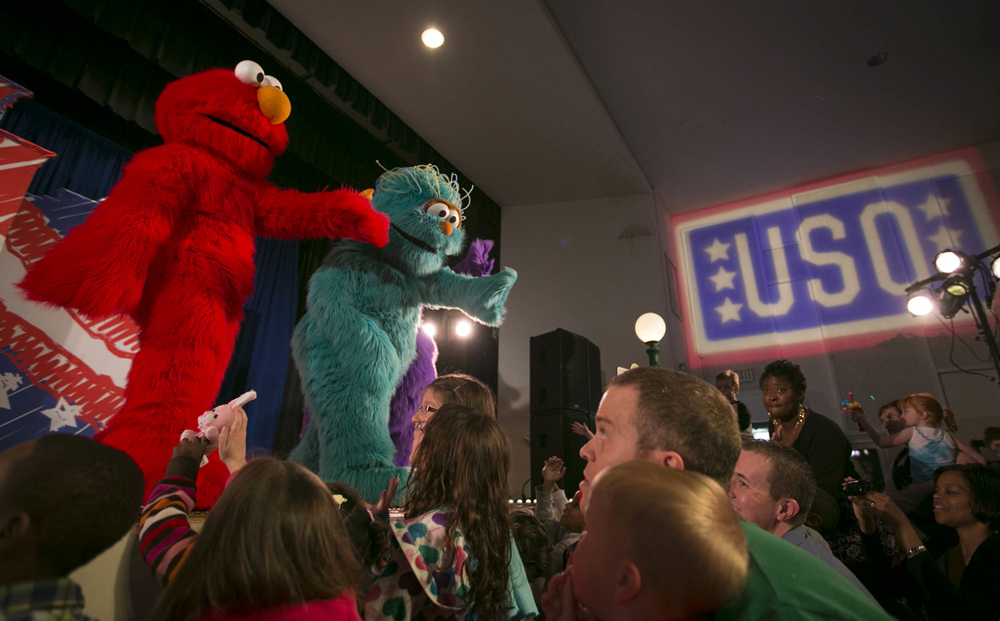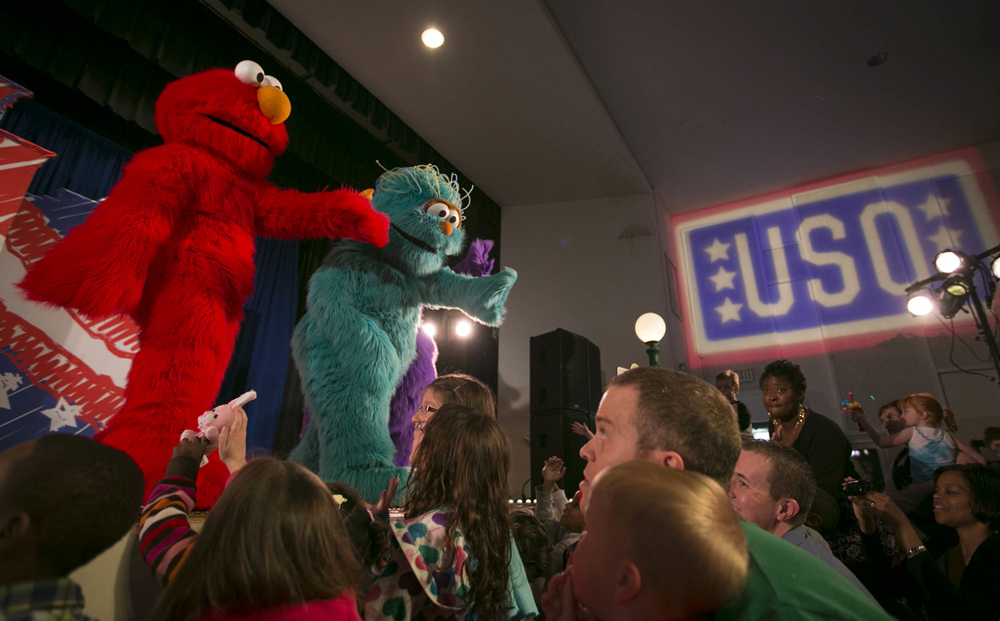 YEAH SESAME STREET! This tour is still going on for those in Japan and Korea. Could be a great way to spend an afternoon with your family!
The tour which begins at Eielson Air Force Base in Alaska on May 29 and will visit 42 bases in 8 European and Pacific countries over the next six months. The organizations hope others will be inspired to learn more and suggest these five simple actions everyone can do to support military families:

1. Volunteer at one of the more than 160 USO locations around the world and discover ways you can take action locally.

2. Offer to help a military family on the home front who live on or off base. Whether you see that their lawn needs to be mowed or garbage cans taken in, helping with simple household chores and errands can really relieve some of the stress a family may be feeling.

4. Lend an ear to listen to a military spouse as sometimes just having someone there to vent to or talk to when you may feel all alone can be the greatest support of all.

5. Say thank you to a military member and their family for their service, sacrifice and strength. Our troops and their families make sacrifices so we don't have to and those two simple words say so much.

"There is nothing that comes close to the feeling you get when you see the smile on a child's face at our Sesame Street shows. I knew we had something very special the first time I saw the smiles of our military families, and here we are five years later, celebrating a tour that that has traveled the globe three times over and is about to do it again," said Sloan Gibson, USO President and CEO. "The USO is proud to be on Capitol Hill celebrating the tour's fifth birthday and assembling care packages for troops overseas. There is no better way to commemorate such a momentous occasion than IN our nation's capital and WITH our friends at Sesame Street."

The longest running tour in USO history, the Sesame Street/USO Experience for Military Families has taken its message to more than 368,000 troops and military families, and performed 631 shows on 145 military installations in 33 states and 11 countries. In 2011,Sesame Street and the USO introduced a brand new character named Katie – a military child experiencing the stresses of moving as her parents are transferred to a new duty station. Last year, Katie and her Sesame Street pals visited 67 military bases and performed 204 shows stateside.

"Sesame Street has so much admiration and respect for our military families, we feel privileged to partner with our friends at the USO and be a part of this special USO Care Package event," said H. Mel Ming, Sesame Workshop President and CEO. "This is a great way to show our continued support to our service men and women and to celebrate five years of bringing our resources and the Sesame Street/USO Experience to Military Families to installations around the world."



Operation USO Care Packages contain vital items troops use every day, from prepaid international phone cards and snacks to travel-size toiletries and comfort items. Designed as a way for America to say 'thank you' to our troops and their families overseas as well as to unite communities, today's Care Packages included a special gratitude card from Cookie Monster as well as a personal note to troops signed by USO Caucus Co-Chairs,

Reps. Jeff Miller, R-Fla

., Tim Walz, DFL-Minn., Howard (Buck) McKeon, R-Cali., and Adam Smith, D-Wash.

Since 2003, the USO has delivered 2.3 million care packages to bring a touch of home and necessities to active duty military serving all over the world. USO Care Packages are distributed to troops traveling through the USO's more than 160 locations worldwide as well as to troops serving overseas.

Whether on the frontlines, with their loved ones, in recovery or in remembrance, the USO and

Sesame Street

are adapting to meet the needs of those who need us most. Operation USO Care Package and

The Sesame Street/USO Experience for Military Families

are just two of the ways we can help them navigate life's challenges. To learn more Operation USO Care Package visit

www.uso.org/operation-uso-care-package.aspx

. To learn more about the

Sesame Street/USO Experience for Military Families

or check for the latest tour info visit www.

USO.org/Sesame

---
Share on social media
Macho Spouse uses AddThis share buttons so you can easily share your favorite content from this site to your Facebook, Twitter, and more.
To share this on social media, click on the share icons. You will be prompted to connect your social media account if you have not already.
Thank you for sharing!
---
Comments