Meet our FRG Co-leader, Dee!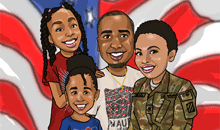 This week has been filled with long days and short nights. My daughter and I have left the house in the darkness of morning and returned to the darkness of evening. I will admit, I was a bit nervous about my first interactions with the Family Readiness Group (FRG). Last month, I went to the monthly steering committee meeting to discuss the Battalion activities, but there were other male Soldiers present that helped ease me into the setting. This week would be a little different.

The first meeting was our small groups. It consisted of the various Company FRG leaders and Co-Leaders getting together, discussing various events, and sharing ideas. As it currently stands, I'm the only male in a FRG Leader/Co-Leader position. I thought I would be uncomfortable, but that honestly wasn't the case. The ladies made me feel very welcome. Before we got started, there was some small talk and not once did I feel like their conversation was filtered due to the presence of a man.