---
Like, Comment, Share
MANning the Homefront on Facebook
Image: – – Macho Spouse

MANning the Homefront seeks to strengthen "MANspouses" by organizing diverse activities that allow men to develop friendships, advocating for recognition as a group and DoD program support, and facilitating members' connections and service to the community in order to impact the families of service members in positive and constructive ways.
We look to connect male military spouses (or MANspouses as we like to call ourselves) with one another both virtually and in person. Currently Fort Riley, KS is home to the only chapter of MANning the Homefront that meets in person but we hope others will join us.

If you want more information about creating a MANning the Homefront chapter at your installation, please email Wayne Perry at MANningTheHomefront@hotmail.com.

---
See also...
30 Ways Day 25! We'll be making some toasts this week, how about you?
30 Ways to say thank you to military families.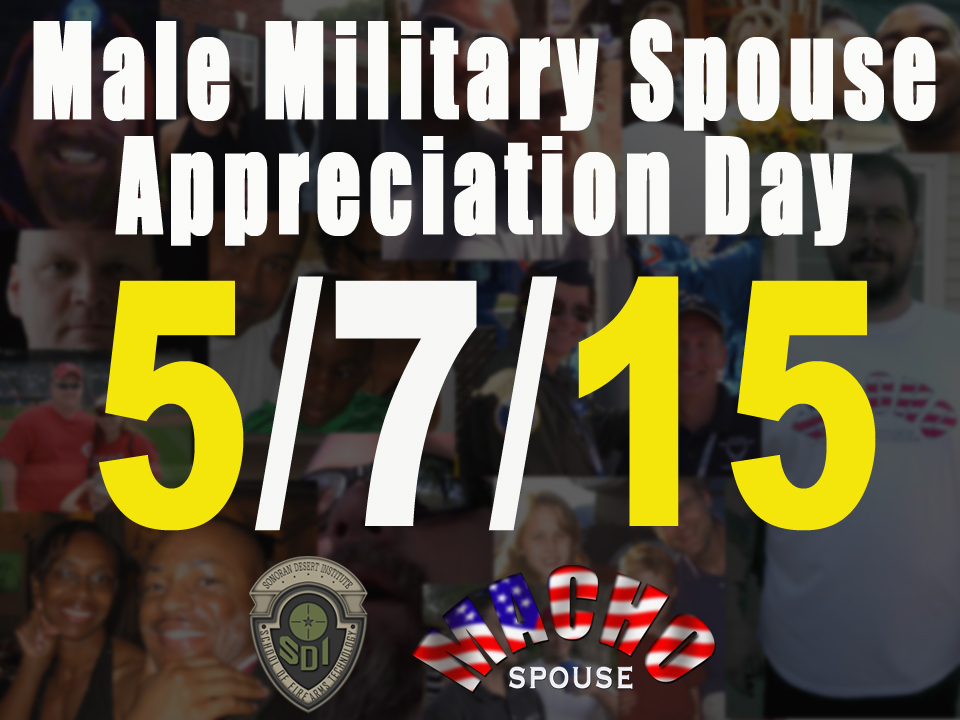 Happy Male Military Spouse Appreciation Day!
This post is specifically for those guys interested in winning a scholarship from the Sonoran Desert Institute's Schoool of Firearms Technology. Â The only way you can be eligible for this amazing opportunity is if you are a member of the MachoSpouse.com community AND if you register your name and email below. Â THE ONLY NAME WE CHOSE WILL BE FROM THIS EMAIL LIST.
There are a lot of male military spouses who have different interests, hobbies, careers, and life situations, so we don't want to award this scholarship to someone not interested. Â That would suck for all the guys who really want this.
If you're not interested, hey, we will still have a few give-a-ways throughout the day on May 7th.
A very special "thank you" to our sponsor, the Sonoran Desert Institute's School of Firearms Technology. Â Most of this was their idea, so visit their Facebook page/website and let them know how much we appreciate their support.
GOOD LUCK GUYS!
Enter to Win the SDI Scholarship!
 
---
Share on social media
Macho Spouse uses AddThis share buttons so you can easily share your favorite content from this site to your Facebook, Twitter, and more.
To share this on social media, click on the share icons. You will be prompted to connect your social media account if you have not already.
Thank you for sharing!
---
Comments