---
Like, Comment, Share
Jeremy Hilton, 2012 Male Military Spouse of the Year, Talks with Veterans United Network
Image: – – Macho Spouse
Jeremy Hilton was recently named the 2012 Military Spouse of the Year by Military Spouse Magazine. (www.baseguide.com)Â It's the first time a male has been honored.
Jeremy is the father of two. He is not only a Stay-At-Home-Dad (SAHD) while his wife is deployed with the Air Force but he is also caring for a special needs child.
A Navy veteran himself, Jeremy talked about the resources out there for spouses serving at home while their loved one is deployed. He mentioned Macho Spouse (machospouse.com) was particularly helpful.
---
See also...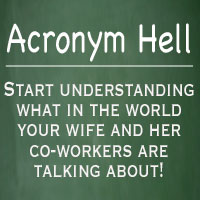 A List of Basic Acronyms and Terms for the Rookies - Part 1
Start learning what in the world your wife and her co-workers are talking about today! This is a basic, beginners list of military acronyms (something the military is very fond of creating).
Why Learn?
Let's be honest. You won't make it 6 months without some of this basic communication knowledge.
We have had the opportunity to hang out with the Founder/Director of My Military Life, Wendy Poling, at three different events this year (Inc 500, NMSN , and USAA's Blogger Conference) and she is pretty damn cool. Wendy has been very generous with her time, knowledge, and experience as we try to build Macho Spouse into something special.
---
Share on social media
Macho Spouse uses AddThis share buttons so you can easily share your favorite content from this site to your Facebook, Twitter, and more.
To share this on social media, click on the share icons. You will be prompted to connect your social media account if you have not already.
Thank you for sharing!
---
Comments