MSCCN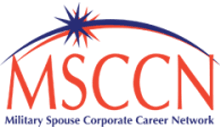 The Military Spouse Corporate Career Network (MSCCN) provides no-cost employment readiness and vocational training, and one-on-one job placement services for military spouses, and caregivers of war wounded.
Through its employment readiness training and job placement services, MSCCN works one-on-one with its employment partners and funding supporters to reduce the rate of unemployment of veterans, National Guard, reservists, and their spouses by preparing them for their job search (translating skills, preparing resumes, interview skills, etc.) while working directly with corporate recruiters to match these military service members and veterans with jobs that complement and fully utilize their qualifications, experience, and education. Individual programs are also in place to serve caregivers to the war-wounded – the extremely under-served, military-affiliated applicants who have exceptional difficulty finding employment.
 
MSCCN
Check out the December 2012 Military Service Employment Journal from MSCCN.
Career Advice: PCS Job Search Tips - An employment search can be very daunting, especially in a new area. Here are four tips that really helped me find a position
after our last PCS.
Ask The Experts: Sometimes there are issues with your
job search. You feel like you are spinning your wheels and not really going anywhere – and you wonder why and how you can change it. Below are some questions we have had asked in the last few months that we felt would be helpful to everyone in their job search. We are here to
help should you need any further information or assistance!
'Tis the season to start your job search? Try filling your stockings with cash by landing that dream job going into the New Year. "What do you want for Christmas this year?" If you are answering this age old question with "Dear Santa, I want a new job!" Give yourself an early
gift, just make a visit to MSCCN and CASY for an early present of no-cost employment readiness, on the job training, direct connect, and one-on-one job placement services.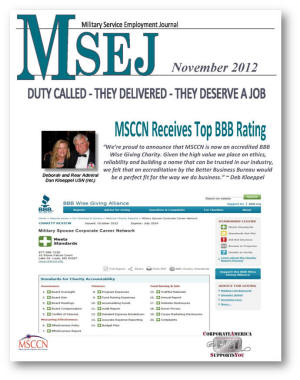 Check out the November 2012 Military Service Employment Journal from MSCCN.
Career Advice: Do you look at yourself as a business? If you want a successful business, you first have to have a business plan. The same rules apply to a career plan you should apply to your "Professional Self".
Portable Careers: Tired of Changing Careers? Try just moving it! What is the definition of a portable career? A portable career is a career in which you are not bound to stay in one location. It's a career that allows you the freedom to decide where you want to live, be it a new city, a new state, or a new country! It's a job that goes and grows with you.
As a military spouse, you are not guaranteed to be in the same place for a long time. Duty calls, not just for the service member, but for the entire family. The spouse is the one that needs to be able to hold it all together and keep things running right.
Once you get a job, you dread the day that you have to walk into your boss's office and explain to him that orders have come in for your entire family, because that's the way it is. Your children have to say goodbye to their schools, friends, teachers, and you have to say goodbye to your friends, co-workers, and job. But why say goodbye? Wouldn't it be better to say "Out of the office, will be back in a week"?