---
Like, Comment, Share
Where Does The Male Military Spouse Go For Information, Resources, Help?
Image: – – Macho Spouse
MachoSpouse.com, an online resource and informational hub for male military spouses. Macho Spouse is a positive, pro-active project designed to help guys deal with current military life issues  through the use of video, online networking and communication.
The videos contain interviews from current and former male military spouses, military family and relationship counselors, military spouse career and entrepreneur experts; as well as a variety of other individuals who have an in-depth knowledge of what it takes to be a happy, successful, strong, supportive person in military family life.
Keywords: malemilitaryspouse military militarylife militaryfamily militaryspousecareers machospouse resources
Read more about Where Does The Male Military Spouse Go For Information, Resources, Help?
---
See also...


Whatever your Winter Holiday tradition, now is the time when many cultures have historically livened up the dark days of winter (in the Northern Hemisphere) with celebrations of community, charity, and gift-giving*. Going into debt, however, should not be a part of your tradition.
How much should you spend on Christmas?

I'm big on using percentages when budgeting. Except for the really, really poor or really, really rich, it makes sense to me that if Martha gets paid 50% more than George, then Martha can spend 50% more than George. That generally goes for housing, cars, or Christmas presents. In other words, don't try to "keep up with the Joneses," especially if you get paid less than the Joneses. That's the idea behind the 60% Budget: keep regular, monthly expenses down to 60% of your gross income, so you can save 10% each towards retirement, long-term savings, and short-term savings; the last 10% is 'fun money' for Starbucks, beer, wine, pizza, McDonald's, toys, etc. Ideally throughout the year you've saved up enough in your short-term savings to pay for Christmas, even after you've paid for oil changes, shoes for the kids, and a trip to the beach over the summer.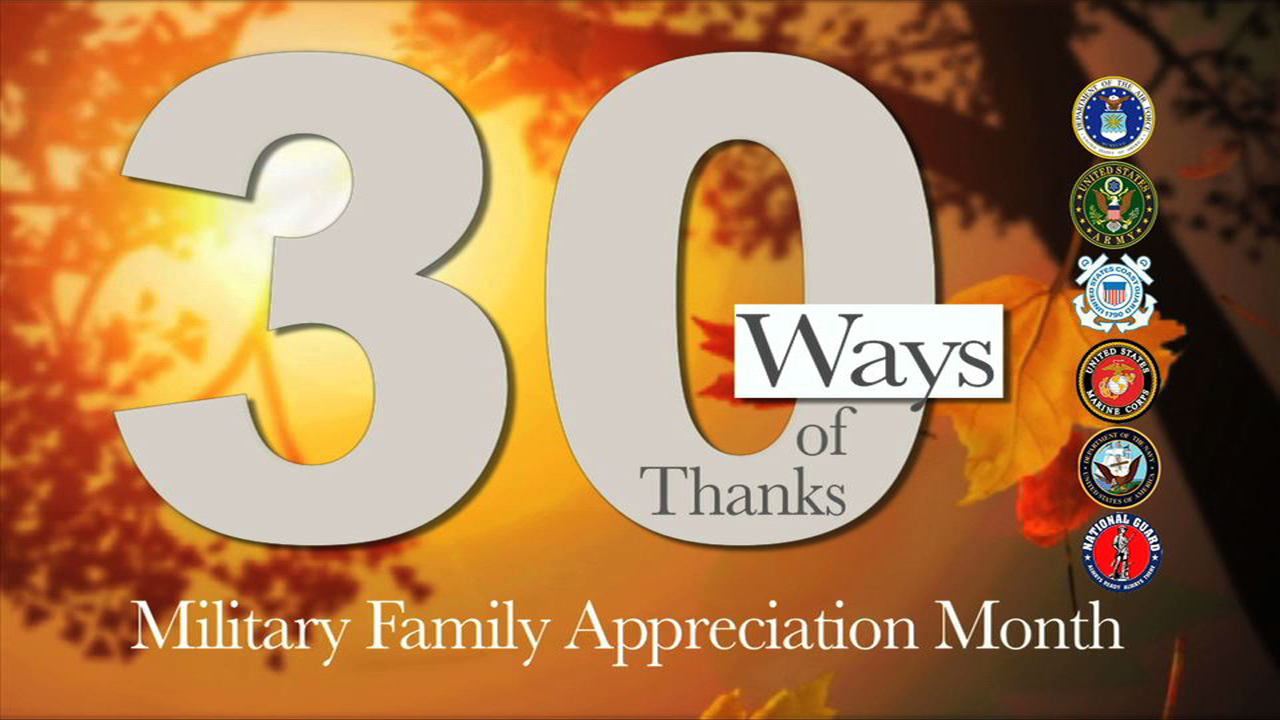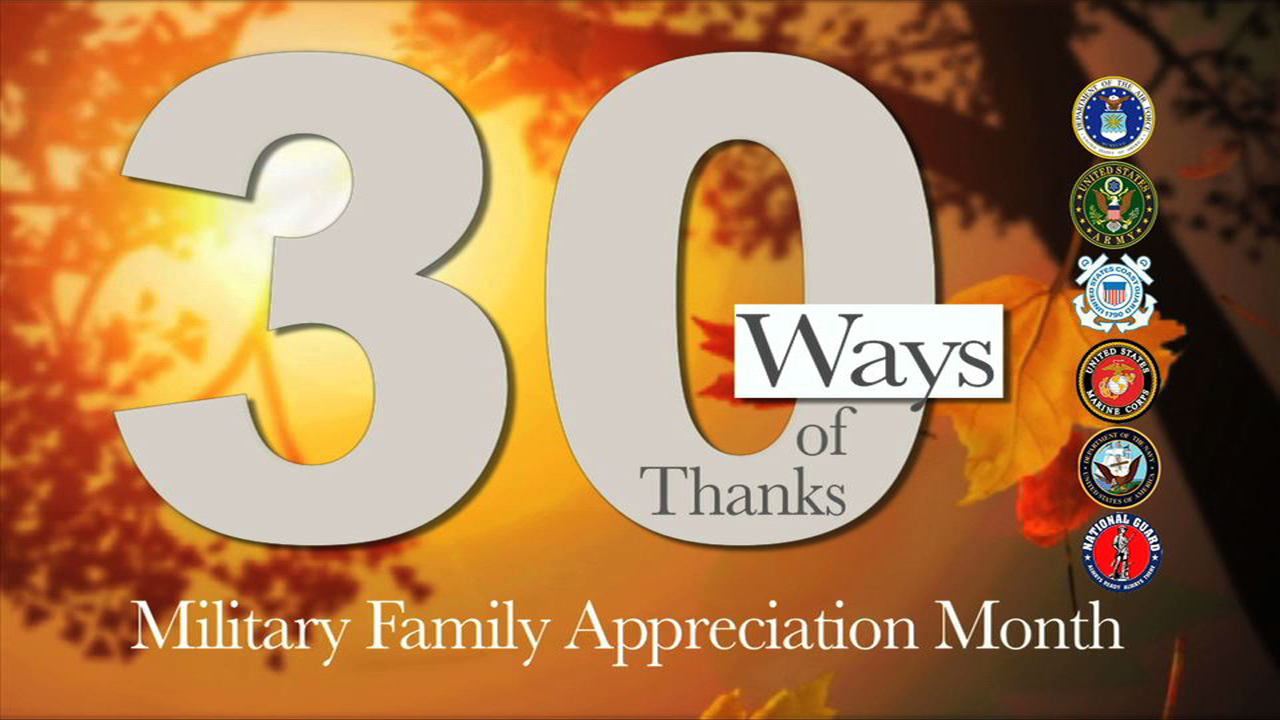 Military spouses are the glue that holds military families together. They manage the homefront while their servicemembers defense ur freedoms. Sometimes, all they need is a little adult conversation and a listening ear.
November is Military Families Appreciation Month, and the 2014 Armed Forces Insurance Branch Spouses of the Year (Branch SOYs) want to help everyone, everywhere participate in thanking and honoring military families.
Americans love our military, but many people don't quite know how best to express their gratitude. As National Guard Spouse of the Year Dr. Ingrid Herrera-Yee notes, "saying "thanks" to our military families is something that many want to do, but are at a loss as to how to do it –or in the case of Guard and Reserve, how to find us!"
So the Branch SOYs created #30Ways of Thanks to help. Each day in November, the Branch SOYs will release a video with an action item that people around the country can participate in virtually or locally, individually or in groups. Participants can hash tag #30Ways so that their messages, photos, or videos are spread far and wide. Hash tags #GratefulNation and #MilFamsRock can also be added as a short-hand way to say "You are amazing, military families!" Best of all, the entire #30Ways video collection will be stored on the Branch SOYs' YouTube channel so that it can be repeated in Novembers to come, or whenever someone is looking for a way to say "thank you" to military families.
---
Share on social media
Macho Spouse uses AddThis share buttons so you can easily share your favorite content from this site to your Facebook, Twitter, and more.
To share this on social media, click on the share icons. You will be prompted to connect your social media account if you have not already.
Thank you for sharing!
---
Comments