---
Like, Comment, Share
Military Spouse Scholarships
Image: – – Macho Spouse
The Military Spouse Education Initiative (MSEI) has done an incredible job of compiling a list of Spouse Clubs & private organizations who are, or will be, offering scholarships for spouses & kids. There are over 40 locations that represent over 20 states, please follow the link to learn more.
http://www.milspouseeducation.org/scholarships
Below is the basic list, click on the MSEI link above to find more information on each opportunity.
Maxwell-Gunter AFB OSC Club Alabama 02/28/14
Elmendorf Officers' Spouses' Club Alaska 02/20/14
Air Force Officers' Wives' Club of DC Any 03/03/14
Ft Huachuca Arizona 03/08/14
Beale Officers' Spouse Club California 03/10/14
Camp Pendleton California 02/28/14
MCAS Miramar California Not listed
Monterrey OSC California 04/15/14
NOSC (Washington DC) DC 04/01/14
Dover Delaware 02/28/14
Fort Benning Georgia Not listed
Fort Gordon Georgia Not listed Click
Hickam Officers' Spouses' Club Hawaii 03/10/14
Scott OSC Illinois 03/01/14
Aviano OSC (Italy) Italy CLOSED
Fort Campbell ESC Kentucky
Fort Campbell OSC Kentucky 03/01/14
Fort Meade Maryland 04/01/14
Keesler AFB (Mississippi) Mississippi
Offutt AFB Nebraska 03/08/14
Association of Bragg North Carolina 03/15/14
Camp Lejeune North Carolina 03/01/14
MCAS Cherry Point North Carolina 03/15/14
MCAS New River OSC North Carolina 03/15/14
Minot Enlisted Spouse Club North Dakota 04/01/14
Wright Patterson OSC Scholarship (Ohio) Ohio
Tinker OSC Oklahoma 02/14/14
Dyess Air Force Base Spouses' Club Texas 03/07/14
Fort Bliss Texas 04/04/14
Fort Hood Texas 03/05/14
Fort Houston Texas 02/28/14
Belvoir Enlisted Spouse Club (VA) Virginia
Langley OSC Virginia 03/01/14
Quantico Officers' Spouses' Organization Virginia 02/28/14
JBLM Washington 03/26/14
FE Warren Wyoming 03/07/14
Naval Helicopter Association (Navy, Marine, Coast Guard)
Wings Over America Scholarship Foundation 03/01/14
---
See also...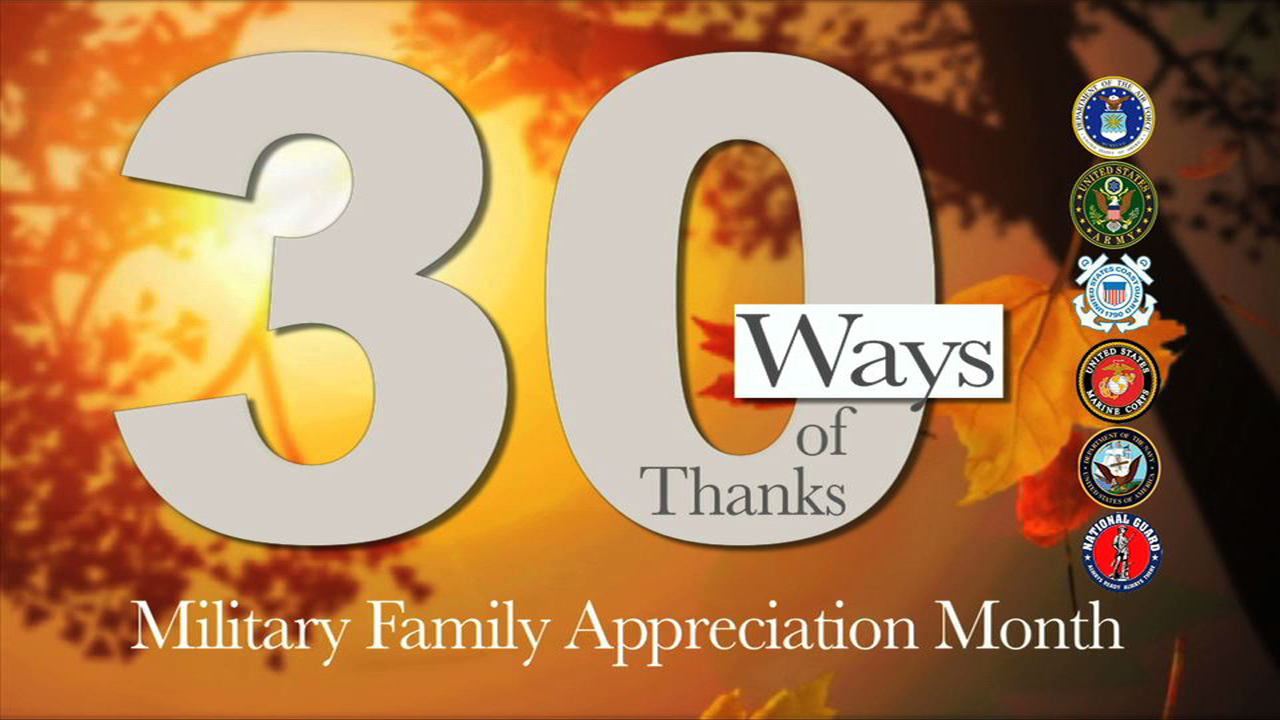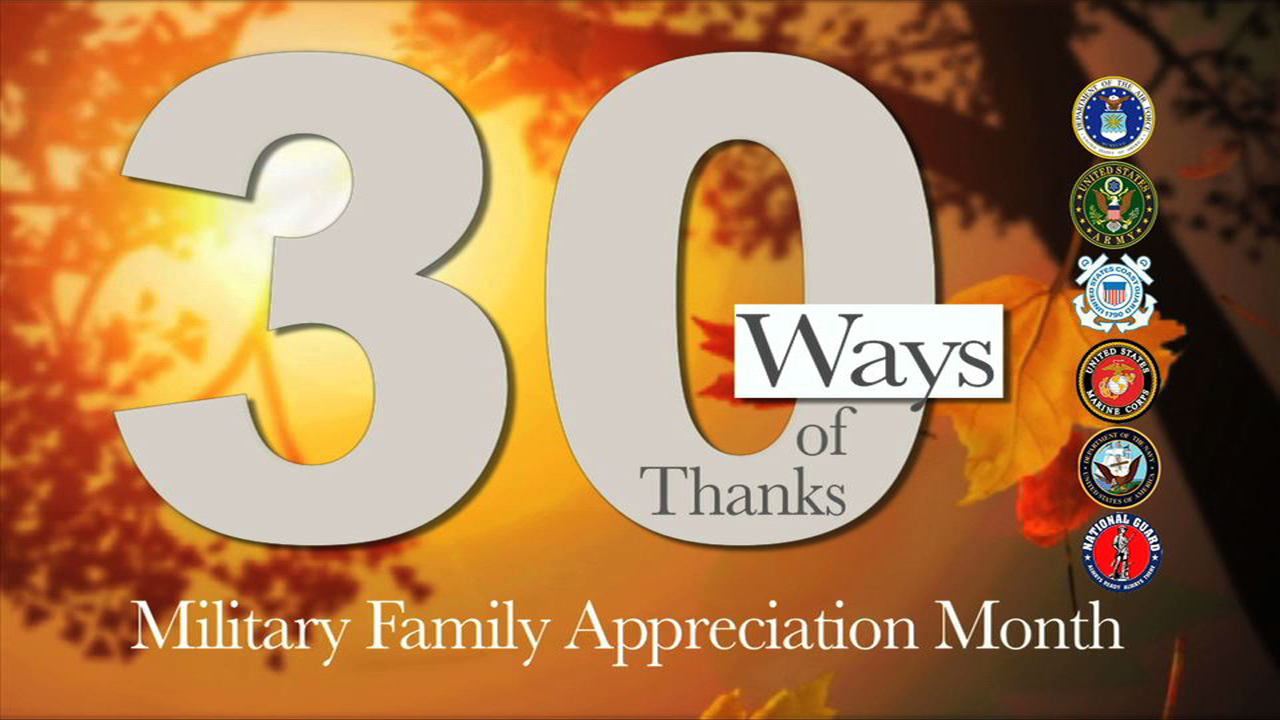 The Military Officers Association of America thinks a great way to show appreciation for military families is to help be an advocate on our behalf. We're a small percentage of the population and we don't have a union or special interest groups looking out for us on Capital Hill. So at times, if you feel military families are being taken advantage of, help us remind our leadership of the promises they've made.
November is Military Families Appreciation Month, and the 2014 Armed Forces Insurance Branch Spouses of the Year (Branch SOYs) want to help everyone, everywhere participate in thanking and honoring military families.
Americans love our military, but many people don't quite know how best to express their gratitude. As National Guard Spouse of the Year Dr. Ingrid Herrera-Yee notes, "saying "thanks" to our military families is something that many want to do, but are at a loss as to how to do it –or in the case of Guard and Reserve, how to find us!"
So the Branch SOYs created #30Ways of Thanks to help. Each day in November, the Branch SOYs will release a video with an action item that people around the country can participate in virtually or locally, individually or in groups. Participants can hash tag #30Ways so that their messages, photos, or videos are spread far and wide. Hash tags #GratefulNation and #MilFamsRock can also be added as a short-hand way to say "You are amazing, military families!" Best of all, the entire #30Ways video collection will be stored on the Branch SOYs' YouTube channel so that it can be repeated in Novembers to come, or whenever someone is looking for a way to say "thank you" to military families.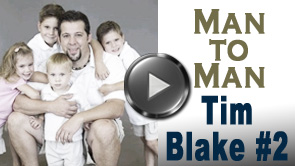 Tim shares some unique advice on how he and his wife handle re-integration after a deployment. Tim's well thought out plan and his ability to articulate it, makes this video a Macho Spouse favorite! (Run Time: 11:28...long, but worth it)
---
Share on social media
Macho Spouse uses AddThis share buttons so you can easily share your favorite content from this site to your Facebook, Twitter, and more.
To share this on social media, click on the share icons. You will be prompted to connect your social media account if you have not already.
Thank you for sharing!
---
Comments