---
Like, Comment, Share
Military Spouse JD Network - Legal Professionals improving the lives of military families
Image: – – Macho Spouse
The Military Spouse JD Network is an international network of legal professionals improving the lives of military families. We support military spouses by:
Advocating for licensing accommodations, including bar membership without additional examination,
Providing education about the challenges facing military families,
Encouraging hiring military spouses, and
Providing a support network.
MSJDN includes military spouses and partners from all branches of the United States Military: Air Force, Army, Coast Guard, Marines, and Navy as well as spouses of retired service members and legal and military organizations who support our mission.

We are members of the Chamber of Commerce Military Spouse Business Alliance.
Go to the Military Spouse JD Network website
---
See also...
(The following is some good information from our friends at the Sonoran Desert Institute.)
Male military spouses find themselves looking to advance their skill set and have a great opportunity with a scholarship from MyCAA. The challenges of course are attending classes on campus when you may end up having to move before the end of a semester.
Many spouses turn to online education which is a great option. While online courses are a good fit. You need to make sure the school has a solid reputation. The key to a great online education is finding the right online education provider. Every man should know what to look for.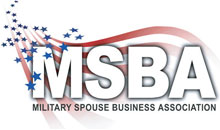 At Macho Spouse, we know the challenges civilian male military spouses face when it comes to finding gainful employment and dealing with career loss. We encourage civilian male military spouses to consider entrepreneurship as a possible way of making this lifestyle work. We're not naive, we know the difficulties that come with starting a business and successfully running it. We also know that there are great organizations offering help to civilian male military spouses who really want to start and run their own businesses. The [[EXLINK_21]] is one such organization.
Before starting a business, there are many questions to answer. A civilian male military spouse who wants to start a business has a few questions to answer that are military-specific, like:
How can I start a business when I move so often?
How can I start a business when I live on base?
How will my business impact my spouse?
MSBA is a "link that rocks" because they provide answers to these military-specific questions and help civilian male military spouses get closer to their military spouse owned businesses.
Check out some of the info from MSBA:
At MSBA, we've tackled the steepest part of the military spouse owned business learning curve. We pioneered the military spouse peer-to-peer mentoring and community based solutions to overcoming the unique challenges of military spouse owned businesses.
---
Share on social media
Macho Spouse uses AddThis share buttons so you can easily share your favorite content from this site to your Facebook, Twitter, and more.
To share this on social media, click on the share icons. You will be prompted to connect your social media account if you have not already.
Thank you for sharing!
---
Comments