---
Like, Comment, Share
Giant Leap to Mars Challenge
Image: – – Macho Spouse
Win a One-On-One Q&A with Legendary Astronaut Buzz Aldrin
www.conradchallenge.org
How would you like the opportunity to talk one-on-one with the legendary Buzz Aldrin? Would you ask him what it's like to walk on the moon or talk with him about a Mars mission? Just imagine the questions you could ask him! The first 250 teams to register for the Giant Leap to Mars Challenge at www.…
---
See also...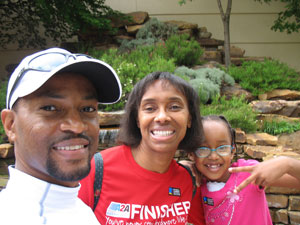 The YMCA Adventure Guides Father-Daughter Sweetheart Ball was not on my radar until a good friend of mine told me how he takes his daughters each year. I thought, "Cool! You and your girls are really excited about this thing, huh?" When my wife started getting emails about the event, there was no controlling her excitement. She was even talking about renting a car for the night!
Yeah...
In case you didn't know (like me), a daddy-daughter dance allows dad an opportunity to set an example and standard for how his daughter should be treated on a date. It is also an opportunity for dad to build that special bond with his daughter and make special memories.
Okay, based on the description above, I tossed the whole daddy-daughter dance thing out the window because my daughter and dating don't even go together in a sentence. And I can build that special bond with my daughter at the creek - FISHING!
But I thought about the whole thing (I do a lot of thinking) and with my "try-almost-anything-once" attitude, I went all in.
That's right! I went to my first daddy-daughter dance AND I LOVED IT!
So what's it really like being a stay at home dad? Bryan Alkire of kzoodad.com reveals our secrets!
---
Share on social media
Macho Spouse uses AddThis share buttons so you can easily share your favorite content from this site to your Facebook, Twitter, and more.
To share this on social media, click on the share icons. You will be prompted to connect your social media account if you have not already.
Thank you for sharing!
---
Comments