---
Like, Comment, Share
Acronym Hell - Part 1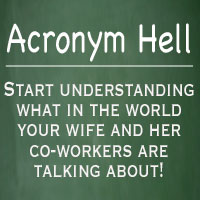 Image: – Help with Military Acronyms for military spouses and other civilians – Macho Spouse
A List of Basic Acronyms and Terms for the Rookies - Part 1
Start learning what in the world your wife and her co-workers are talking about today! This is a basic, beginners list of military acronyms (something the military is very fond of creating).
Why Learn?
Let's be honest. You won't make it 6 months without some of this basic communication knowledge.
ACS -   Army Community Services - provides support services to active duty, reserve components, their families and survivors
AFRC -  Airmen and Family Readiness Center - provides support services in the Air Force to active duty, reserve components, their families and survivors
AGR -  Active Guard and Reserve
Allotment - Deduction from a service member's pay - designated by the service member for a specific purpose such as a mortgage or a savings account
BAH -  Basic Allowance for Housing (Good Stuff!)
BAS - Basic Allowance for Subsistence (food) - only paid for service member, not for family
BX - Base Exchange - Air Force term for a military department store (NOT the liquor store)
Benefits - Provided by the Services, such as medical, retirement, commissary and exchange privileges (What helps make it all worth while.)
Chain of Command - Hierarchy of authority - who reports to whom (List of all service ranks can be found on Male Spouse 101)
CDC - Child Development Center
C-Store - Marine Corps term for a liquor store (YES!)
Class 6 Store - Army and Air Force term for a liquor store (See above)
Colors - National and unit flags
Commissary - Grocery store, often located on base (NOT the liquor store)
CONUS - Continental United States (not sure why we need this acronym...sounds like a disease or something.)
COLA - Not soda, but cost of living allowance
Cover – Hat (Really?)
Dependent - Family member, which is the preferred term (Relax, it's not so bad being the "dependent" every once in a while)
DITY - Do It Yourself move (Recommended way to move your valuables and stuff you don't want broken.  Partial DITY is the way to go!)
Exchange - Term for a military department store (NOT the liquor store either)
FFSC - Fleet and Family Service Center - provides support services for Navy active duty, reserve components, their families and survivors
Thank you to the National Military Family Association for providing this basic list of acronyms and terms.
---
See also...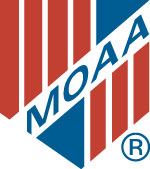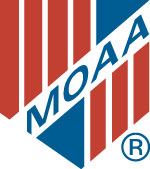 Hey guys, have you taken this survey yet? Stuff like this is important because it may help you find work in the future, as well as, future generations of military spouses!
http://www.moaa.org/milspousesurvey/
The Military Officers Association of America (MOAA), a non-profit organization that advocates for military personnel and their families, is teaming up with Syracuse University's Institute for Veterans and Military Families (IVMF) to launch the Military Spouse Employment Survey.
Military spouses face many challenges to both employment and career advancement as a result of the military lifestyle. This imperative study will look at the employment pattern of all military spouses, especially related to their long-term career trajectories. We encourage all active duty, National Guard, reserve, veteran, and surviving spouses who are 18 years and older to participate by sharing their stories, experiences and lessons learned.
According to the 2010 Department of Defense Manpower Data Center (DMDC), there are approximately 725,877 spouses of Active Duty service members and approximately 413,295 spouses of Reserve and Guard members. In addition, it is estimated that there are more than 15 million veterans' spouses in the United States and over 5.8 million surviving spouses. By adding their voice, we can build a stronger foundation for military spouses' professional needs, identify any barriers to career development and share their stories with government officials, state, and federal policy makers in order to overcome obstacles and improve the quality of life for our service members and their families.
The Military Spouse Employment Survey will open on September 16, 2013 and remain open for 30 days. This survey is completely anonymous, for research purposes and therefore completely voluntary. The survey will take approximately 30 minutes to complete.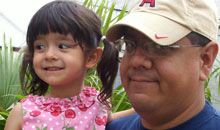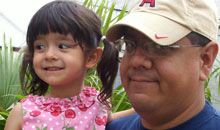 If we string Webster Dictionary's definitions of "active," "duty," and "dad" together we get "active dad dutifully taking care of his child(ren).
All too often I find myself watching dads who are disengaged with their children. I'll give them the benefit of the doubt that there may be extenuating circumstances that I cannot see. The Dad may be tired, just come off a long shift of work, not feeling good, or just plain needs a break. I can understand that and I've been there too. By the same token we still need to be active in the rearing of our kids. Taking the time to be the example of how to interact with the world. We need to put the cell phones down, stop checking Facebook or emails. I'll also take into account the physical limitations placed on folks too. We may not be as flexible in movement as we once were, but we can still try.
---
Share on social media
Macho Spouse uses AddThis share buttons so you can easily share your favorite content from this site to your Facebook, Twitter, and more.
To share this on social media, click on the share icons. You will be prompted to connect your social media account if you have not already.
Thank you for sharing!
---
Comments