Blog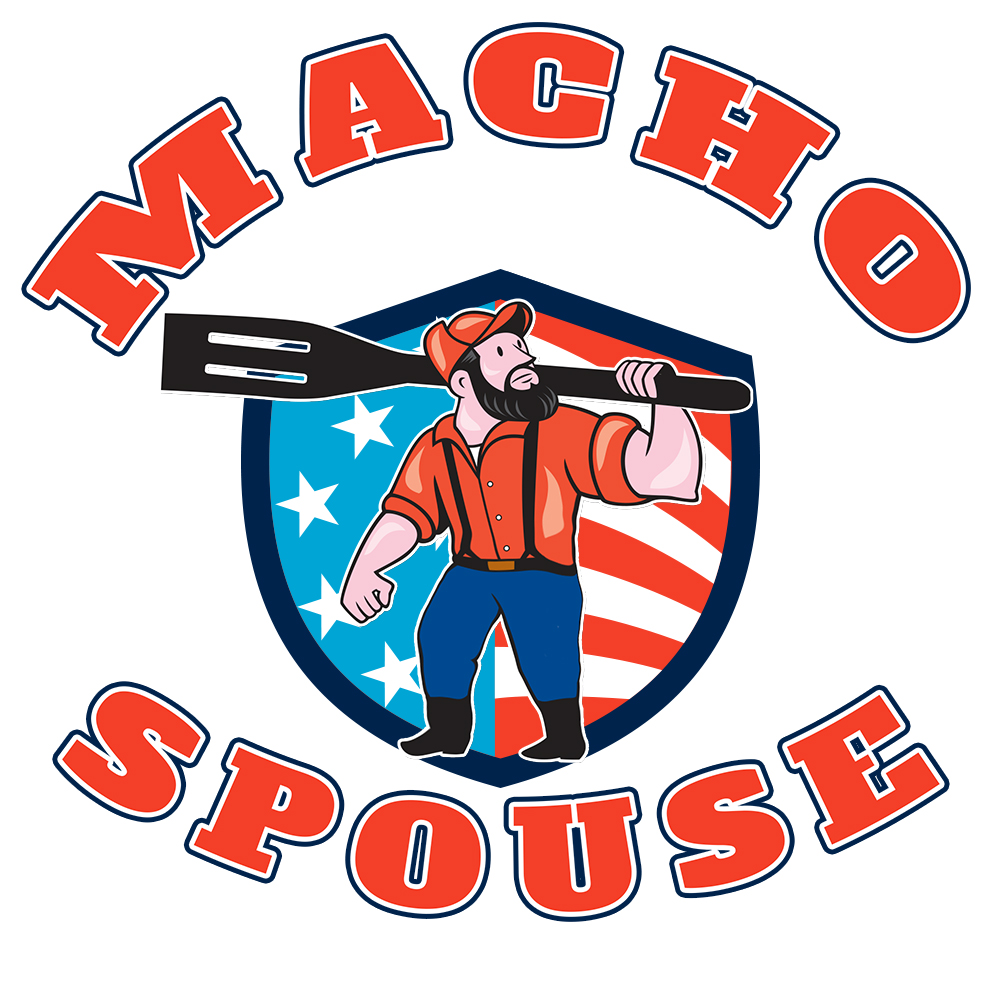 Andrew "Fergie" Ferguson is a disabled Marine Veteran and Stay-At-Home-Dad (SAHD), sharing his progression from Marine to SAHD and giving back to new dads like himself, mostly with multiples.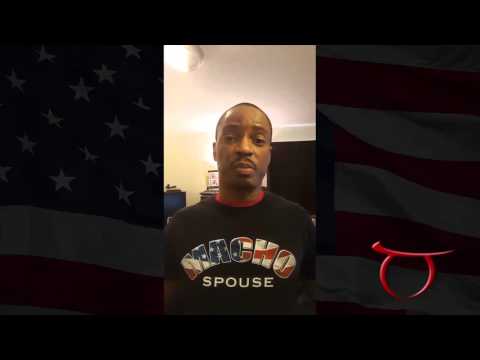 Make A Difference Male Military Spouse - Macho Minute
A message to Civilian Male Military Spouses to encourage them to use what they know how to do to help others and make a difference in their communities.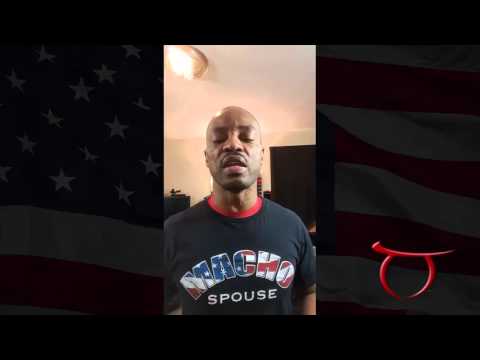 MALE MILITARY SPOUSE YOU ARE NOT ALONE - MACHO MINUTE
A message to Civilian Male Military Spouses to let them know that "You Are Not Alone" in this journey as a male military spouse.
(The following is some good information from our friends at the Sonoran Desert Institute.)
Male military spouses find themselves looking to advance their skill set and have a great opportunity with a scholarship from MyCAA. The challenges of course are attending classes on campus when you may end up having to move before the end of a semester.
Many spouses turn to online education which is a great option. While online courses are a good fit. You need to make sure the school has a solid reputation. The key to a great online education is finding the right online education provider. Every man should know what to look for.

Army Dad is a blog by Tim Blake (Army Male Spouse).
From Army Dad:
"I'm a stay at home dad raising four beautiful children. I am the proud spouse of an Army Lieutenant Colonel. I do my best to keep up with the kids and all of their activities. I enjoy playing the bass and the occasional bass guitar building project. You can follow me on twitter if you so desire...@ArmySpouse007."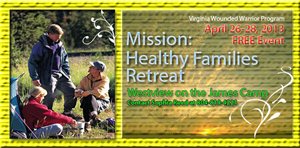 Here's an event for your military family that you may want to check out. The Virginia Wounded Warrior Program is inviting military familieas and veteran families to the Healthy Families Retreat this April 26 thru 28. This is a great opportunity for families to learn and play together while gaining skills to help foster resilience.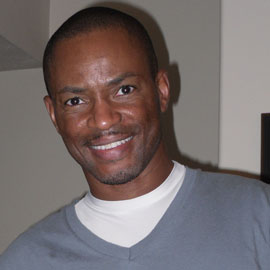 Faithwalk Music is a blog by Taurus M. James (Air Force Male Spouse).
From Faithwalk Music:
Taurus M. James, Male Military Spouse (US Air Force), Moody Instrumental Musician, Minister, Teacher, Web Developer and IT Specialist with a passion for using the latest Internet technologies to promote individual artistic expression.
"Faithwalk Music" is where you can learn more about Taurus' life, faith, family, music and work.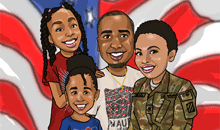 I am Roland Burton.....ok, so I'm not "actually" Roland Burton, but if you watch the show "Army Wives", then you are familiar with the lone male military spouse. I've been married to a Soldier since 2006 and that is exactly how I've felt throughout the years. I've only met one other male military spouse during this time, but I have connected with a few wonderful female military spouses over the years that have accepted me with open arms and made the transition from duty station to duty station much easier. We have two beautiful girls and we love the military life. My name is Dee and I am a "Real Life Roland".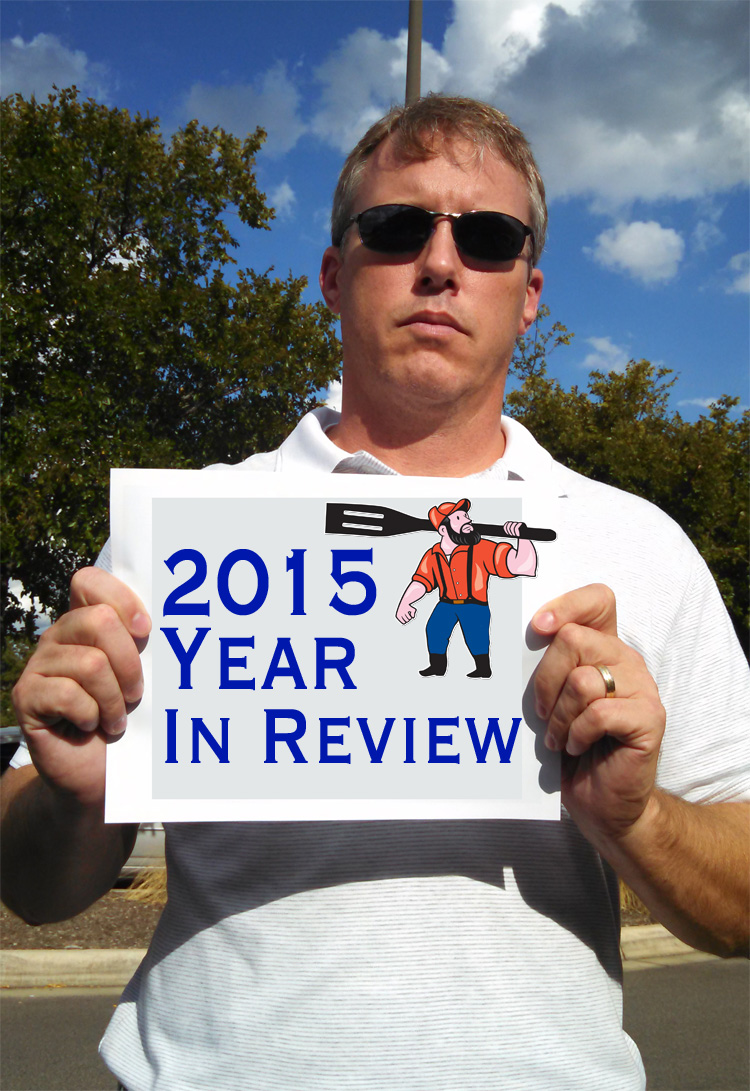 It's the holiday season and to me that means spending time with family and friends while reflecting on the year that was. How many had a good year? How many of you feel as if you've accomplished, overcome, loved and laughed as much as possible? There have been a few bad years in my life where I just wanted the damn thing to finish so I could start fresh with a clean slate, it's a mindset, but we all know that reality doesn't work that way. I usually judge my life in a similar way as to how we judge football coaches, "what have you done for me lately." My year was a good one, a net-positive. So congratulations, you get "happy Chris," or at least "less grumpy and sarcastic Chris."
The tremendous amount of progress within the male military spouse community is one reason why 2015 was a good year. Guys, we're finally starting to get some recognition. People, businesses, and other organizations are starting to approach us and ask for our input, insight, and yes, our business. Marketers are finally recognizing that we are a demographic worth pursuing; just check out this holiday spot from Toys R Us. (I just bought 4 gift cards for my nieces from them because of this commercial.)
In 2015, Macho Spouse was approached by the Sonoran Desert Institute's School of Firearms Technology to hold the first ever "Male Military Spouse Appreciation Day" where SDI donated a full-tuition scholarship to their popular Gunsmithing certificate course. (Male military spouses are a large demographic for them.) USAA asked for our participation to help raise awareness on the importance of life insurance during "Life Insurance Awareness Month." Yeah, I didn't know that month existed before this opportunity either, but USAA sure knows that we exist! And Marriott really knocked us off our feet when they offered several nights worth of hotel stays in return for a few reviews on their TownePlace Suites properties. TownePlace Suites made it very clear that they are interested in helping military families who are on the road, from PCSing to family vacations, TownePlace Suites wants our business! And it's not like this is some shabby hotel chain guys, their rooms are usually very spacious, clean, come with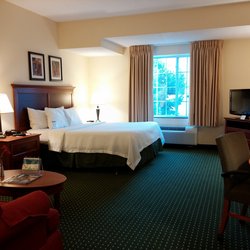 fully equiped kitchens, and hot breakfasts. I was surprised to learn how many were actuallyl located near military installations, which makes them a great temporary housing option, or vacation get-a-way. In full disclosure, I dispersed their generous offering quietly among those guys who have helped keep Macho Spouse up and running over the last few years. We don't make any money here, so when a top-notch organization such as Marriott offers us some swag, I like to spread it out amongst our volunteers first. If you want access to some of this cool stuff, contact me and be prepared to help build our community. But while I'm speaking of TownePlace Suites, you guys should check them out because they're really showing their appreciation and commitment to our military community! That goes for USAA and Sonoran Desert Institute as well, these organizations aren't just talking about supporting male military spouses, they're actually doing it. So let's not forget to return this generosity in 2016.
While I'm patting others on the back, I can't forget the amazing content NextGen Military Spouse, Military.com/SpouseBuzz, and Military Spouse delivered on behalf of male military spouses in 2015. When I started Macho Spouse in late 2011/early 2012, there was nearly nothing…nothing, written for or about us male military spouses. No blogs, no websites, no Facebook pages, no nothing. Now look at us, male spouses are popping up everywhere! (We've probably had absolutely nothing to do with this trend, but I will take full credit.) So despite terrorism, politics, war, and racial unrest, life hasn't been all bad this year. It's been good enough for me to crack a cold one, light a cigar, sit back and reflect on how far we've come and how many goals are still left to accomplish. Don't worry, I won't be consuming and driving while reflecting, Dana and I have already booked our New Year's Eve room at the San Antonio Riverwalk TownePlace Suites. Happy 2015 everyone, have a safe holiday season!
When Motley Crue's "Final Tour" came through San Antonio, my wife and I felt we just had to go. Their music played such an important role throughout our impressionable years, well, honestly Vince, Tommy, and Nikki had more of an impact on Dana than me. (Sorry Crue, but I've always been more of a Parrot Head!) But I do like several of their songs and have seen them in concert a few times, so a final romp on the wild side sounded appropriate.
We are slightly older now than we were in '88 so a lot has changed. For one, rather than just show up slightly intoxicated and hope to find some cheap seats, we bought our tickets weeks in advance. Good ones to! We also made sure both of us had the following day off from work, no more working with ears still ringing and head pounding. We are now productive adults. Plus, neither of us was planning on passing out in our car after the show, or driving home, so we felt it important to get a room…a nice room…on the River Walk. Twenty-five years ago we would've shacked-up at the cheapest "roach motel" for the night and not worried about location, comfort, or cleanliness. Oh how times have changed!
Staying at the TownePlace Suites was a pretty easy decision considering they had just given me a couple free nights in their hotels in exchange for some honest reviews, this is one. Before TownePlace Suites contacted me I honestly had no idea they had a location in downtown San Antonio, my wife and I usually stay at the Hyatt or Sheraton. So this would work out perfectly, especially since TownePlace welcomes pets and we wanted to bring our dog, Brutus. Yeah, bringing our doggie to a night of rock and roll craziness with Motley Crue...oh how times have changed!
On the day of the show, we checked in a few hours early and were pleasantly surprised at the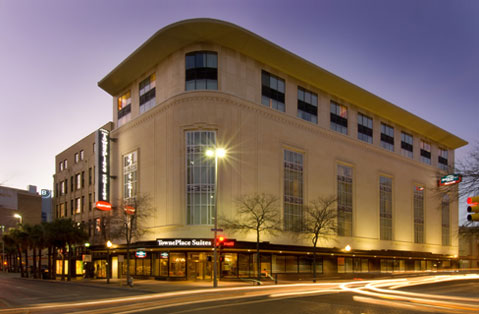 attentiveness of the valet, doormen, and front desk personnel. The hotel lobby looked to be recently remodeled with a modern flare and clean lines. I have to admit, I was very impressed. The price of the room fell in line with what most four/five-star rated hotels charge, my only complaint would be the $100 non-refundable pet deposit. That seems a bit steep, especially for a well-trained dog. Our room was just as I expected after walking through the lobby, clean, modern, and comfortable. We had a nice view of their indoor pool and a good-sized refrigerator for our champagne. Ahhh yes, nothing says Motley Crue like a bottle of Domain Chandon! In my last post about TownPlace Suites I mentioned our need for creature comforts, well, this hotel fulfilled all of those needs.
Now in all honesty, I don't have much else to report on the Downtown TownePlace Suites because after Dana and I fed the dog and enjoyed our champaign, we left for the night. The hotel is conveniently located across the street from the Ticket, a sports bar where we started our bar-hop, and then just down the street is the Buckhorn, and then just down the street...I'm sure you get the point. TownePlace downtown San Antonio is in a great location. I can say that at no time did I worry about Brutus or our belongings, I think security and peace of mind are very underrated aspects of staying at any hotel. TownPlace's friendly and professional employees definitely put me at ease.
Now, as for Motley Crue. They were awesome. If you missed them on this final tour, I'm sorry, you missed a great night of 80's style over-indulgence! (big hair, big drinks, big tabs, and big noise!) Just watching Tommy play his drums upside down while hanging from the ceiling directly over my head is an image I'll never forget. (I will post that video shortly) Sorry kids, none of today's performers come close to putting on a better show than the classic hair bands of the 80's.
When TownePlace S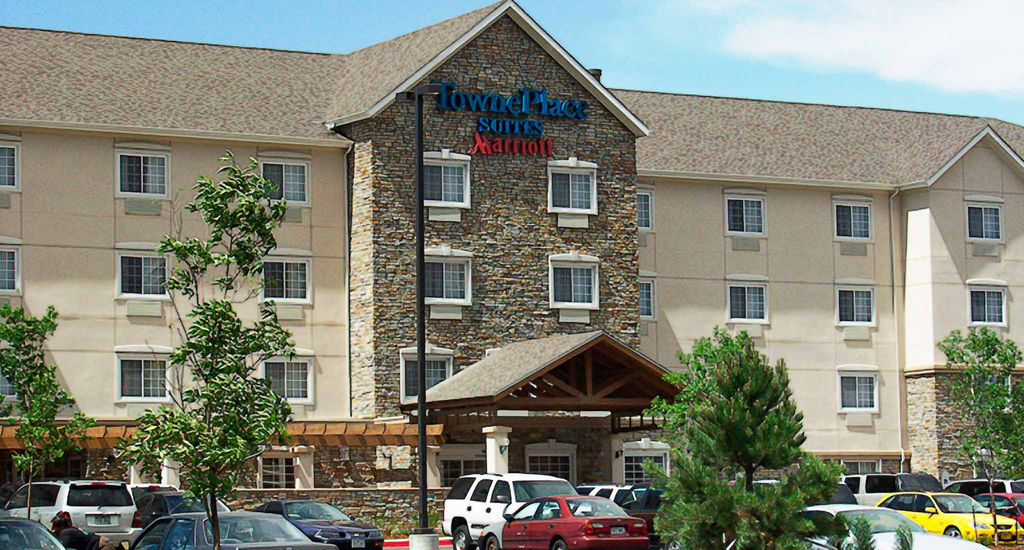 uites reached out and asked if I would be interested in writing a few blog posts about their hotels, I immediately said "yes." I always enjoy reviewing products and services I've used and appreciate, plus TownePlace offered a few free nights for my efforts. Pssst…don't tell them, but that really wasn't necessary.
How many of you have ever stayed in one of their hotels? My first experience with a TownePlace Suite was at the Colorado Springs South location near Peterson Air Force Base. We were preparing to PCS from Peterson to Little Rock and had run into a slight problem selling our first house. We sold it way too fast! I know, I know…a great problem to have, but it was still a problem. We had no place to stay while Dana waited for her official orders to leave and that was expected to take several weeks. Since it was the start of "PCS season," rooms were impossible to get on base, plus I was still working my civilian job and relocating to an on-base location would've been very inconvenient. When Dana brought up the idea of an extended stay hotel, I admit to being pretty skeptical. We have a dog. We are clean freaks. We like our own space. We need convenience. Creature comforts such as clean, soft bedding and strong water pressure are a must. Moving from our house to basically an efficiency apartment was not my idea of comfort!
It didn't take long for us to find TownePlace Suites through a simple internet search; their south location looked good so we felt we should give them a try. Driving up to the property helped put me more at ease since the building and landscaping looked clean and well-kept, so well-kept in fact that before checking in I asked Dana if she was sure these guys welcomed pets. Not only did they welcome our dog Brutus, they actually appeared happy to see him! I immediately got a taste of the staff's friendly professionalism once they allowed us to inspect our room before booking. I guess since we were staying there for a few weeks they wanted to make sure we would be happy with the accommodations. To my surprise the room was bigger than I expected, the king-sized bed looked very clean and firm, the carpets were in great shape, the bathroom passed my cleanliness inspection ( including a water pressure test in the shower), and the kitchenette was complete with microwave, sink, and refrigerator. I didn't take photos, but the ones on their website are accurate.
Facebook groups are wonderful things that most people probably don't use to their full advantage. With a group, you can control who is in the group and even if the group can be found via search. This makes it perfect for chatting or sharing things that you don't want everyone to see.
1. To Keep In Touch With Friends and Family
Use groups to keep a conversation with your close friends or family. You can freely share things you many not feel comfortably sharing on just your Facebook page and it's great for planning events or large get together. It's also easier to keep up with everything than having to visit everyone's pages
2. Easier Communication With Your Spouse During Deployments
We all know that communication can be limited during deployment. There are pictures and stories you want to share with your spouse, but don't want everyone else to see, so share them in a group. You can limit it to just the two of you as members, then when he/she gets a chance to check in, they can see everything at once.
3. Network At A New Duty Station
The hardest thing to do at a new duty station is make friends and network. Find a Facebook group for your base. Ask questions about the area, learn about classes for fitness or other things that interest you, and even find babysitters.
4. Keep Up With Your Spouse's Unit
A lot of units and FRG's have Facebook groups or pages. This can easily allow you to see what is going on with the unit and any upcoming events that may be of interest to you. These groups are especially helpful if the unit is gone for training or deployed.
5. Garage Sale Pages
Right? Facebook garage sale pages are great! You can easily buy and sell items and even find people for house cleaning or babysitters. Since it's a group, the admins should only allow people in your area to be included.
6. Entertainment Purposes
Groups can be started for anything, including news, current events, or your favorite TV show. If your spouse hates watching OITNB, talk about the episodes in a group with other fans.
7. Foster And Receive Support From Other Military Spouses
Have questions about benefits, PCSing, or military life in general, there's a group for that. If there isn't you can start one! Everything from MyCAA for spouses to wounded warrior wives.
8. Helping To Reach New Goals
Looking to grow your business or go back to school? Find a supportive group of like-minded people to answer any questions and help keep you motivated.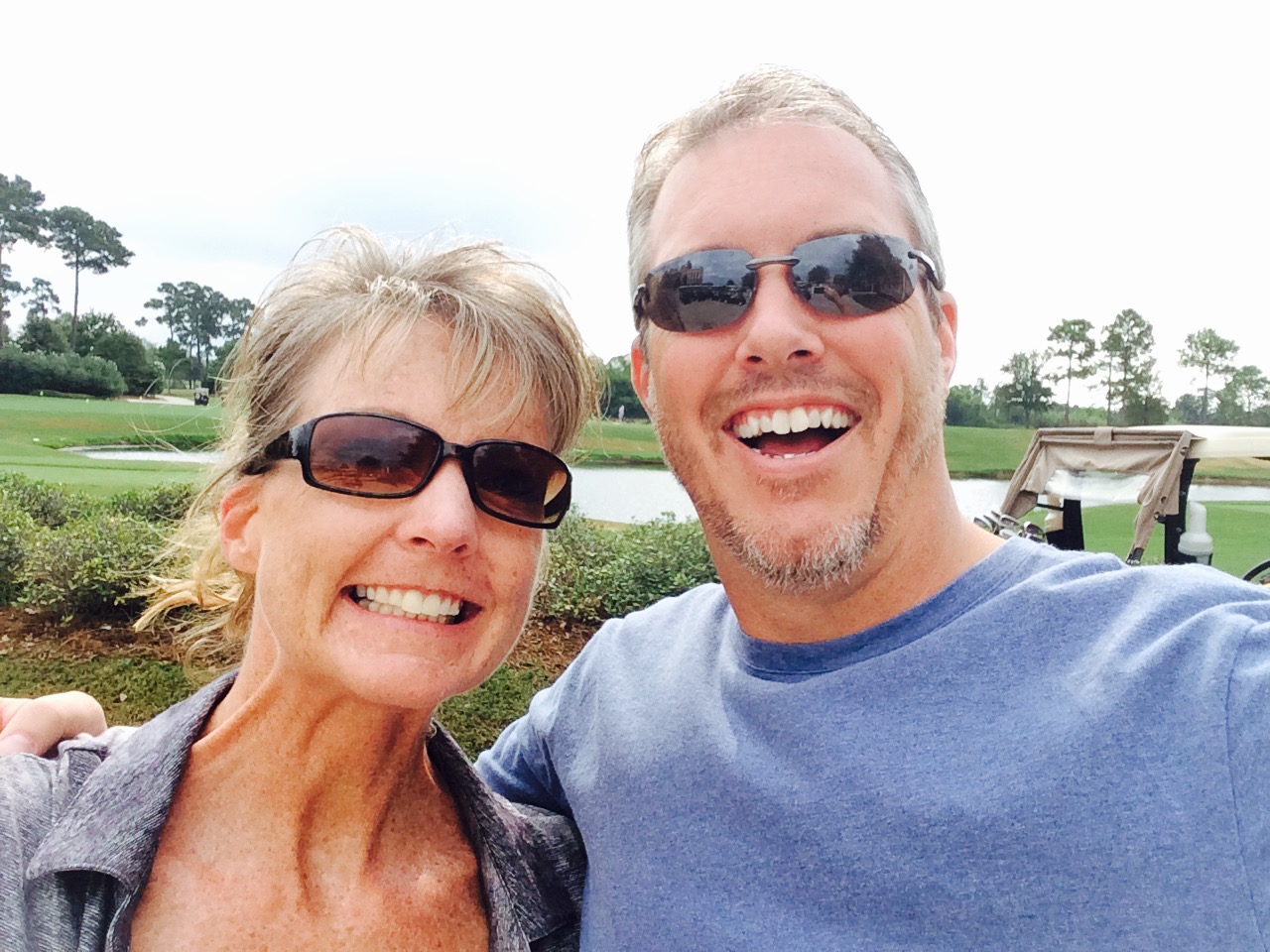 "Don't hit it right. Don't hit it right. Take a deep breath…relax…that's it…listen to the birds cheerfully chirping, sounds of a distant lawnmower, a breeze gently moving leaves around the treetops…nice, smooth swing. No need to kill this ball…just hit it off the tee. AND DON'T HIT IT RIGHT!"
As I stand on the 14th tee box at the L'auberge Casino Resort golf course, I look down at my dirty, dinged-up golf ball and realize I'm griping my old 3-wood way too tight. I had to take a step back, re-focus my brain. How did I get to this moment? Well, I guess I had USAA to thank since they're the ones who helped my wife and I get out of town for a much needed break. But how did I get here, here on the 14th tee box with only one ball left in my bag? Was it my braggadocios attitude on hole two where I thought it would be fun to tee off over the water? (lost one ball) How about the long, beautiful par four, fifth fairway where I pulled two balls into the creek. And then again on hole six, another two into that same damn creek! (Come on L'auberge, why are all the water hazards to the left of these fairways!?) The par four seventh? Yep, another ball in the water, again to the left. And then we had gorgeous hole number nine, a fairway so picturesque it belongs on the cover of Golf Digest, where I surprisingly didn't hit the ball left into the water, I hit them to my right…into the water. (2 balls)
Hello male military spouse community! 

My name is Jamison Stone and I am the spouse of Staff Sergeant Rebecca Bainbridge of the United States Army Field Band at Fort Meade, Maryland. Because of her assignment, my wife, and the rest of her company, are on tour and away from their families for over 100 days out of the year.


As you very well know, Military service is hard on families. While I speak more about this topic on my blog, the ongoing struggle is very taxing to both the heart and the mind. Most difficult for me is the sadness and depression of separation during my partner's deployment and training.


Sadly, many Military Families have it far worse off than we do, particularly those with service members actually in harm's way, and especially of course those who make the ultimate sacrifice defending our country. All these women and men who proudly wear the cloth of our nation, and their families, are true heroes.


Female Mil Spouses are very lucky to have a wide network of other military wives to lean on during these difficult times. Sadly, we men, are not as fortunate. Personally, I find it extremely challenging as an Army husband to find a real sense of community. This is particularly emphasized when my wife is away on training or tour.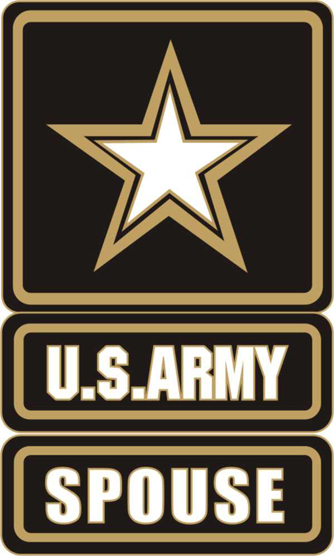 I have focused the last 10 years of my career as a research psychologist on trying to better understand the needs, struggles, and success of military couples and families. I've worked with hundreds of couples, given numerous presentations, published several articles, received multiple research grants … yet it is quite clear to me that in some ways, I have failed in my efforts.
To give some background, I began my first academic position in 2005. Given all that was happening at that time, I wanted to give back in some way to service members and families who give so much of themselves in service of our country. As a civilian, I saw two main ways of being able to actively engage in this. One was to volunteer when I was able. The second way was to find a way to build this commitment to military families into my everyday life.
For me, the second approach – folding my efforts into the very fabric of my life – was the way to make a sustained commitment over time. That is when I set about trying to connect my everyday work as a clinical psychologist and researcher to helping this unbelievably deserving group of people. I took my expertise in research on couples and anxiety, and applied it to researching the experiences of military couples, with the goal of learning how best to help those couples when they struggle.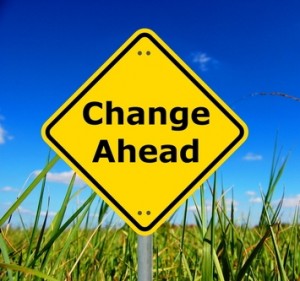 March 25th 2014, the day I sent Dana off on a seven-month deployment, was a low point in my life. I vividly remember the emptiness and sorrow in my heart as I watched her walk down the jetway, away from her family…away from me. I also remember how incredibly difficult it was to maintain composure while giving a TV interview just as Dana walked out of sight, it was all I could do to hold back tears. I struggled to hold myself together long enough to walk back to my car before breaking down in tears. Many of us have been to this dark, empty place before; it's definitely a low point for many military marriages.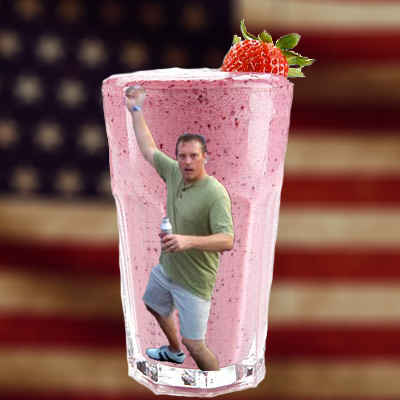 So this post on Stars and Stripes is currently making the rounds on social media and is kicking up quite a bit of dust. Historically I'm a sucker for these types of "opinion pieces" primarily because I love reading the comments, and the follow-up commentary on this post didn't disappoint. However, most people seemed to have missed Mr. Duffy's thinly veiled insult to military family members; as well as, a very lousy marketing and public relations policy.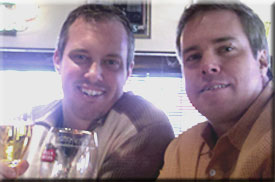 As our organization continues to grow and gains more attention from new people, I've learned that there is some confustion about our name. In fact, I have been asked multiple times if our name, "Macho Spouse," represented a sexist, homophobic point of view. My response to those questions is a simple, no. Actually, the initial response is laughter and surprise with a slight dash of sorrow. This perception is mostly my fault for not spending enough time explaining the meaning behind our name as we grow, leaving others to define "Macho Spouse" for us. I chose our name after careful thought, consideration, and research. I wanted a name that could illustrate our lifestyle while making people smile. I mean, if we can't have a laugh at some of the gender-reversed situations we find ourselves in, then we're taking life too seriously.

Macho Spouse represents a male spouse who has enough self-confidence in his masculinity to cook dinner, clean the house, wash the laundry, and take care of his children while his wife is away in combat. We don't care what your race, religion, sex, or sexual preference is, if you're a military spouse who lives with honor and commitment to your family, you're a Macho Spouse and are always welcome here.

I appreciate your time and support, please help us by joining our conversation...or buying a shirt! I hope this helps better explain who we are and what our name symbolizes. Now I must run along and kick something because I just learned my wife is deploying again.


Sincerely,

Chris Pape and the Macho Spouse Team
.
 
I write about military financial independence, but Im getting a lot of e-mail about navigating the drawdown and starting a bridge career. Im also hearing from Reserve and National Guard servicemembers about balancing their military careers with their civilian employers. Veterans (and military spouses) know that their transition to a civilian career will be like transferring to a duty station in a foreign country. Theyll spend lots of time explaining their military skills and achievements to civilians and translating their military culture into a foreign language.
Then theres the challenge of competing with hundreds of other potential employees who are also reporting for duty at these companies. The drawdown is adding several hundred thousand more veterans to the usual crowd of people who are already leaving the military, and this exodus will continue until at least 2017.
Over the last three years the U.S. Department of Labor and the Veterans Administration have rolled out a number of initiatives. By now youve seen at least a half-dozen programs for translating your military career into a civilian resume, or creating your elevator pitch, or finding your ideal company. Theres plenty of advice on Linkedin about researching your company, tapping into the right networks, and handling interviews. There are many government and non-profit programs to guide you through the transition process, even if the military overlooks a few steps during their transition seminars.
Those programs are helping veterans and spouses figure out what employers want and showing them how to navigate the job search. Wouldnt it be nice if someone taught the employers about you? Wouldnt it be a huge relief to meet hiring managers who already understands who you are and what you can do? Wouldnt it be great to work for a company that actually wants to hire military veterans?
Last week I interviewed a group of people who have started doing just that. Theyve spent months building the programs and the infrastructure, and theyve already educated a number of companies on military veterans & spouses. They held their first hiring conference two weeks ago, and now theyre coming to a base near you.
The interview was arranged by USAAs staff. (Thanks, Jamia & Pete!) I talked with Geoff Grant, their Program Director of Supplier Diversity. (Hes also an Army veteran.) We were joined in the call by Jennifer Giering, the Director of Business and State Engagement at Hiring Our Heroes. We also talked with Bryan Goettel, the Chamber of Commerce Founda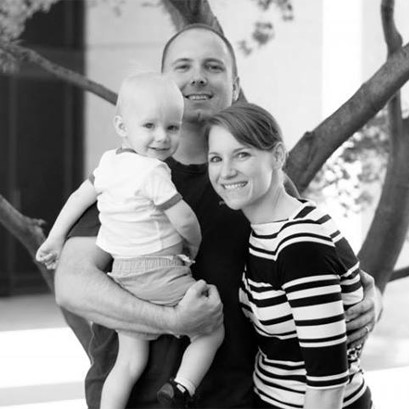 Wait, you're a stay at home dad? How'd you get on base?" said the hairstylist at the exchange when I responded to her question on what I did for the Air Force. This happens a lot when you're a military husband. You'll get salutes from the gate guards, military discounts that only apply to active duty personnel, and maybe if you're really lucky, the start of a chewing out over haircut and shave regulations by a senior enlisted person. Why? Because our wives make up a small part of the force.