---
Like, Comment, Share
Carpe Diem!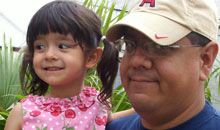 Image: – – Macho Spouse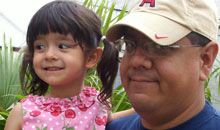 Carpe Diem is the Latin term for seize the day. I've seen on social media, and the news, some folks complaining about the "would've/could've" aspect of their life. Far too often people talk about things they wish they could have or should have done. Being married to the military, I find myself slipping into that trap more and more often because my wife's Navy career can keep me from pursuing certain passions.
From under-ways and deployments to the duty days where my wife can't travel more than 20 minutes away from base; at times, my wife's career has stopped me from doing things I want to do. It's been tough learning how to adapt to this type of lifestyle because up until a stressful duty assignment at NAS Lemoore (2008), my wife and I really didn't have to deal with duty-days, deployments, and other hindrances. I understand many other families have it worse than we do, but that still doesn't make it easier. Dealing with the Lemoore assignment, however difficult it was, helped me understand a valuable life lesson...Carpe Diem!
In 2008 we were stationed at NAS Lemoore. That whole time there was very trying on the nerves of this family. We were very limited in our travels because my wife was one of two respiratory therapists at the Naval Hospital in Lemoore. So two people divided duty and pager duties. When one person left, all the duties were left to one person. So this greatly limited what time we had away from the base and even those times away had to be scheduled a month or so in advance.
In 2011 my wife received a blessing in her orders and we PCS'd to Florida. She is going to school to become a commissioned Navy Officer. I'm pretty proud of that! But the road here has been tough with many ups and downs. One of the downs was my having to give up on a hobby I truly love, marching music. Between my wife's career, our family and location, there wasn't really an opportune time or place for my music. Did I say I love marching music? I enjoy everything from marching bands to drum and bugle corps. I even like to see an occasional winter guard show...maybe even a winter drum line show too. Earlier this year an opportunity to march with a group from Inverness, Florida came up and that's when some problems arose. You see, if I wanted to pursue this passion, it would come at a cost of alienating the delicate balance of time and commitment I have with my family. I had to come to the realization that my time here in Florida is about supporting my wife, not playing tuba.
So here's where the Carpe Diem fits in. I could've just sat around and got mad about the situation, or I could try and make it work. I chose and am focusing on the later. I'm happy to report that I've been able to connect with some really great musicians who turned into great friends. I think this is the most I've ever been connected to a community outside my home state of California. And ever since I got myself plugged in to this local community, I'm now able to take advantage of musical opportunities that pop up every now and then; just as long as they don't interfere too much with my wife's study time. I'm ok with that. In fact, an opportunity to join a group from Orlando for a parade in Winter Park just popped up and I grabbed it. They were looking for another marching tuba and I was able to connect with a Florida friend to make that gig happen. I've also been able to perform with two groups here in the Jacksonville area on a limited-time basis. So instead of succumbing to a negative situation and NOT playing at all, I embraced my reality and have found groups that understand my crazy Navy lifestyle. It isn't perfect, but I'm ok with that. I've had to miss some rehearsals here and there, but that's OK because I would rather have the opportunity to play a little rather than not at all.
What I'm trying to say is, we've got to try and change our mindset. Don't give up when things seem hopeless. Look for what can be done instead of what can't...then do it. Don't have "would've, could've"regrets. Flexibility, family teamwork and some understanding can go a long way with the pursuits of what make us happy. Carpe Diem!
(About the author: Everett is a male military spouse, stay-at-home-dad, and Macho Spouse contributor. His wife is active-duty Navy currently stationed out of Jacksonville, FL.)
---
See also...
This article is a piece of information that has helped me capture milestones for my loved one who is always at work. I know that it can be difficult so I hope this helps someone down the line.
I know that it has been awhile since I have written anything regarding Twin life but here is why. MILESTONES! The girls are almost one and a half years old now and the milestones have been piling up. From saying their first words to walking and the list continues to grow each day. As a stay at home dad and the love of my life working during the day it is expected that she will miss things in person. This can be depressing for our loved ones but I have found that the smartphone is my best friend when it comes to this. I take pictures and videos constantly so she does not feel like she is missing everything. As male military spouses we have to understand that we are that small percent as our wives are in the military community. We miss out on special time with our wives because they work, and they miss out on milestones and this can be daunting for some. We can use our smartphones for good and show them that we do care and we understand the sacrifices they make. I hope this helps any dad out there having trouble showing their wife that they do love them and understand. This has helped me with my twin girls and my marriage; I just hope it helps someone else out there.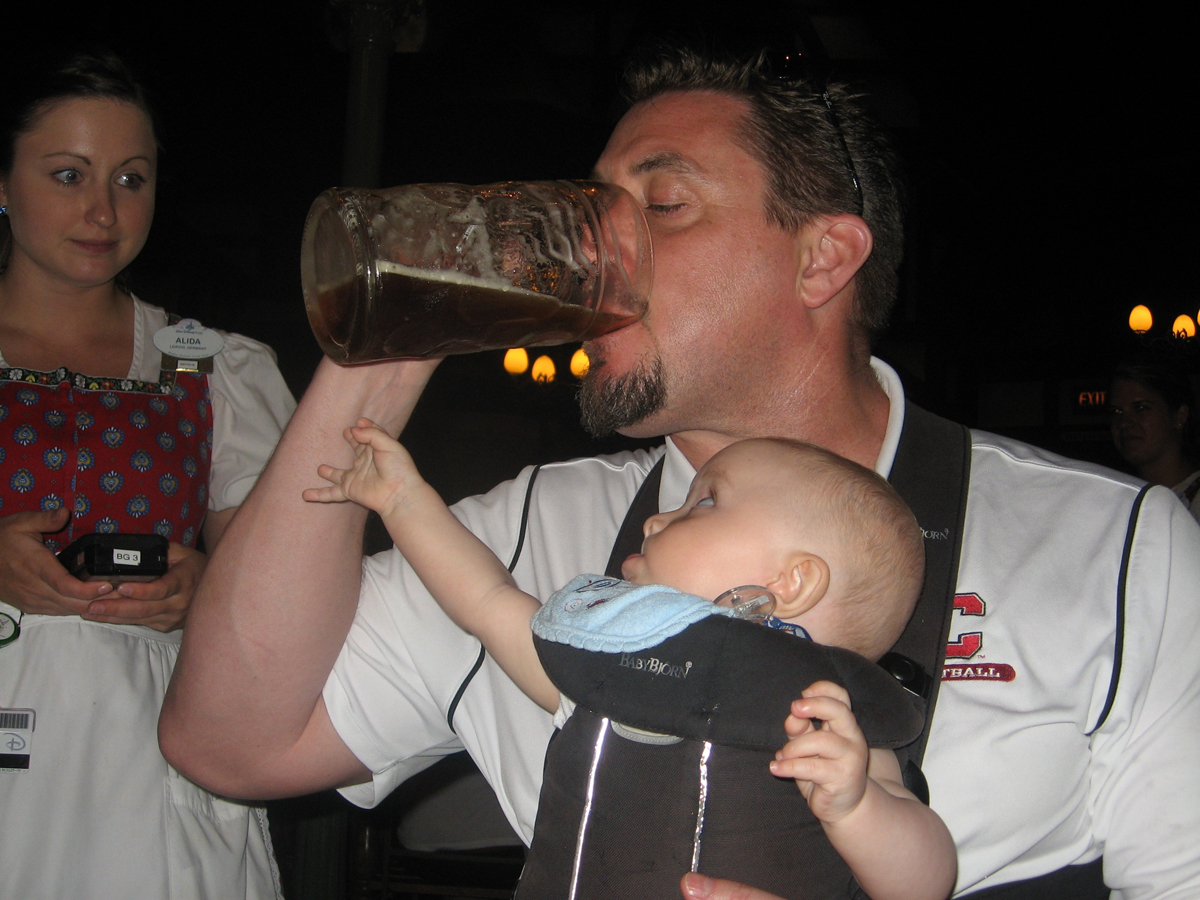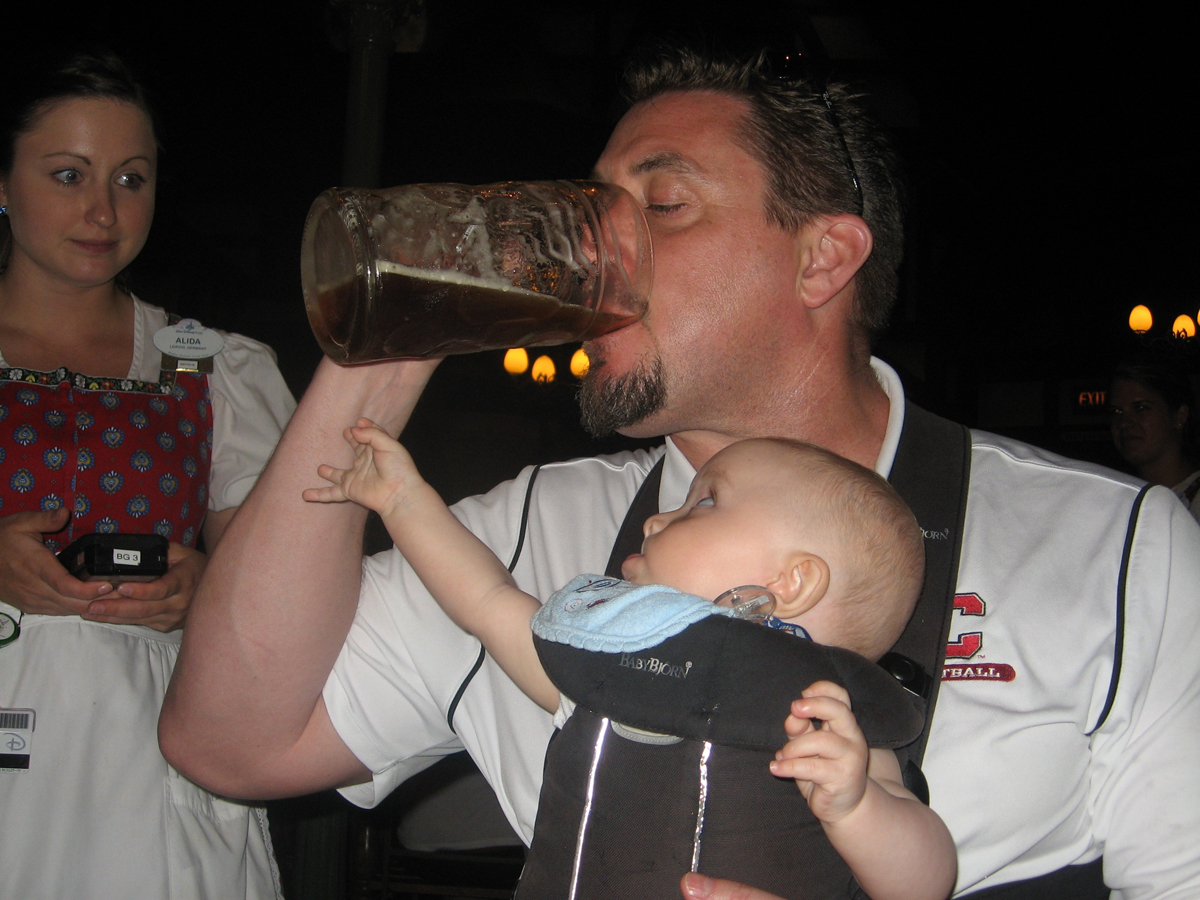 The author, Chris Field, demonstrating some "top-shelf" parenting while at Epcot's Biergarten.
There seems to be a common thread running through military sociability: booze. It's the thread that allows you to tie one on just about anytime. It's everywhere. At the Exchange, at the local Class Six…hell, you might even score some free booze from those distributors hosting tasting events throughout the year. Play your cards right, and you could be half in the bag before the sun even goes down.
When I first drive through the gates, there's always the sign telling me how many days it's been since the last alcohol related incident on post. And when that sign 'resets' back to 1, I'm always tempted to check it out: "Uh oh, what did (one of a handful of likely suspects) do now?" Thankfully, I've never triggered it myself. Yet.
---
Share on social media
Macho Spouse uses AddThis share buttons so you can easily share your favorite content from this site to your Facebook, Twitter, and more.
To share this on social media, click on the share icons. You will be prompted to connect your social media account if you have not already.
Thank you for sharing!
---
Comments