---
Like, Comment, Share
Being Dad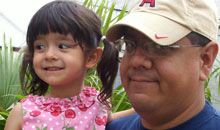 Image: – – Macho Spouse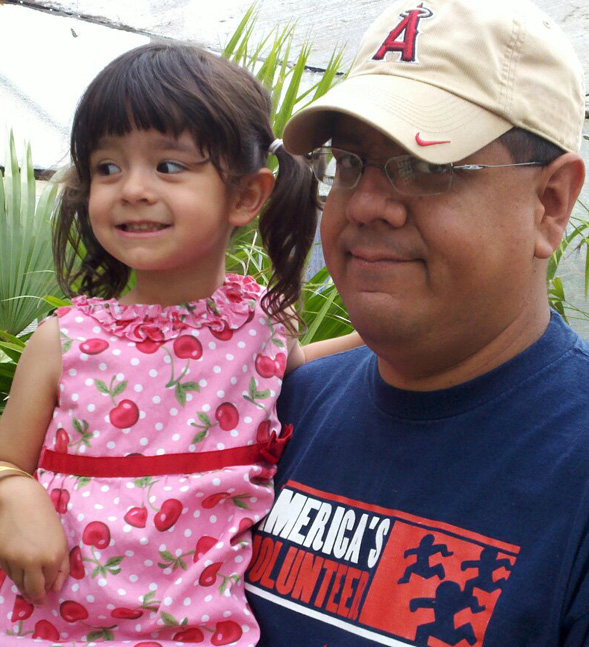 Never really thought about that word "dad" until I became one; however, I focus more on it now than ever before. I find that the word "dad" means more to me today because my own father wasn't there for me when I was growing up, and he's still not around, not even for his own granddaughter. Yes, the word "dad" means more to me now than ever. My ability to be a good father comes from more than one source, and the fact that I choose not to be like my old man is a great motivator. My dad left by way of divorce when I was just seven. There was no custody battle and he was given every opportunity to see his children. Yet he still chose not to be around.
A year ago I had the opportunity to ask him why he was never around and he referred back to his own dad not being there when he grew up. For him, the cycle continued and was handed down in that way to his children. I have made it a point to break that cycle and be there for my daughter in every way possible. I do this so she will have the confidence that she needs handle this crazy world both socially and emotionally. From the past diaper changes, to a future walk down the aisle; I'm making this a lifetime adventure. I taught preschool for the Navy before my daughter was born and that has also helped lay some good groundwork for the job ahead of me. I use methods of redirection, praise, and open-ended questions that I learned from my teaching experience to better raise my daughter. I also believe my faith had a role in preparing me to become a good dad because I believe that things happen for a reason. And the reason I chose a career in childcare all those years ago, I believe, was a way to prepare me to become a better father than my own.
The way I cheer for my daughter in whatever activity she does may be from the lack of support from my own parents. Very rarely would my Mom show up for a concert, parade or field show. I played Tuba in school and still play today. My dad was never there, even when he lived close enough to see me perform. So we just got my daughter into a soccer club and it's been a wonderful thing to share with my daughter. This club allows parents to help teach their children soccer by participating in her practice sessions. We are able to teach by example. It's great to see all the other dads interact with their kids while having fun. Times like the ones my daughter and I share are times when valuable memories are made.
It is said, "To whom much is given, of him shall much be required." With that in mind I see my role as a dad as big one. From the good times all the way to the bad times, being a dad is a great role. As dads we must all find a way to teach, love and to teach love. What we do now will have long lasting results. Whether they are negative or positive results resides with us. We must enjoy being "Dad." If you aren't enjoying this responsibility, find help. Look to friends or professionals and find the resources you need to make being "Dad" a bit easier. Don't be afraid to take a look at where you may need help and fix or modify those areas. As men we may see getting help as a weakness. It isn't. In fact, I consider finding help an investment. An investment with a greater return is always a good choice. Make the most of your time with your child(ren). They are young for only a limited time. We, as dads, should enjoy it now and as much as we can.
---
See also...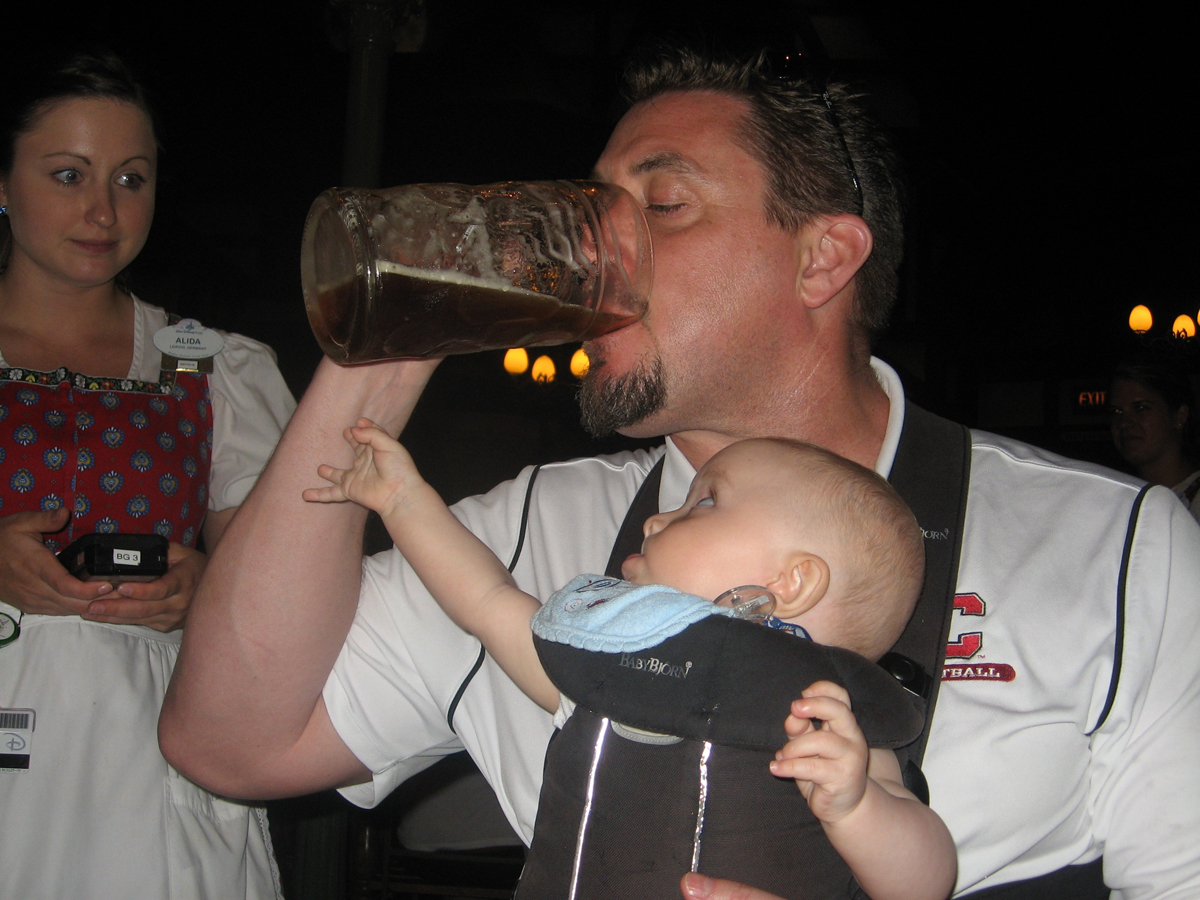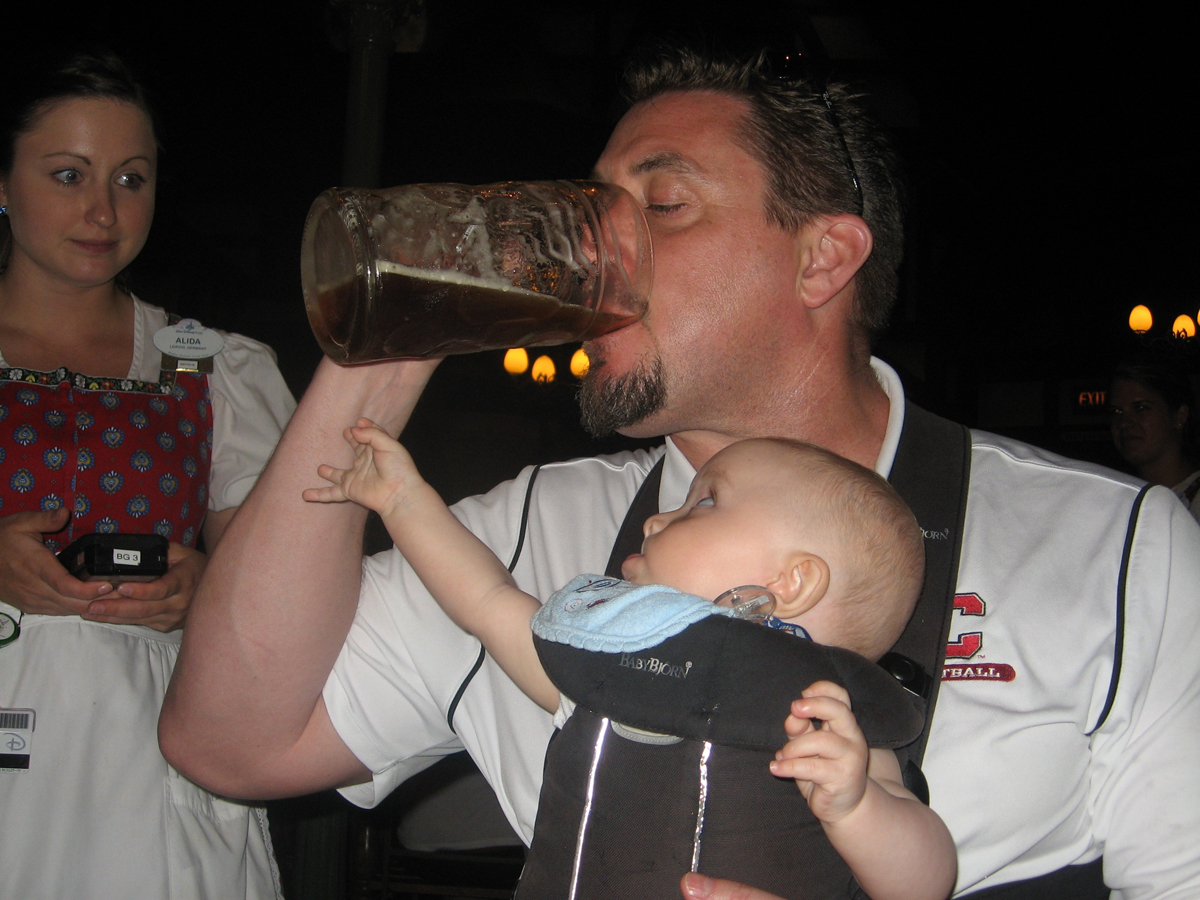 The author, Chris Field, demonstrating some "top-shelf" parenting while at Epcot's Biergarten.
There seems to be a common thread running through military sociability: booze. It's the thread that allows you to tie one on just about anytime. It's everywhere. At the Exchange, at the local Class Six…hell, you might even score some free booze from those distributors hosting tasting events throughout the year. Play your cards right, and you could be half in the bag before the sun even goes down.
When I first drive through the gates, there's always the sign telling me how many days it's been since the last alcohol related incident on post. And when that sign 'resets' back to 1, I'm always tempted to check it out: "Uh oh, what did (one of a handful of likely suspects) do now?" Thankfully, I've never triggered it myself. Yet.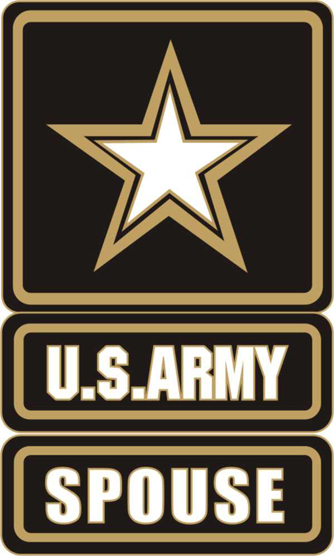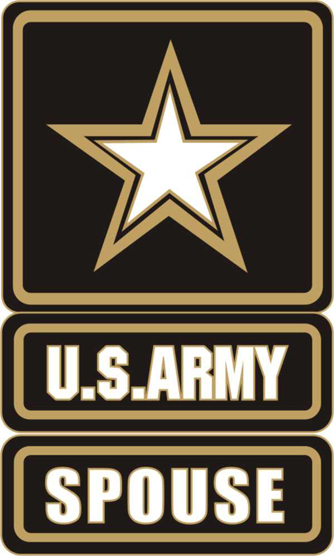 I have focused the last 10 years of my career as a research psychologist on trying to better understand the needs, struggles, and success of military couples and families. I've worked with hundreds of couples, given numerous presentations, published several articles, received multiple research grants … yet it is quite clear to me that in some ways, I have failed in my efforts.
To give some background, I began my first academic position in 2005. Given all that was happening at that time, I wanted to give back in some way to service members and families who give so much of themselves in service of our country. As a civilian, I saw two main ways of being able to actively engage in this. One was to volunteer when I was able. The second way was to find a way to build this commitment to military families into my everyday life.
For me, the second approach – folding my efforts into the very fabric of my life – was the way to make a sustained commitment over time. That is when I set about trying to connect my everyday work as a clinical psychologist and researcher to helping this unbelievably deserving group of people. I took my expertise in research on couples and anxiety, and applied it to researching the experiences of military couples, with the goal of learning how best to help those couples when they struggle.
---
Share on social media
Macho Spouse uses AddThis share buttons so you can easily share your favorite content from this site to your Facebook, Twitter, and more.
To share this on social media, click on the share icons. You will be prompted to connect your social media account if you have not already.
Thank you for sharing!
---
Comments